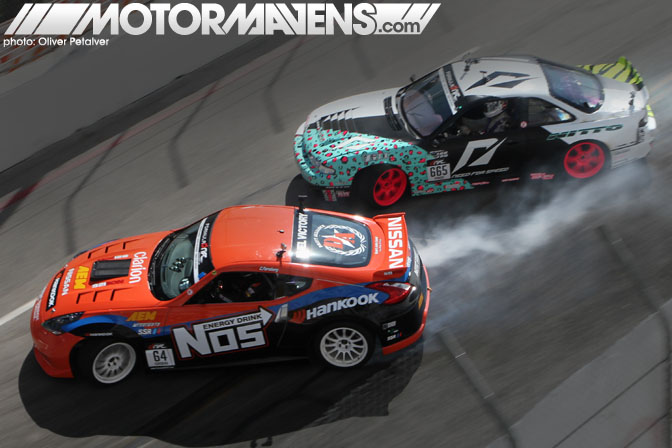 Okay… you've waited long enough! I've been sick the past few days so it's been rough, but I've finally managed to go through thousands of photos that we shot at Formula Drift's 2011 season opener on the Streets of Long Beach. I know everyone wants to see the photos, so without further delay, let's begin! Through the lenses of the MotorMavens sharpshooters, this is the Formula Drift Long Beach experience, Part Two!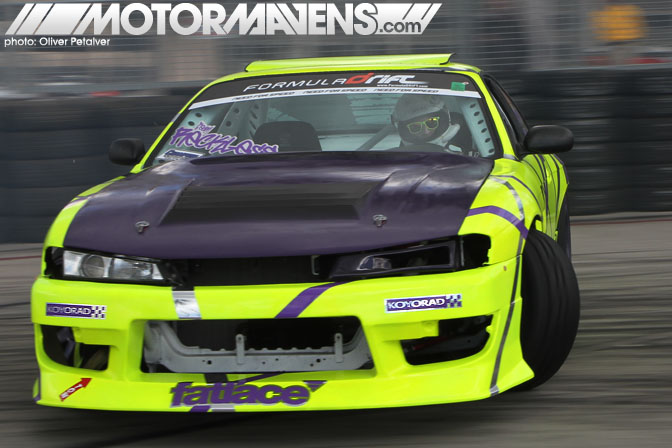 Matt Field is a recent amateur drifter-turned-pro Formula D driver that was turning some heads this past weekend. In fact, his S14 is hard not to notice, because of his super bright fluorescent yellow paint. Sharpshooter Oliver Petalver captured this image of Matt negotiating the hairpin at the end of the course just to show everyone that Matt even made sure his sunglasses matched his car. Man, those Fatlace guys sure do coordinate! Bam! Bam! =)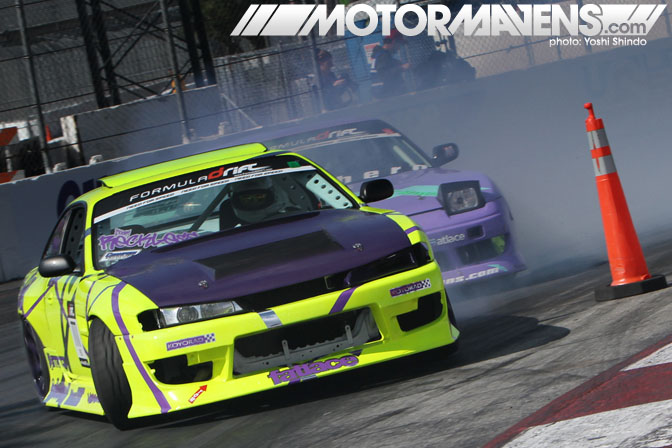 Here's Matt Field's kouki S14 again, with Walker Wilkerson and his S13 hot on his tail during their tandem run. Honestly, I think this had to be one of the closest tandem-follow runs I saw during the course of this weekend! Walker's front passenger side fender is almost planted into Matt's rear quarter panel! I love it!
I wonder if any of Walker's success in tsuisou (tandem drifting) comes from the fact that he practiced his lead-follow skills at Ebisu Circuit in Fukushima Japan this past year… or maybe the Northwestern region of the United States just has a lot of driving talent that people don't know about! I think maybe it's a little of both.
To say that Walker Wilkerson drove phenomenally all weekend would be an understatement – he placed in the Top 16 on his first ever Formula D pro event. In fact, he is currently tied for 11th place in points (with seasoned pro drifter Tyler McQuarrie from Team Falken). Walker was eventually knocked out of the running by East Coast Drift Alliance member Ryan Tuerck – and Tuerck is not a bad guy to lose to! Everyone knows that he's one of the top drivers in Formula D.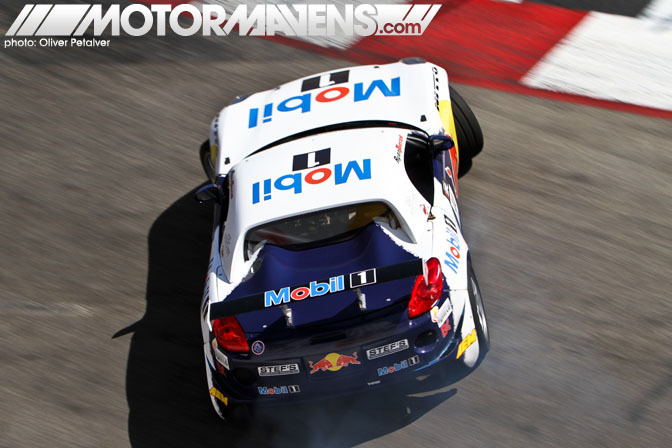 Here's an aerial view of Ryan Tuerck's Mobil 1 Gardella Racing Pontiac Solstice negotiating his first clipping point, as he drifted towards the Firestone Bridge on the LBGP course. Nice line, and nice angle! You might also notice that in addition to Mobil 1, Gardella Racing picked up Red Bull as a major sponsor this season. Team owner Gary Gardella was one of the most successful driver/team owners in the world of sport compact drag racing, so it's no surprise to me that many top companies flock to the Gardella Racing team.
This is actually the last time that Tuerck is going to be driving the Solstice – he will be debuting his all-new Chevrolet Camaro drift car at Formula D Atlanta. It would be awesome to see him tandem with Conrad Grunewald's Hankook Camaro!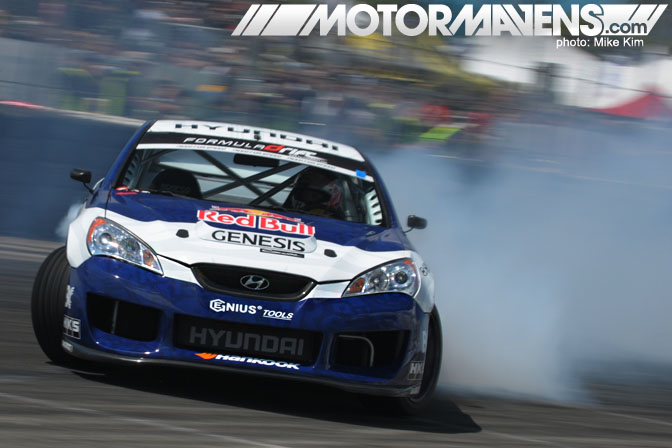 Speaking of Red Bull, this shot from new MotorMavens shooter Mike Kim shows Rhys Millen doing what he does best – throwing up thick smoke with tons of angle!
Rhys is doing quite a lot of work with Hyundai – I hope they're paying him a lot of money, because having a top name in motorsports like Rhys Millen Racing (RMR) on your side is definitely going to do wonders for their brand. RMR's drifting program shows how capable the Hyundai Genesis is; the RMR rallycross program shows how capable the Hyundai Veloster can be; and RMR's rally program shows that the Hyundai Genesis motor can be powerful engine for a rally prototype car, like Millen's 775hp PM850 rally car that he'll drive up Pike's Peak in Colorado this June.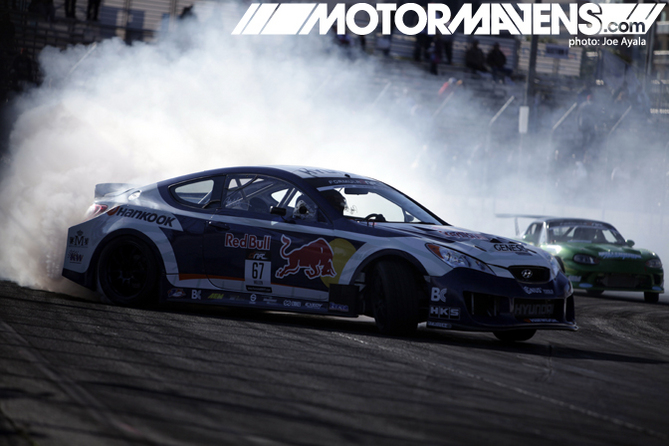 Here's a dark, moody emo shot of Millen leading in tandem, as NB Miata driver Jeff Abbott tries to catch up. It's incredibly tough though – Millen's Genesis race car is just too fast for Abbott's modified Miata street car.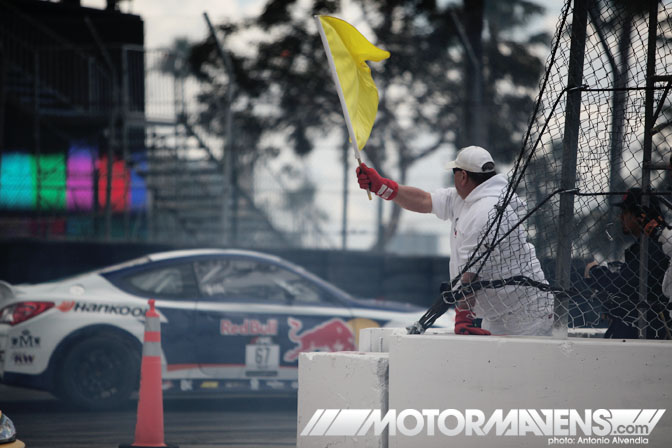 As Millen rounds the hairpin on one of his runs, the Long Beach Grand Prix course worker at that station couldn't take his eyes off the car as he throws up a yellow flag.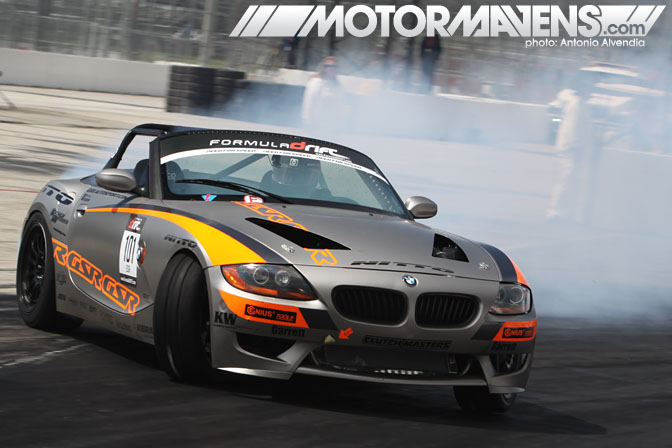 Without question, one of the most exciting, most anticipated cars making its debut at Long Beach had to be Mike Essa's new BMW Z4 roadster. This car looks good!!! Dark gray paint with orange accents is definitely a good look on a race car.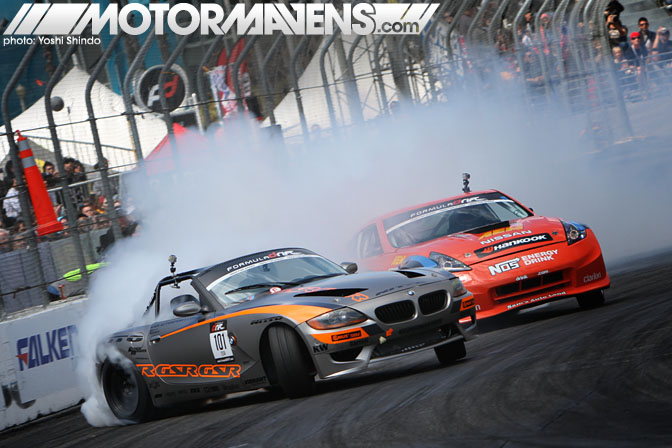 Check out the smoke peeling off the Z4's tire as Chris Forsberg follows Essa closely through the main judged portion of the course. The smoke makes it look almost as if the tires are super stretched (but they're not). Oh well… I know that for actual competition driving, drifters nowadays want more grip… but wouldn't a Z4 with stretched tires look cool though?! (I say yes, but I know our good friends at MotoIQ would say no. haha!)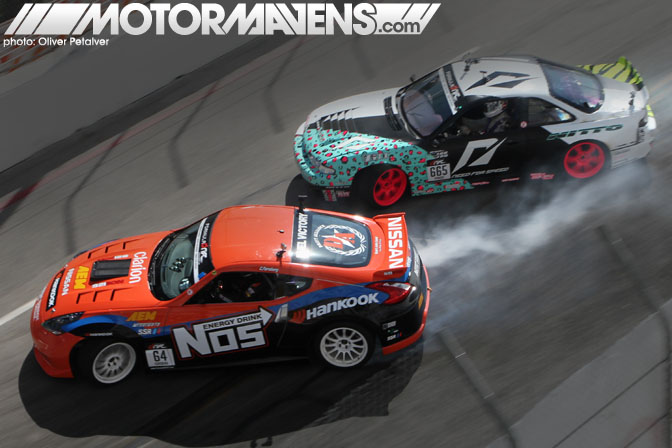 Chris Forsberg's new NOS Energy Nissan 370Z is another new car that made its debut at Formula D Long Beach. It's pretty cool that Forsberg has been able to stick with some sort of Z car during his entire professional drifting career. Here's a cool panned bird's eye view from Oliver Petalver, showing heavy metal tire shredder Matt Powers following Forsberg's Z34 into the first turn of the FDLB course.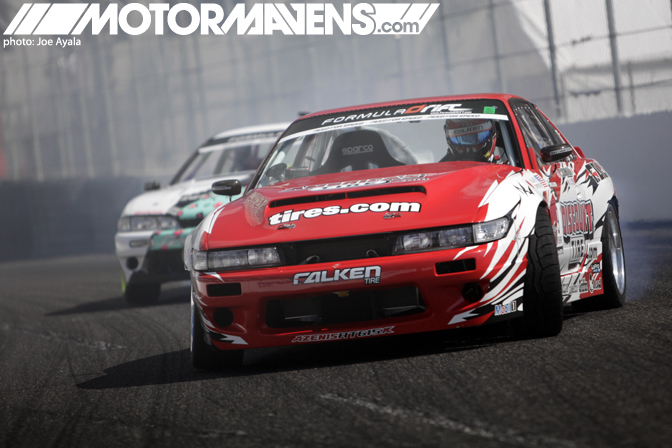 Powers did very well on this first round of FD, taking home Second Place, with Discount Tire S13 driver Daijiro Yoshihara coming at a close Third. When I saw Dai at the end of the event, he admitted that he was a bit disappointed with his results at first, but was glad to bring home a trophy and points for his sponsors and everyone that worked on his car.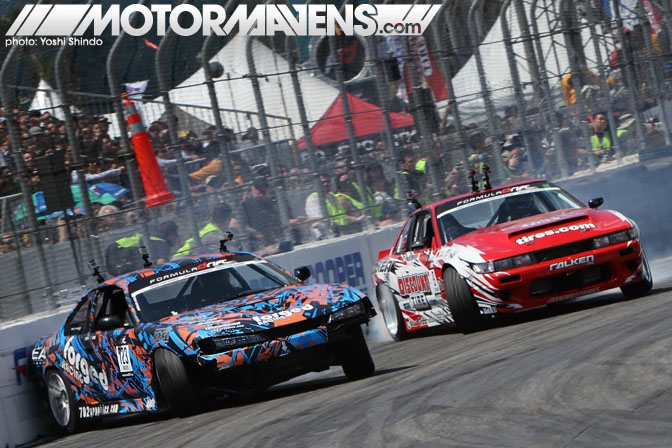 Speaking of tandem battles with Daijiro Yoshihara, let's back up a little bit to show this photo of Dai's Top 32 battle with S14 driver Aurimas "Odi" Bakchis. Look how awesomely close Odi's car is to the concrete retaining wall, as he scrapes his rear end across the Falken logo! I love it!!!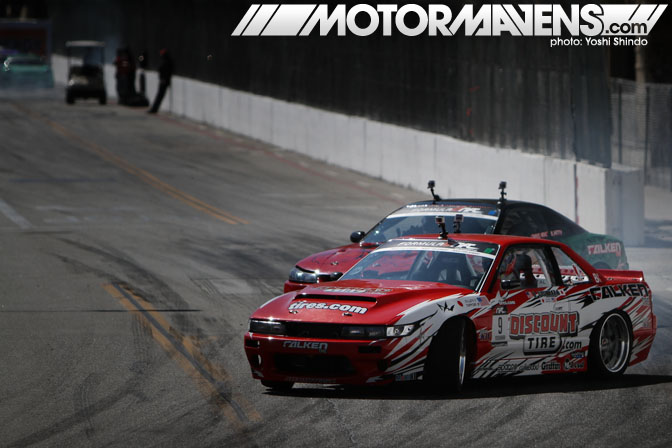 We also have another cool series of photos from Seattle-based sharpshooter Yoshi Shindo, as Dai battled his Falken teammate Ross Petty, driving the Garage Boso S15 Silvia. The battle of V8 S13 vs V8 S15 looked very cool, especially since it shows us the aggressive nature of Ross's driving style. Ross was right on Dai's tail as both cars initiated drift into the first right hand turn of the Long Beach course! Awesome!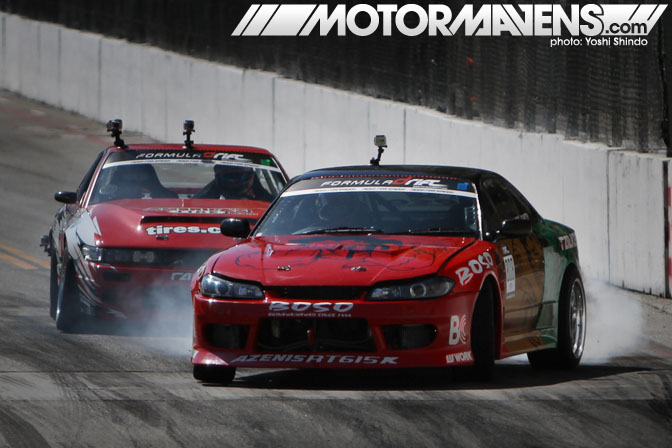 Here's another photo… this time, Daijiro Yoshihara is following the Garage Boso S15, just as Ross initiates drift. These guys were putting everything they had into their driving! Love it.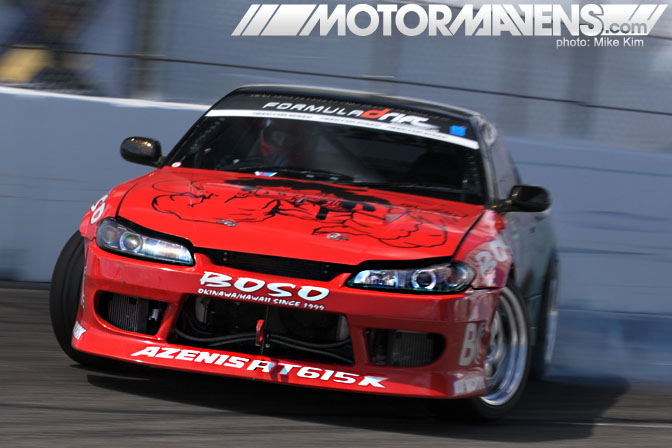 When I spoke to Ross Petty's crew chief Frank Siharath from Garage Boso at the track, he said "we still love SRs like crazy, but damn… Ross loves his new V8 engine. He has so much power! He can basically make the car do whatever he wants now." Crazy.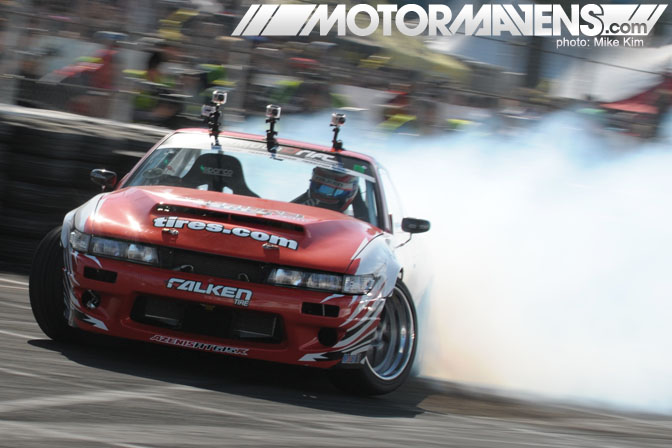 As another SR to V8 convert, Dai Yoshihara definitely shows the potential of what a V8-engined S13 can do! He was throwing out stupid amounts of smoke with absurd angle and super fat lipped wheels. Damn, look at all those GoPros attached to Dai's roof! Sheesh!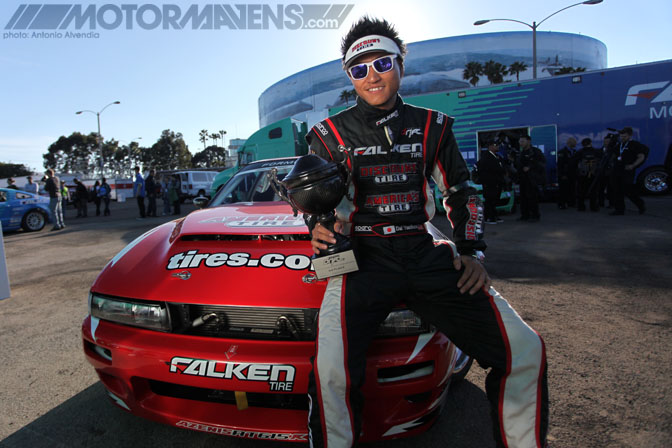 Here's one last shot of Daijiro Yoshihara and his S13, at the end of the day in the Falken pits. Big thanks to my good friend Jerry Tsai (the boothology guru behind the Pacific Rim brand) for taking the time to help me take this photo (even though one of his former models was yelling at us because we were taking too long and she was ready to leave already).
I was glad to hang out with Dai and Jerry at the end of the day – if you're new to drifting, you might not know that Jerry was one of Dai's first drifting sponsors. Prior to driving for Falken, he drove the Pacific Rim S13 and the Pacific Rim/Rockstar S15. Dai's drifting talent was originally 'discovered' by Drift Showoff/Import Showoff founder Ken Miyoshi on a visit to the X5 Show in Japan. If you want to get more details, you'll probably have to pick up a copy of my book.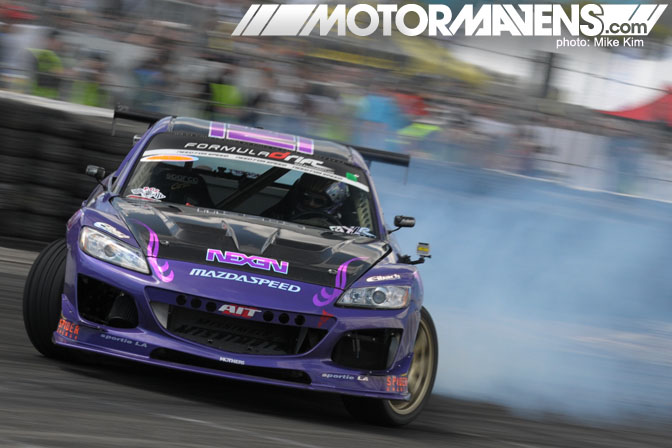 Switching gears from all this V8 talk, all the Mazda fans put their rotary symbols in the air (made with their hands) as Kyle Mohan passed through the course. Wait a minute… Kyle is sponsored by Sportie LA?! That's one of my favorite stores for getting fresh sneakers and Kangols on Melrose Ave! Whaaaaat!!! Now THAT is a cool sponsor!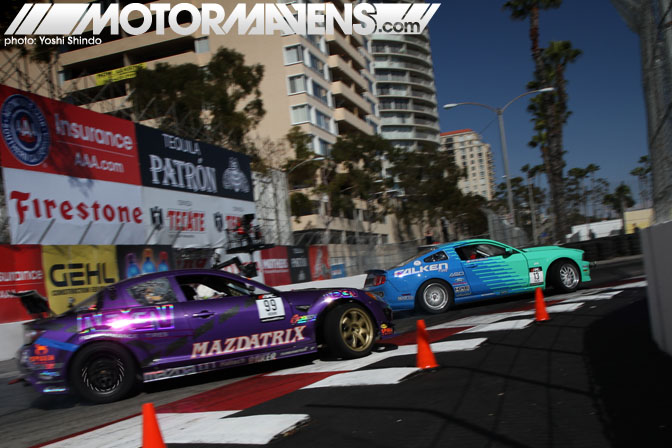 Here's a shot of Kyle's Mazdatrix RX8 following fellow rotary-head Justin Pawlak into the first turn. Unfortunately, JTP's famous green FC3S RX7 was stolen several months back while his trailer was parked in Eagle Rock, CA… and nobody was ever able to find or recover the car.
I still can't believe that some RX7 lover would actually steal Justin Pawlak's car! He's one of the main guys in the USA that helped make FCs popular in the professional drift scene… a Mazda guy stealing his car is like an AE86 lover stealing Taka Aono's hachiroku. It's just not right. =(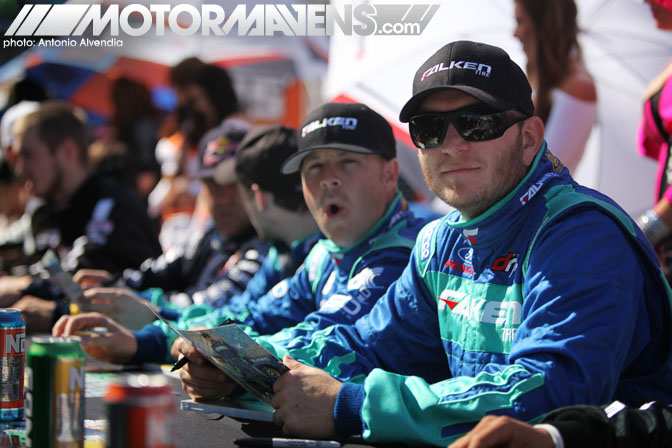 Here's our boy JTP somewhat smiling for the camera at the driver's autograph signing, as Tyler McQuarrie shows us all how to smile like a donut.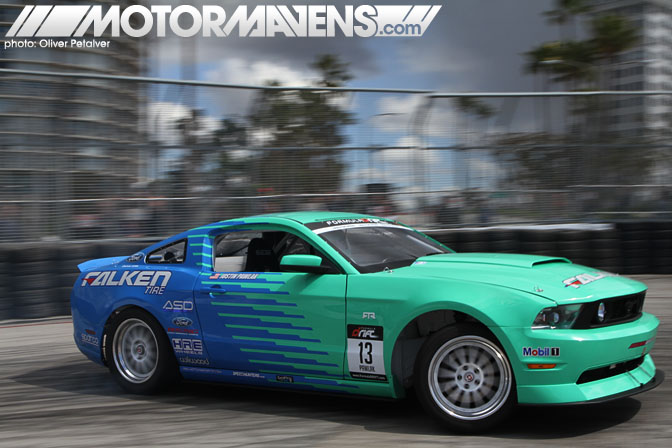 I'm still not used to seeing JTP in a Ford Mustang, but I guess I better get used to it. Seeing a teal-and-blue Falken Mustang always makes me think of Vaughn Gittin Jr, but actually JTP is the Mustang driver that took top honors at Long Beach this weekend. I suppose JTP can drive whatever type of car he needs to!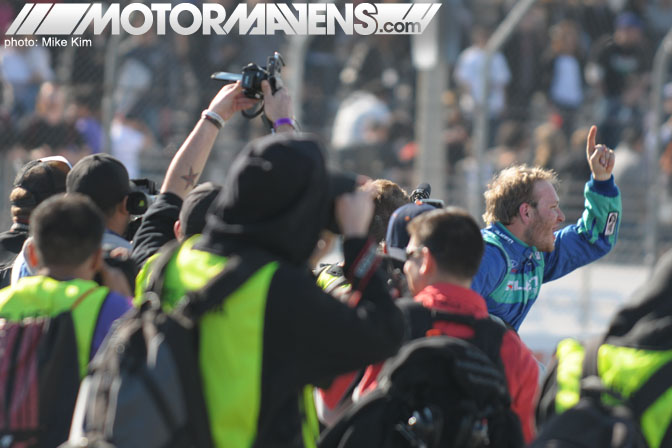 Everyone was super excited at the end of the event, as JTP celebrated his very first Formula D win!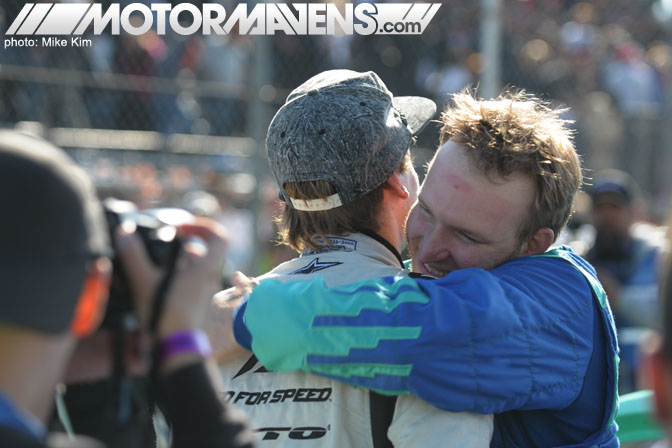 JTP excitedly hugged Matt Powers at the end of the event… both drivers graduated from driving JustDrift events. It just goes to show that grassroots drifting events like Just Drift are honing the skills of the best drivers in Southern California.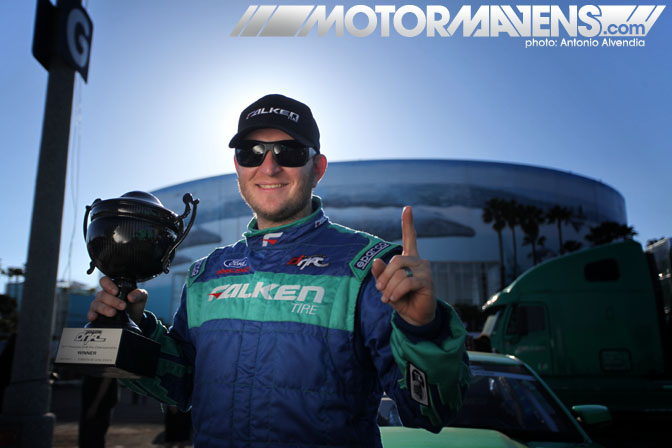 Here's the last shot for this update… JTP with his First Place trophy, with the Long Beach Convention Center behind him. Forget Charlie Sheen, because Justin Pawlak is #winning!
:: Antonio Alvendia
Photos by Joe Ayala, Mike Kim, Oliver Petalver, Yoshi Shindo, and Antonio Alvendia
Antonio Alvendia
,
AURIMAS ODI BAKCHIS
,
BMW
,
Chris Forsberg
,
Daijiro Yoshihara
,
Drift Alliance
,
Drift Showoff
,
FC3S
,
Formula D
,
Formula Drift
,
Formula Drift 2011
,
Garage Boso
,
Gardella Racing
,
Gary Gardella
,
GSR Autosports
,
homepage
,
Hyundai Genesis
,
Hyundai Veloster
,
Import Showoff
,
Jeff Abbott
,
Jerry Tsai
,
Joe Ayala
,
Justin Pawlak
,
Ken Miyoshi
,
Kyle Mohan
,
Matt Field
,
Matt Powers
,
Mazdatrix
,
Mike Essa
,
Mike Kim
,
Mobil 1
,
Nissan 370Z
,
NOS Energy
,
Oliver Petalver
,
Pacific Rim
,
PM850
,
Pontiac Solstice
,
Rhys Millen
,
RMR
,
Ross Petty
,
RX7
,
RX8
,
Ryan Tuerck
,
S13
,
S14
,
S15
,
Silvia
,
Tyler McQuarrie
,
Vaughn Gittin Jr
,
Walker Wilkerson
,
X5 Show
,
Yoshi Shindo
,
Z4
---