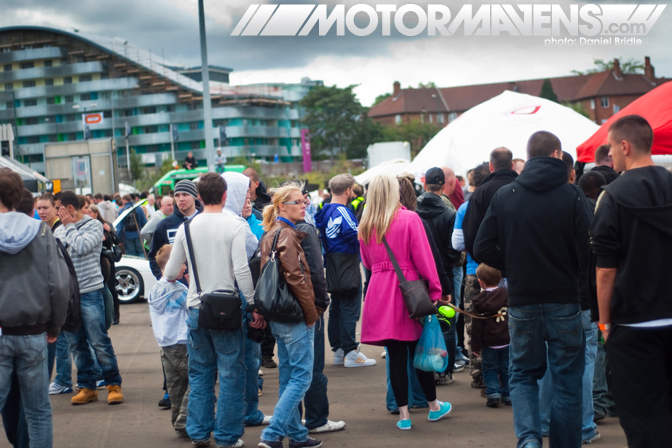 Things have been pretty hectic lately for the MotorMavens crew and myself. With work responsibilities as well as travelling around shooting, I haven't had much time to sit down and write this properly. What's crazy is it's only been a little over a week since Wembley and I've already been to Silverstone for the final round of JDM Allstars! I don't like to do things by halves and I couldn't leave you readers hanging on just one feature. So, while I work on the photos from Silverstone, here are the highlights of what happened on day two of JDM Allstars at Wembley Stadium.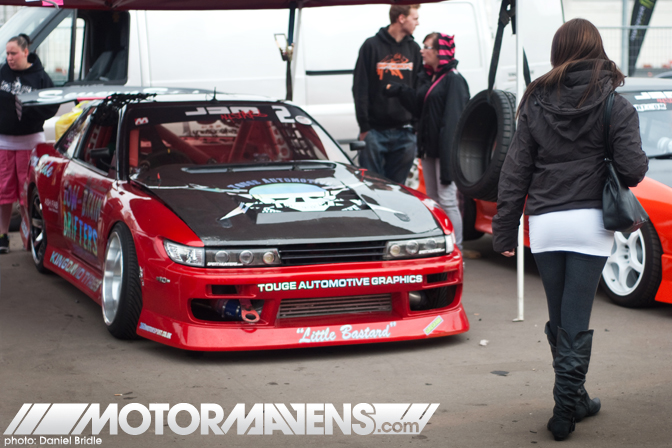 Arriving after an early good night's sleep, with fresh eyes, a stomach full of the McDonald's breakfast menu and a sweet cruise up listening to early 90s hip hop, I was in good spirits to check out what was going on in the paddock. Fortunately things were a little busier than the previous day, so there were plenty of interesting things to check out. * ahem*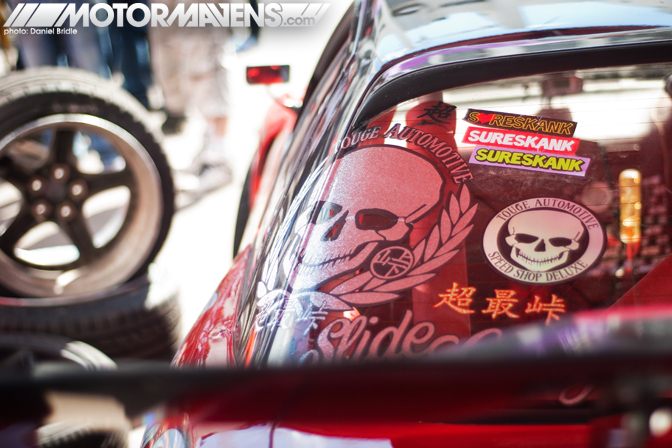 I never really noticed they were there before, but I dug the stickers on the rear window of Luke Fink's Low-Brain Drifters PS13 Silvia. I'm a big fan of collecting drift club and blog stickers from all over the world and I thought some of these were pretty cool. I love the Touge Automotive skull with the wreath sticker!
I spotted this Supermade PS13 Silvia just sitting by its lonesome. I'd seen a few photos of it on car forums about a year ago but this was the first time I'd seen it in the flesh. It's a truly stunning car and the owner has lavished some serious money on the spec and finishing details.
The wheels are pretty interesting too. Usually seen on European cars such as BMWs, Audis or Volkswagens, the set of staggered fitment Brock B1 wheels in 8.5 x 17j up front and 10 x 17j at the rear, really enhances this PS13. This car has a really tough stance to it. Dope!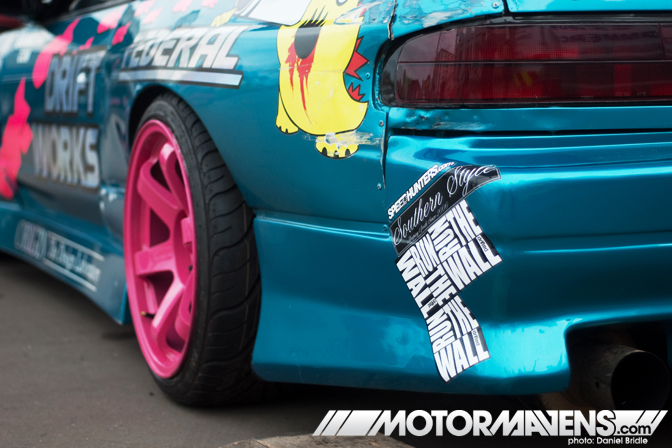 I made my way down to the far end of the paddock where the Driftworks crew had set up base. Dan Chapman's Driftworks PS13 Silvia (there are a lot of PS13s in JDM Allstars aren't there?) sitting there looking, well, surprisingly clean. I'm so used to seeing this car with the kit hanging off and Dan pop-riveting bits of metal plate on it in an attempt to keep it together. It made for a nice change!
Despite the stickers, Dan had managed to refrain from running the wall too hard. Since he's planning on selling up soon, it wouldn't have been a wise decision to plant the car into the wall backwards.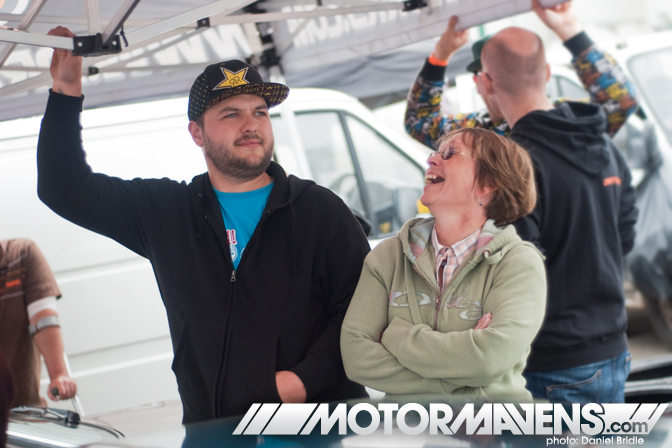 Here's the very man himself (along with his mother haha)! It's always great to see the drivers' friends and family come out to the events and support them.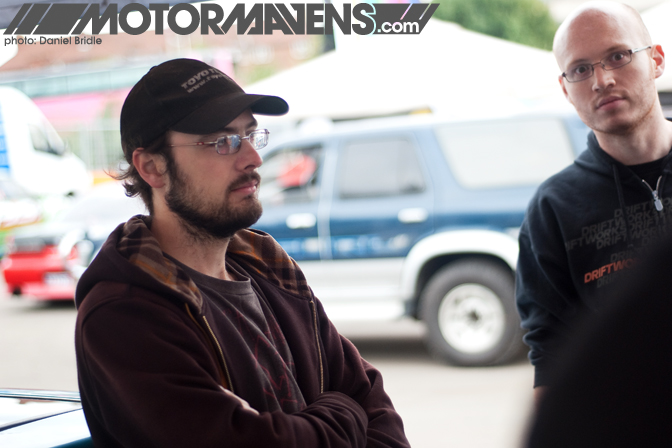 This was supposed to be a nice portrait of JDM Allstars judge/Nightspirit Drift Family member Chris Parry (otherwise known as Paz) – but those plans came to a halt with the unexpected arrival of Bon Bon's head in the corner!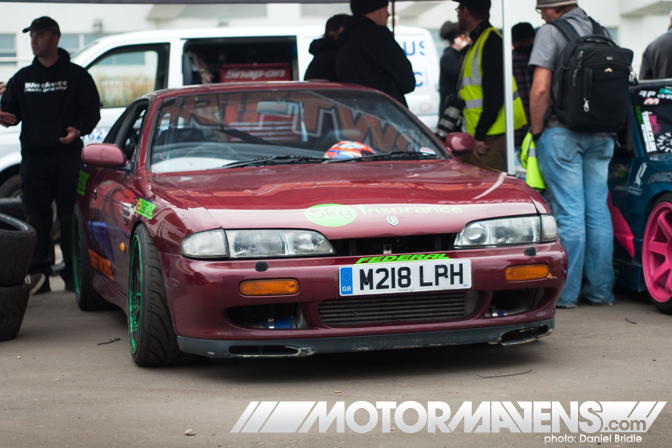 It had been an interesting few days at the Driftworks HQ. Bon Bon's famous R32 Skyline was still broken and he only had one choice if he wanted to compete at Wembley. So, he set about getting his pretty-much stock daily driver S14 up to JDM Allstars safety regulations!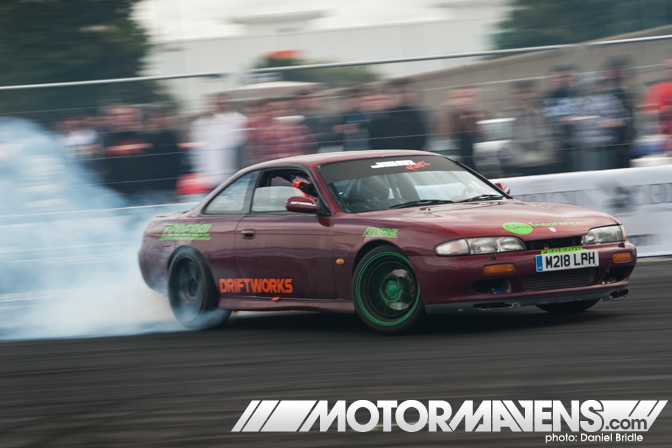 The thought of Bon Bon drifting his daily driver at JDM Allstars had me giggling like a fool. Not because he'd do badly. No. Knowing Bon, he'd probably do something crazy – like win in it! Sadly, we weren't able to see this because he couldn't make it on day one, so he missed out on qualifying – which meant he wasn't allowed to compete. Still, they let him run a mock battle against Duane Mckeever and his 180sx which, compared to the S14, is in another world when it comes to power and setup. I burst out laughing when I saw Bon enter into the first corner and hit a cone so hard it smashed in half! I wonder who would have won if it was a real battle, though?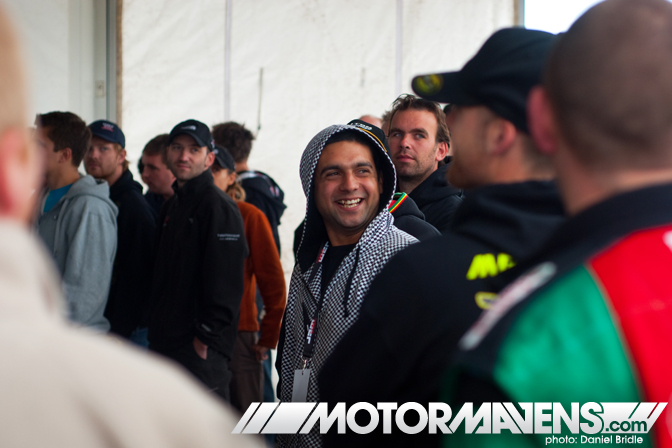 Soon enough it was time for a quick driver's briefing before practice. The atmosphere seemed pretty laid back with everyone seeming to be smiles all round.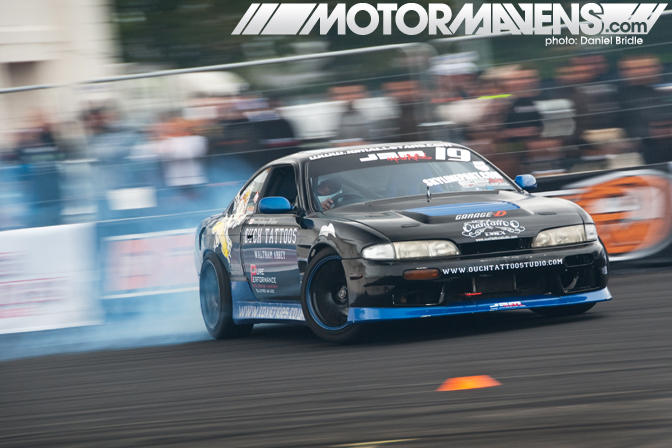 Brad McQueen had finally gotten some more power in his Ouch Tattoo Zenki S14 Silvia. Pushing out around 300BHP, it was interesting to see how he would get on with it. He managed to make it into the Top 16 but, sadly, got matched up against Luke Fink once again. Luke's superior speed and angle couldn't be matched. Better luck next time man!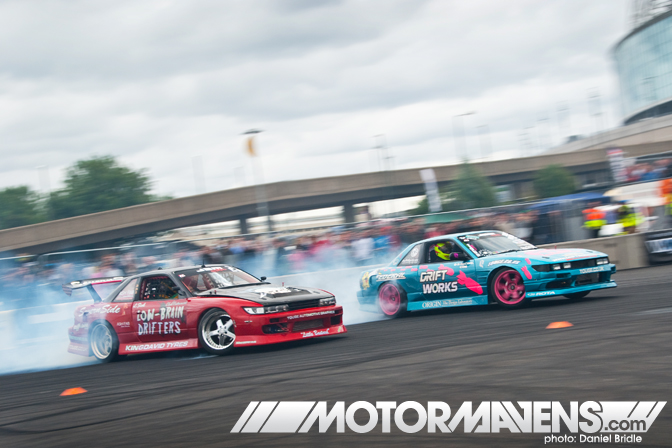 Practice is always a good time for drivers to see how their potential opponents drive – or just to have a some fun! The one match-up everyone has been begging for is Luke Fink vs Dan Chapman. Their spectacular battle at Round 1 in Manchester was one of the best I've seen in the UK! People have been hoping to see it again ever since. Sadly, this was only a practice run but it was exciting to watch nonetheless.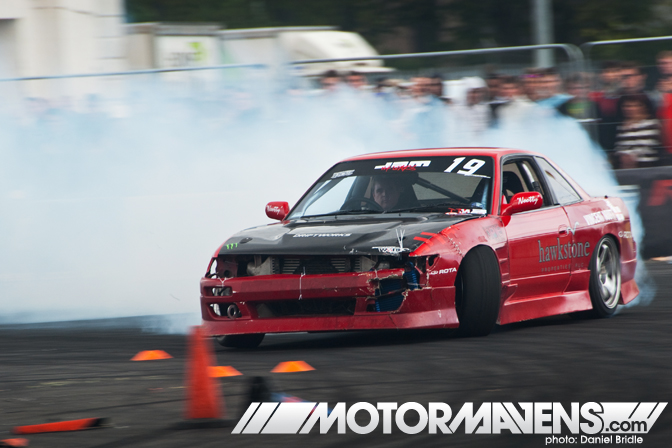 After the accident with Daniel O'Brien's S14 during practice the previous day, Vincent Noott's PS13 was pieced back together and out on the track once again being pushed hard. Sadly, he was knocked out during the Top 32 by Walton Smith in the Jap Performance Parts GC8 Subaru Impreza due to spinning out on both runs. I'm usually not a fan of seeing cars all battered up but something about Vincent's PS13 looked really hardcore with no front lights and a smashed up front bumper. Let's hope he gets it fixed soon though.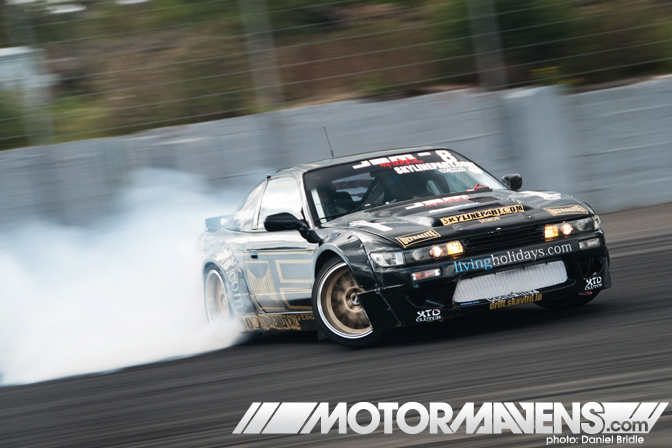 Anthony Scott was driving fantastically on both days. He seems to be able to throw the car around a lot more and pull off more crazy angles. Maybe some of this is due to the fact that the powerful RB30DET he was running threw a rod out the block while we were in Poland for the PFD Drift Championship. Scotty fitted an SR20DET as soon as he got back to England and it seemed to work in his favour because he had to drive the car harder due to the lack of power compared to the previous set up.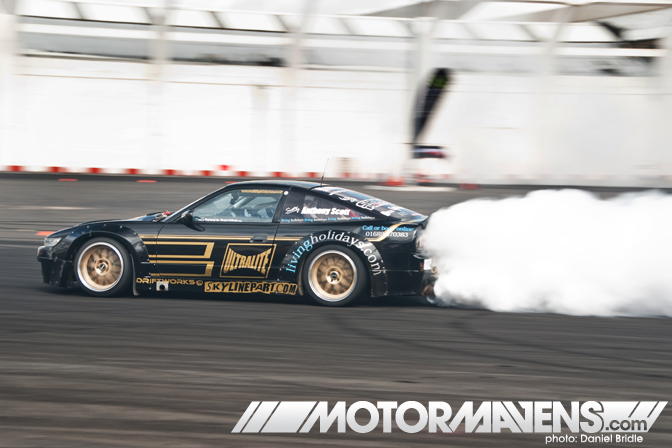 Unfortunately, this isn't the kind of smoke you want. The turbo died during Scotty's Top 32 battle with Bruno Esperanca meaning Scotty was out! Such a shame as I would have liked to have seen how far he could have gotten this round.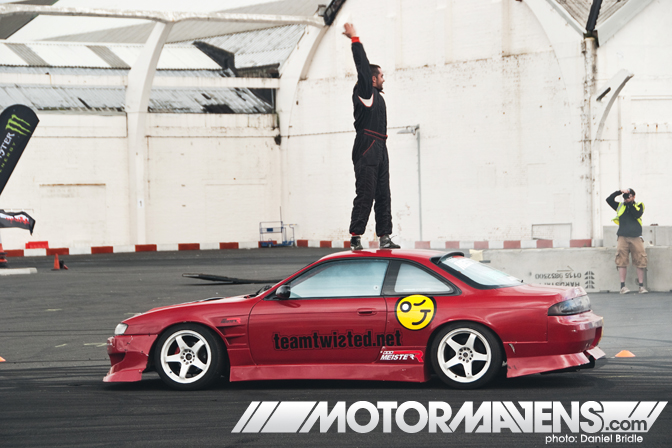 The start of the Top 32 saw the drivers do a parade around the track with plenty of burnouts. Bruno Esperanca did a great job of filling his car with smoke. He also looked quite happy this round – maybe it was because he didn't live up to his usual reputation of smashing his car into something. Gotta give big props to him for doing great all weekend and getting seriously close to the wall at times!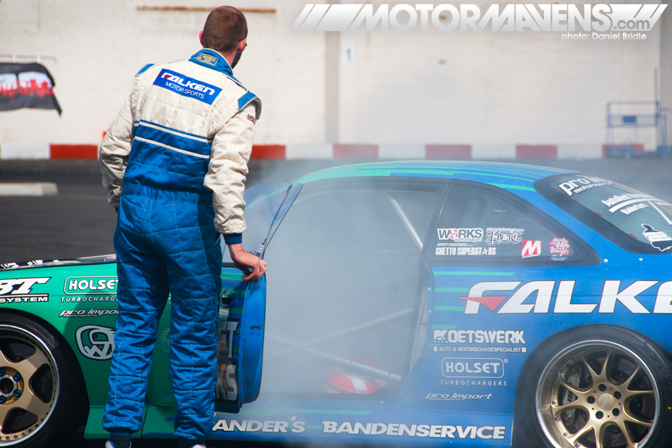 If this were a burnout competition, the clear winner (by miles) would be Lennard Wanders. However, not for the volume of smoke – rather, for sheer execution as he casually climbed out of his Falken Tire S14 with his shades on, opened both doors and stood there chillin' as the smoke floated out of the S14's cabin. Like a boss.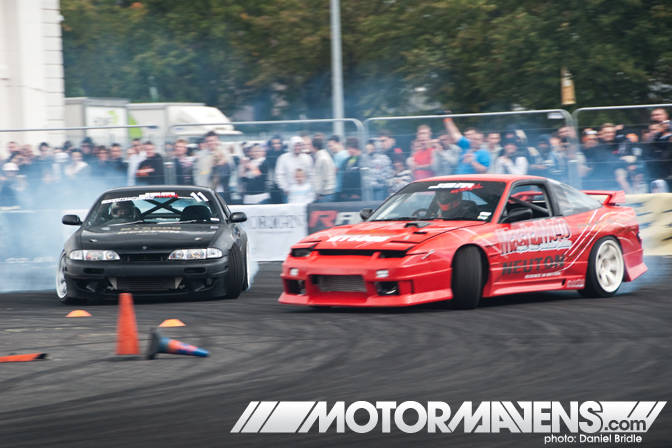 The Top 32 saw some great battles, one of which was between Neuton Tyres/Mei No Mai team mates Mitto Steele and Jon Calvert. They both fought hard, getting damn close during a OMT, but Calvert was the eventual winner due to Mitto making a few mistakes.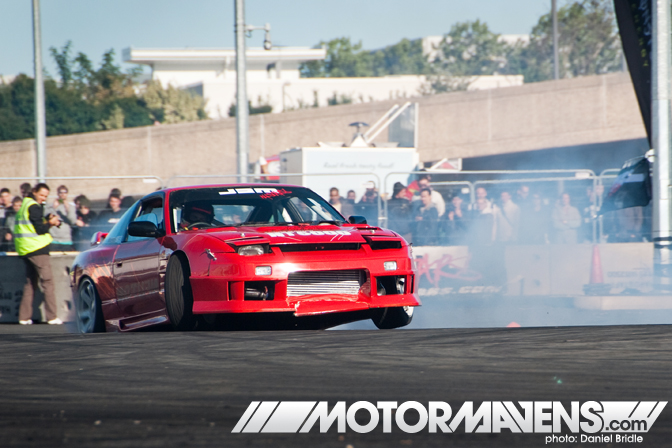 Calvert pushed on into the Top 8 where he came up against Walton Smith and was knocked out due to similar mistakes that his team mate made.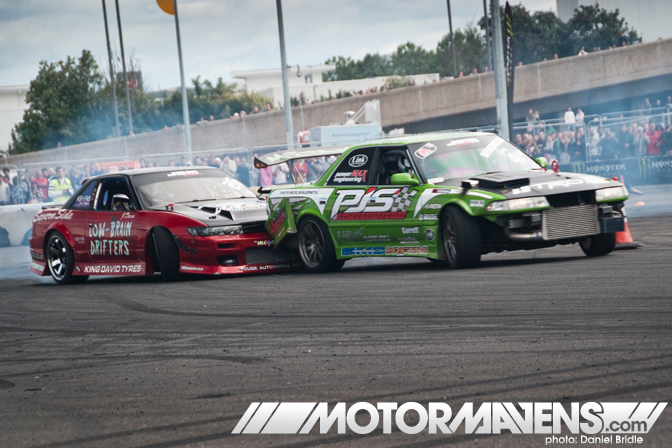 Probably the weirdest battle of the day went to James Deane in the Low-Brain Drifters PS13 vs Brian McCann's BMC JZX81 Toyota Chaser. Brian seemingly came out of nowhere on the first and second corner and just pushed his way through!? Considering there's a no passing rule, I didn't quite understand what was going on. Speaking to James later on he said he didn't really understand either. Despite the win going to James the PS13 had problems later on in the day which meant he had to retire.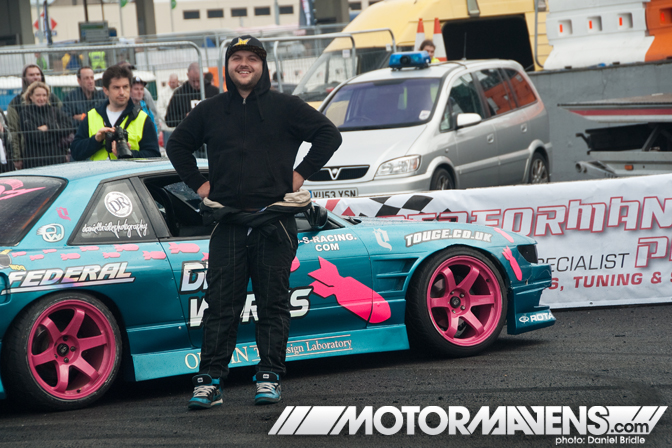 The Top 16 saw the drivers and their cars line up for the crowds while the MCs went around interviewing each driver. Here's Dan Chapman chilling with his Driftworks PS13. Despite his grin, Dan said he was feeling like he was coming down with something.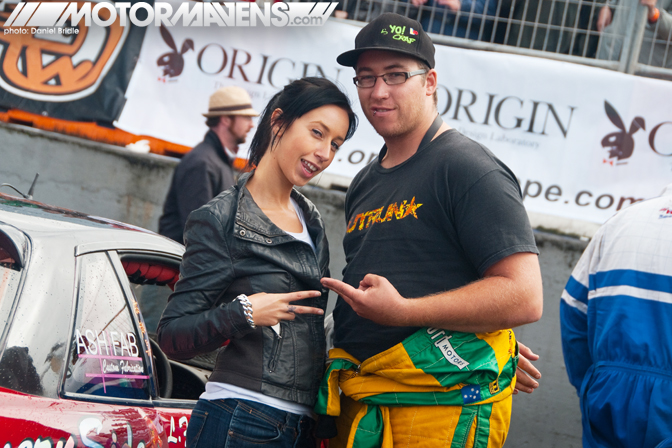 Here's Luke Fink and his partner and singer/songwriter Jaqueline Nix-Rajić! Silverstone was the last UK event for these guys before they go back to Australia. It's been really great meeting and getting to know them over this season. They're both highly talented and awesome people so it'll be sad to see them go but I hope they come back again soon! If not, we'll go and see them!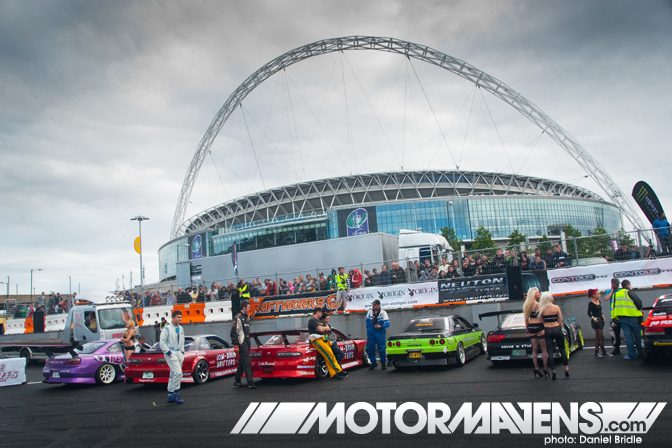 So the Top 16 was set, the drivers ready and it was looking like there would be some good battles ahead. Here are some of the highlights!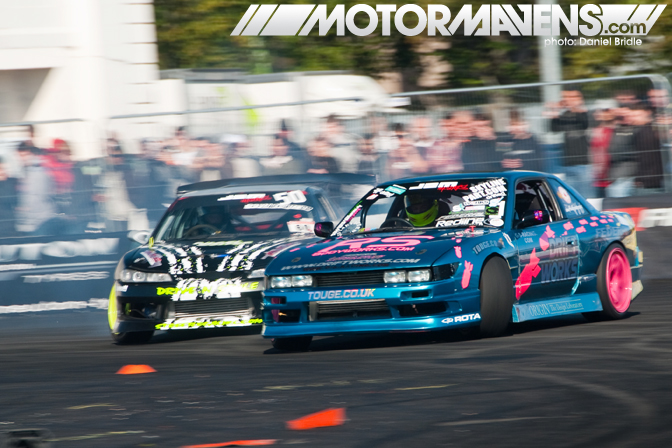 First off was Dan Chapman up against Nigel Colfer. Dan has reached the semi-finals if not finals in every round this season but he must have definitely been feeling off this round as Colfer quickly dispatched him. The way he caught up on Dan was crazy – he just stormed right up to his door!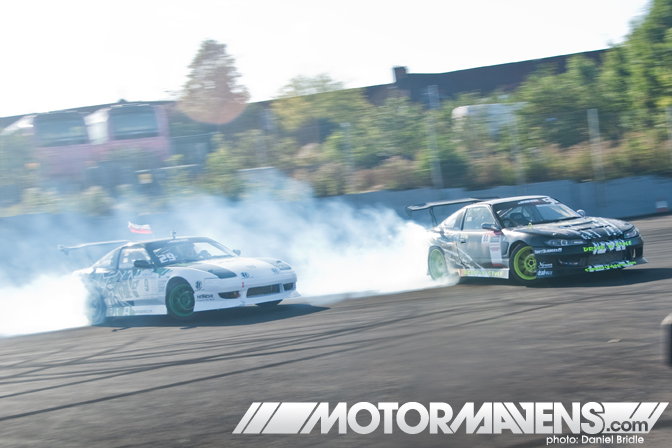 Colfer faced off against Polish driver Poitr Jankowski in the Top 8. The Polish drivers are seriously good in battles – I'd go so far as to say that they drive better in them than in practice or qualifying. They all seem to have this ability to stick to someone's door and just stay there. But it would take a lot more than that to keep up with Colfer's speed and fluidity around the course!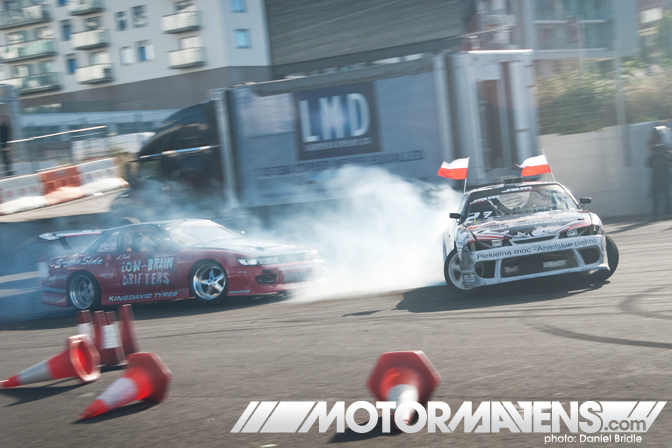 Okay, so when I said James Deane vs Brian McCann was the weirdest battle, I lied. This was. I and well, mostly everyone there, couldn't quite work out what was going on in this one – so I'll just tell you guys what I can remember.
Luke Fink had slightly tapped the rear quarter of Pawel Trela's S13 as they entered the final hairpin. Both cars carried on around the corner when suddenly Trela's car sorta just slowed down to a stop! Luke had no where else to go and went straight into the back of him.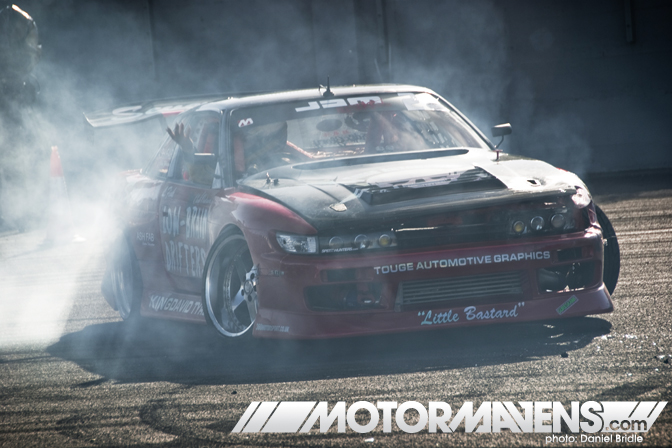 Luke's hand out the window said it all "what the hell just happened?" and with that, team manager Julian Barnes had to start yet another quest to find one more rare PS13 headlight. The judges decided to run the battle one more time and Trela went through. I'm not sure what happened and why, and it's all too controversial for my liking, but everyone has their own story.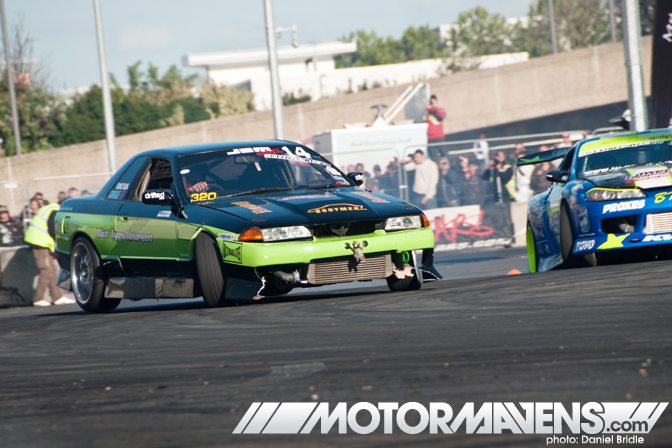 On a lighter note, George Tilling in the Mint Tyres R32 Skyline had become the peoples' favourite in a matter of hours. With huge support from the crowd, George went on to defeat opponent after opponent; knocking out the likes of Alan McCord and his monster Hi-Octane Imports V8 S15 Silvia – which had more than twice the power!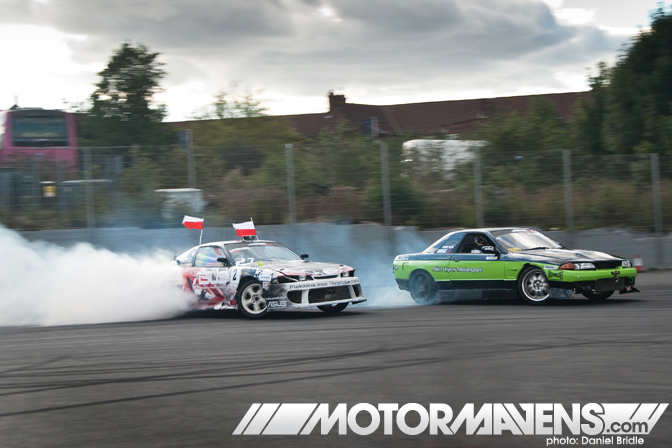 He even managed to get all the way to the semi-final where he faced off against Pawel Trela. George did a fantastic job of keeping up but the limits of his car were starting to show and Trela's speed and angle couldn't be matched.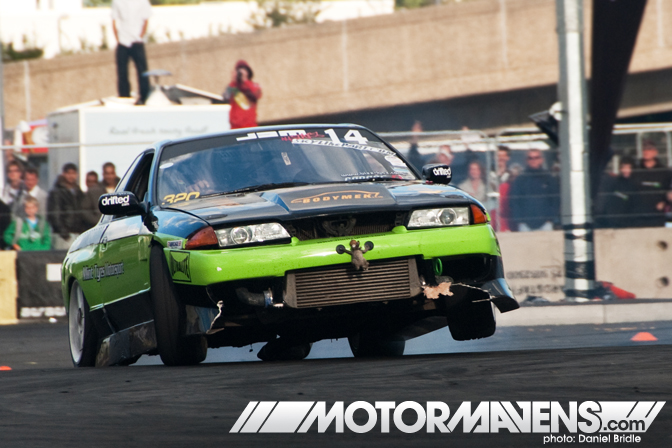 He then went on to take the 3rd spot on the podium in a great battle against Walton Smith. Great job man! A few days after the event I spoke to him and he told me about the kind of tyres he was running over the weekend. I laughed at how stupid it was. The car must never feel the same!
"I managed to pair them up in style and size right. They were all part worns too. So, Saturday practice I had 225/45/17 Wan Lis, which were horrible. Then the same size Goodyear Optimas for more practice and qualifying, they were good. Then Michelin Primacys for Sunday's practice and during the Top 32 parade burnouts and when I went against Matt Chiappa, they were awesome and still had loads of tread left! Then when I went against James Deane it had rained, so I put on the 245 18s I had, but then by the time we got out on the track it had dried up and they were the only pair of 18s I'd brought with me! I was gutted as they were awesome. They lasted on the runs against Deane and Alan McCord, then died, so I had to get emergency tyres which were 235/17 Continentals. I ran those against Pawel Trela and they de-lammed on the first lap which was a  schoolboy error. Then for the battle against Walton I had some 235 Pirellis!" Someone get this man a tyre sponsor! LOL!
I also asked him if there were any tactics he used to keep himself in the competition. "I saw each run as a challenge. I spent most of the time focusing on the launches as I knew I had the line for the first corner nailed and that I'd stand half a chance if I could stay close. I loved it though! Waiting for the OMT decision with Alan McCord felt like it took a lifetime!"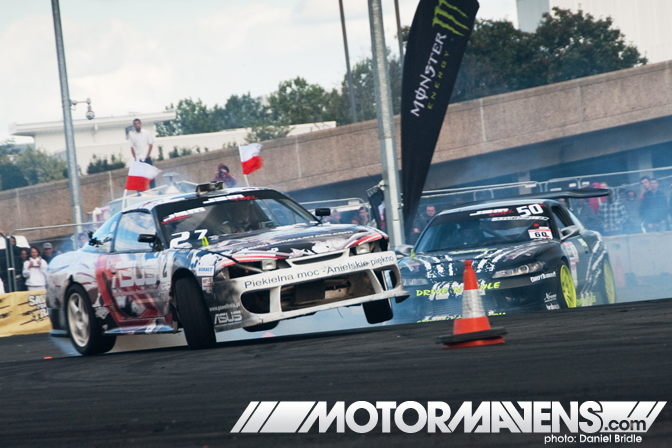 So, it was time for the final – and what a final it was! Nigel Colfer went up against Pawel Trela in a fantastic battle. Both drivers were inseparable through both runs and had to go OMT! After another two super tight runs, I couldn't work out who had won. The judges, on the other hand, had made their decision but were holding it until we got to the podium!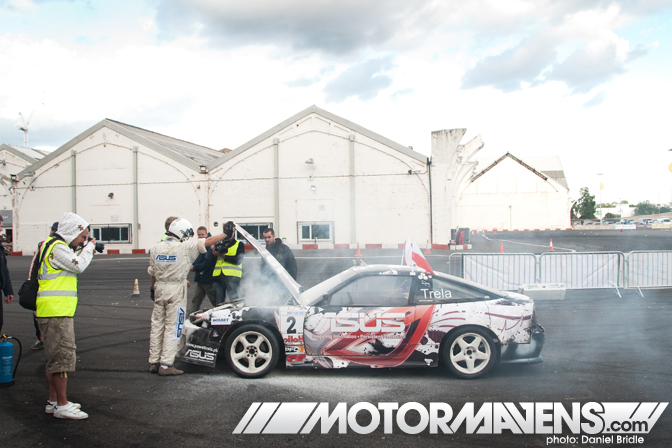 Just after the final run against Colfer, a flicker of flame and smoke appeared out of Trela's bonnet. The turbo had caught fire! Fortunately it was easily put out and the car was taken back to the paddocks and parked with the other finalists.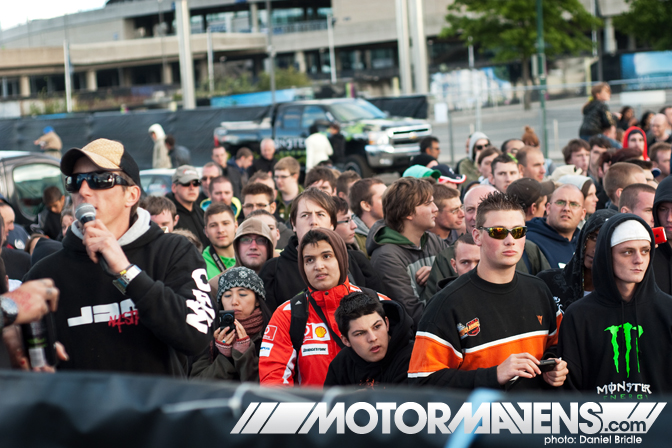 The crowds gathered and there was a definite buzz of excitement in the air as they wondered who had won…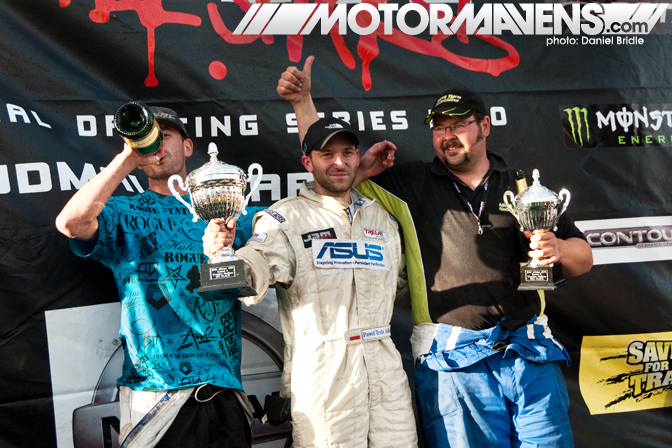 The winner was Pawel Trela in the Asus 200SX S13!  Nigel Colfer 2nd in the Drive 'n' Style 180SX and George Tilling 3rd place in the Mint Tyres R32 Skyline. Congratulations to all the drivers! That's all for now, but stay tuned for more coverage from the JDM Allstars final soon!
:: Daniel Bridle
180SX
,
Alan McCord
,
Asus
,
BMC Racing
,
Brian McCann
,
Bruno Esperanca
,
Chaser
,
Dan Chapman
,
Daniel Bridle
,
Daniel O'Brien
,
Driftworks
,
Drive 'n' Style
,
Falken Tire
,
GC8 Subaru Impreza
,
George Tilling
,
HI-Octane Imports
,
James Deane
,
Jap Performance Parts
,
Jaqueline Nix-Rajić
,
JDM Allstars
,
Jon Calvert
,
Julian Barnes
,
JZX81
,
Lennard Wanders
,
LOW-BRAIN Drifters
,
Luke Fink
,
Mazda
,
Mei No Mai
,
Mint Tyres
,
Mitto Steele
,
Monster Energy Drink
,
Neuton Tyres
,
Nigel Colfer
,
Nissan
,
Ouch Tattoo
,
Pawel Trela
,
PFD Drift Championship
,
Poitr Jankowski
,
PS13
,
R32
,
RB30DET
,
RPS13
,
RX7
,
S13
,
S14
,
S15
,
Silvia
,
Skyline
,
SR20DET
,
Subaru
,
SuperMade
,
Sureskank
,
Touge Automotive
,
Toyota
,
V8
,
Walton Smith
,
Zenki S14 Silvia
---