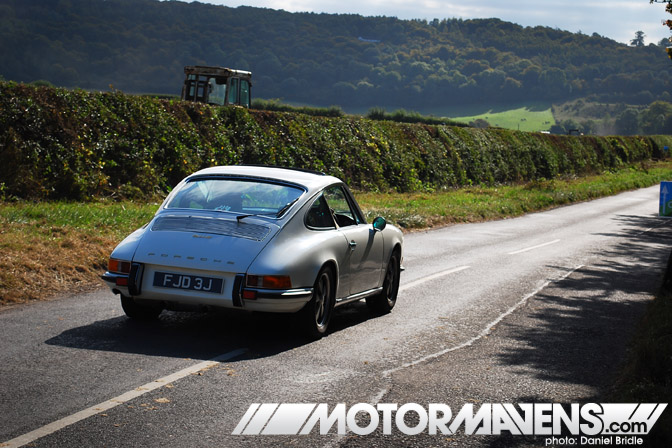 Set in the beautiful country lanes of Princes Risborough, the Kop Hill Hillclimb is one of the oldest hill climbs in England. During the early 1900s it was one of the largest motorsport events in the UK. The hill itself is a pretty straight road, but it's over 1000 metres long to the summit and rises to 100 metres high. Big crowds would line the edges of the road to watch drivers and motorcyclists try to achieve the fastest times and speeds up the hill. Unfortunately, as the speeds got faster, so did the risks, and on the 28th of March 1925 an accident involving a spectator led to the end of the original Kop Hill event and led to the RAC banning all motorsports on public roads.
On the 26th and 27th of September, organisers decided to do a Kop Hill Commemorative Run to bring the sounds and sights and even smells (mmm, Castrol R) back to Kop Hill again. Over 250 cars and bikes were there, ranging in age from the 1900s right up to 1980s and even some very special modern cars.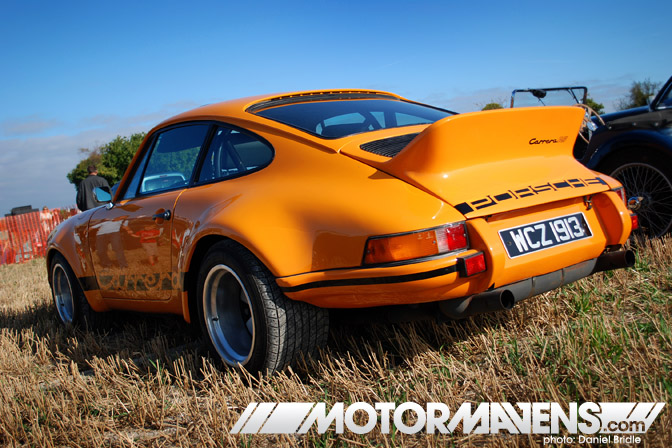 I've always been a fan of classic Porsches. Give me the choice between an old Porsche Carrera 911 RS or a brand new 911 GT3 RS and I'll take the keys to the old one any day. There were only a few Porsche's at the event, but every one of them was in practically showroom condition.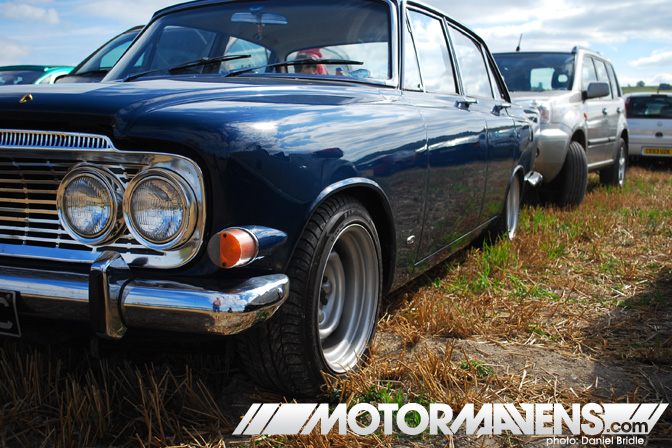 As well as the main showgrounds, the car park just behind the spectator area was full of classics that weren't racing. Take a look at this gorgeous Mk3 Ford Zodiac from the 1960s, which has been dropped on a set of nice banded steels. (Widened steel wheels, for those who aren't privy to British car slang)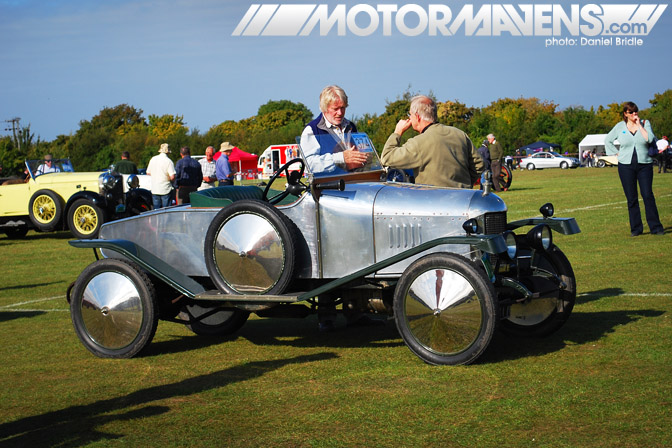 Over in the main showgrounds cars were lining up for their runs up the hill. Amongst the sea of 1920s Morgans, Lancias, Aston Martins, Bentleys and truly amazing facial hair was this 1921 Bullnose Morris Sports. It stood out thanks to its aluminium bodywork and smooth chrome wheels. In fact the wheels are what caught my eye the most. They look like they should be attached to something at the Bonneville Salt Flats!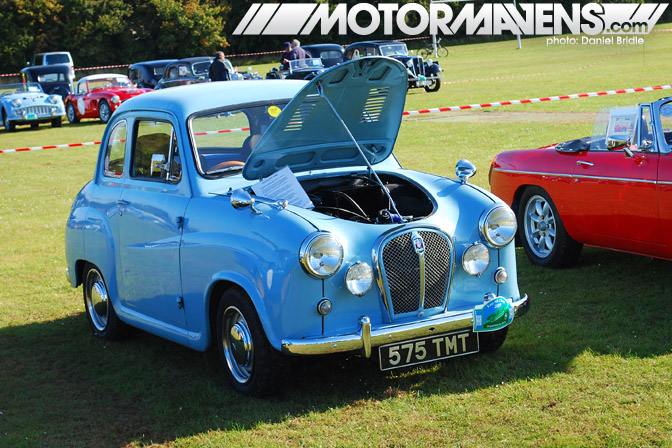 This adorable little Austin A35 surprised everyone when it launched up the hill. Looking as standard as it does, I was expecting it to be slow and struggle to get up the climb, but it flew past me so quickly I didn't even have time to get my camera ready to shoot it! So when I got back to the show grounds I had to have a look under the bonnet. Turns out the owner has replaced the tiny standard engine with a 1.3 Metro Turbo motor. What a classic sleeper car!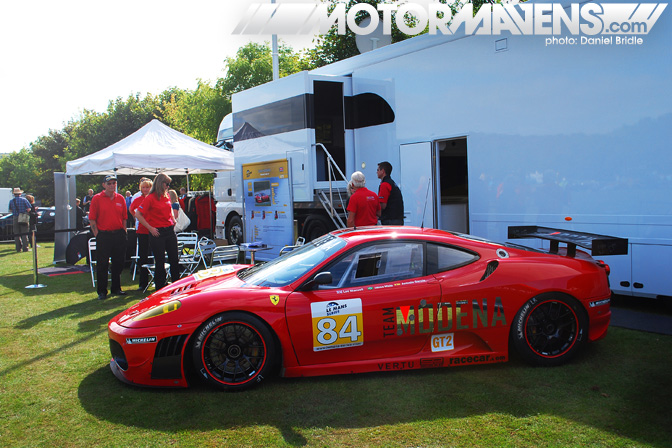 Earlier this year Team Modena recorded their 4th consecutive finish at the 24 Hours of Le Mans. They were at Kop Hill displaying their stunning Ferrari F430 GT racer that got them the finish. I'm not the biggest fan of modern Ferraris, but the F430 is absolutely gorgeous, and a full race spec one like this just has so much presence.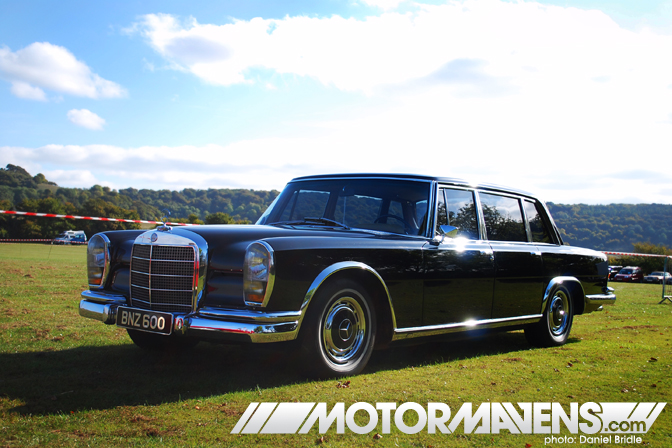 If you want European VIP style and elegance, look no further than this Mercedes Benz 600. The whole car just oozes class and money.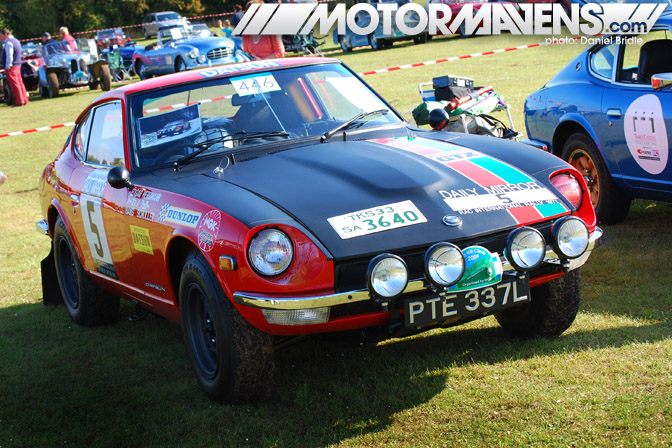 This 1972 Datsun 240z looked too good to be true; so good that I thought it was a replica most of the day. After a bit of research and asking around, I found out that this is one of the three Datsun 240z works rally cars that were brought over here in 1971 for the RAC Rally!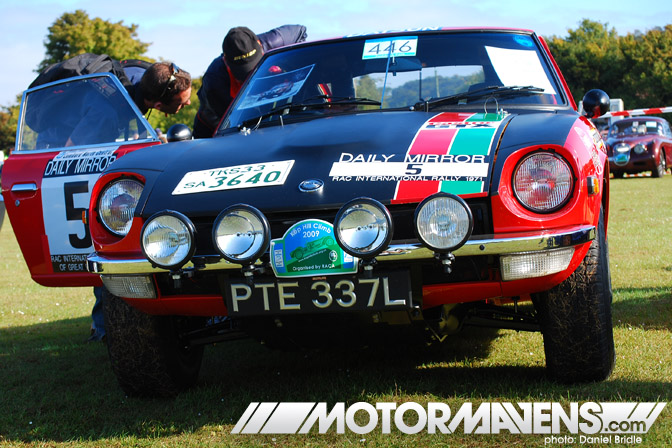 The car has taken over a decade to get back to the condition it once was when it first landed in the UK, and the owner has managed to keep it as original as possible. The attention to detail is simply amazing!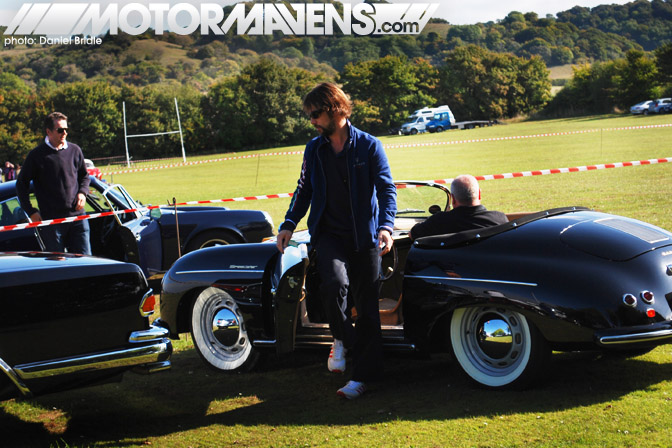 Even Jay Kay from the band Jamiroquai was there bringing a selection of cars from his collection along, including this beautiful Porsche 356 Speedster. The man has great taste in cars as well as music.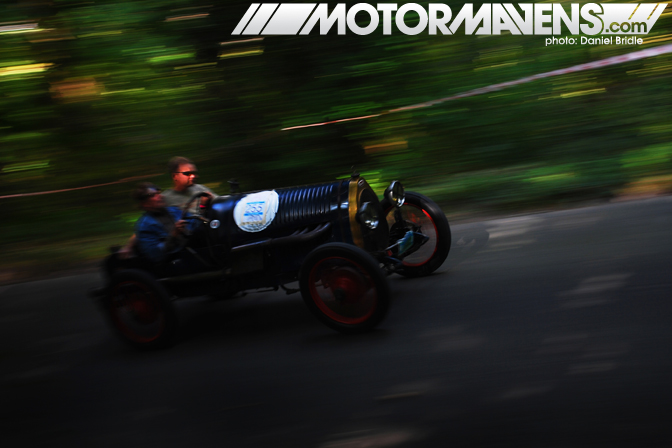 Trying to get a spot to shoot from was hard, as there were so many people in the spectator stands and boxes. So I headed further up the hill to see if I could find an opening in the trees. Fortunately I managed to find a nice spot and it really opened my eyes to how fast, or slow the cars could get up the steeper parts of the hill. This Humber 9/20 was surprisingly quick for something from 1927.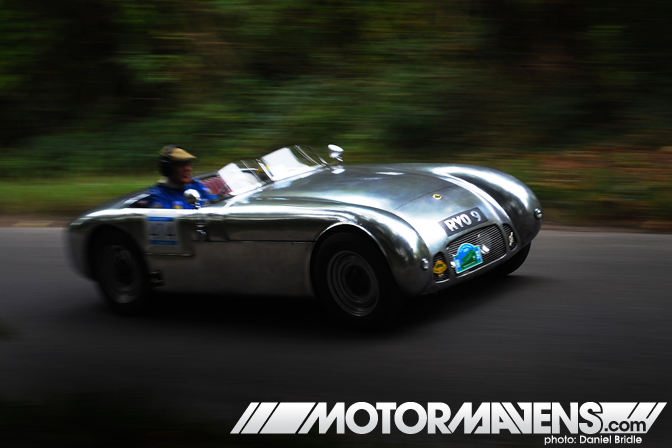 This very special all aluminium bodied Lotus Mark VI was built as a commission by the famous racing bodywork designers and builders Williams & Pritchard in 1953. I loved seeing this car in action. The smooth bodywork with its clean, simple lines make it look like its going fast even when it's not moving!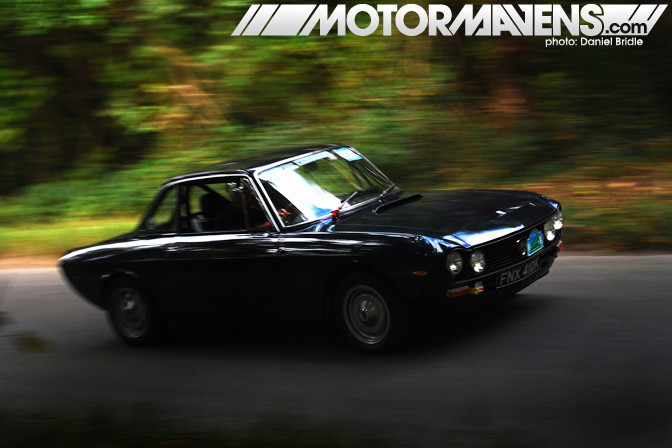 What always amazes me at classic car shows or meets is the condition of the cars. It's great that cars that have been around for nearly 100 years are still being kept running and used on the roads today instead of being cooped up in a museum. This lovely 1967 Lancia Fulvia Rallye was a prime example of Italian style that hasn't turned into a pile of rust.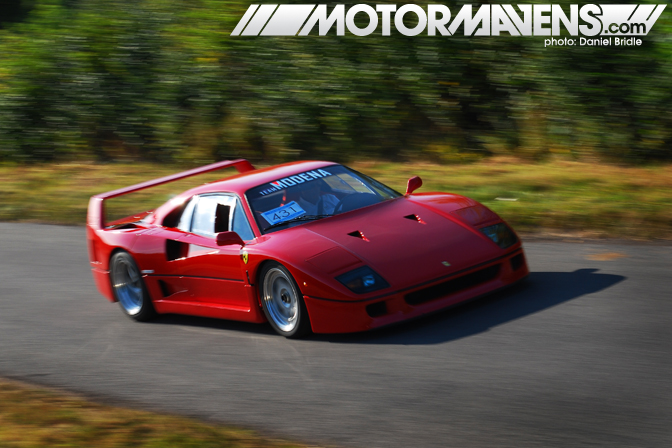 Also on the Team Modena was this sweet, sweet, sweet Ferrari F40. Later in the day they brought it out for a run. The driver didn't go all out up the hill, but gave it just enough so you could hear that awesome twin turbo V8 burble and crackle through the exhausts.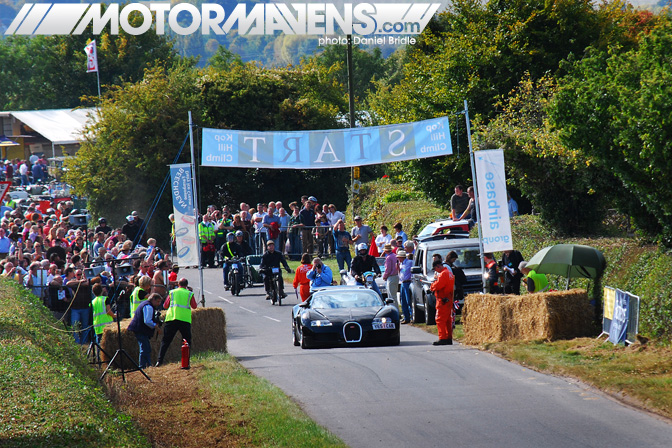 The start line was packed with spectators eager to see the Bugatti Veyron launch. It was odd seeing one of these move in person for the first time, it was a lot quieter than I'd expected, just a low bassy growl and it was off, effortlessly driving up the hill like a gust of wind had picked it up and carried it away.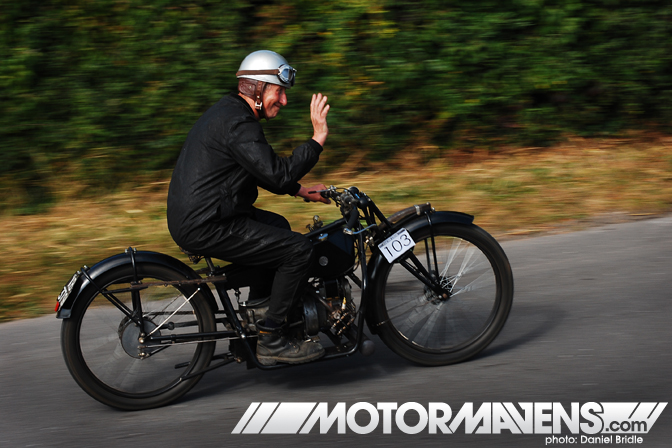 I realise that Motor Mavens is mostly a car related website, but the amount of classic bikes at the event was hard to ignore. From ones like this 3hp ABC Sopwith to awesome Norton cafe racers!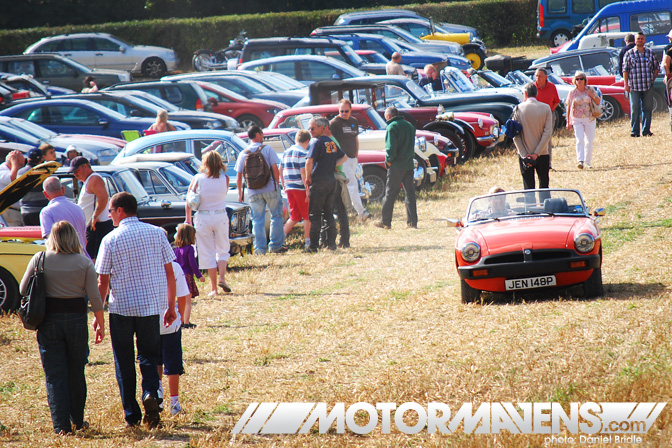 Overall the event was a great success, with a big turnout and a really relaxed atmosphere. Kop Hill will be even bigger in 2010, as it'll be celebrating over 100 years of racing at the hill climb. I'm looking forward to it already, and if anyone is in the area at the time and wants to see some amazing classics, I highly recommend coming along!
:: Daniel Bridle
Aston Martin
,
Austin
,
Avon Bellamy
,
Benz
,
Bugatti
,
Bugatti Veyron
,
Car Show
,
Classic Motorcycle
,
Daniel Bridle
,
Datsun
,
Datsun 240Z
,
F40
,
F430
,
Ferarri
,
Ford
,
Hill climb
,
Hillclimb
,
Kop Hill
,
Lancia
,
Le Mans
,
Lotus
,
Mercedes
,
MG
,
Morgan
,
Norton
,
Porsche
,
Princes Risborough
,
RAC
,
rally
,
Vaxhuall
,
Vintage
---