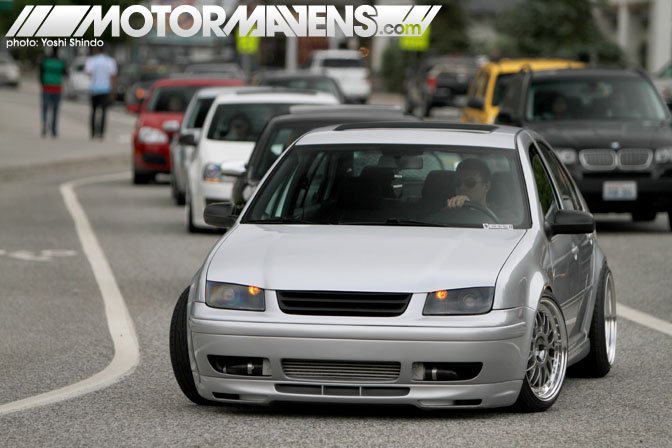 All my friends know that I stay up really late every day, so when I wake up early for an event, it's usually because I'm motivated to shoot a drift event or some kind of local Japanese car-based meet. However, waking up just to go to a car cruise is a completely new concept for me. I've been hearing about the Leavenworth Euro Cruise for a few years now, and to be honest…I never really cared to check it out until now! It's a good thing I stepped out of my shell though, because there were a lot of cool cars at the event that I probably wouldn't have ever seen if I didn't go!
It's true what they say – as we get older, things change, our minds open up, and sometimes… we realize what we've been missing. This cruise from Bellevue Community College to the touristy city of Leavenworth, with a stop at Washington's famous Steven's Pass was definitely something I've been missing out on for a long time! I attended the cruise with our writer Lucas Perez and photo newcomer Jeff Santiago, and even though we rolled up with Lucas' R32 Skyline and Jeff's Honda S2000, mostly everyone seemed cool with our non-euro cars attending. Well, at least they didn't throw eggs at us or anything.
Lucas Perez will be writing the next update from the cruise, so he will probably have a bit more info on the cars. I'm honestly not the most knowledgeable guy when it comes to European cars, so I don't want to pretend here and write a lot about cars that I don't know about. This being said, I just focused on cool cars that caught my eye, like the silver VW Jetta in the above pic. It easily was one of my favorite Jettas there – super low, great fitment, and aggressive-but-clean. Props to the owner.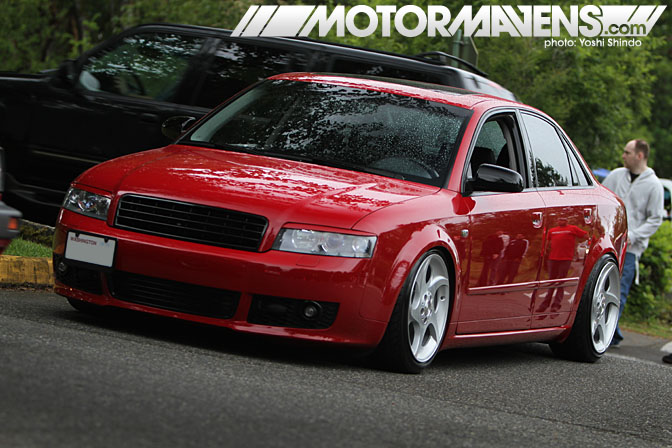 When we pulled in to the first stop of the cruise, Bellevue Community College, this red Audi was the first thing that caught my eye. The car was very tastefully done, and the stance and fitment look pretty good… It's a great looking car!
Unfortunately, Lucas and I got to the college a little late – only about twenty minutes before everyone started leaving. This being said, I didn't get a chance to take too many photos there. I'll post some more up for the second phase of the coverage, which will be written by Lucas.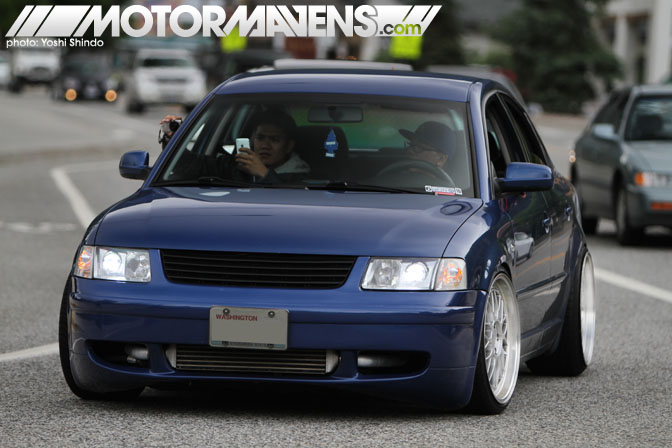 I think this is the first older gen Volkswagen Passat that I've ever seen-and-liked. I never seem to notice them, because most of the Passats I see are stock, and have nothing really noticeable done to them. Again, what drew my eye to this car was its awesome fitment and stance, not to mention the tasteful styling. I love how clean this car is.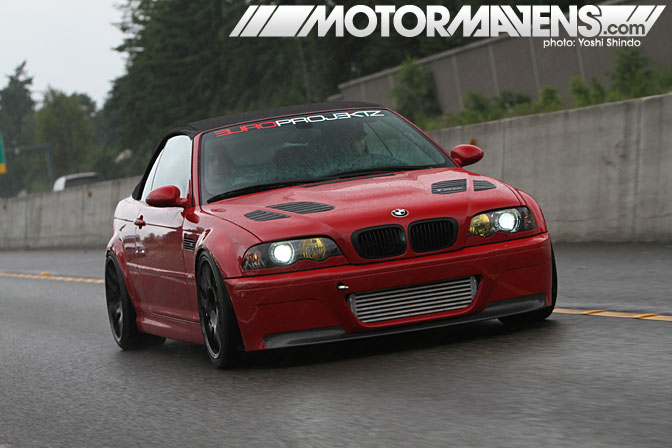 While on the freeway, several BMWs passed by us, and I happened to have my camera out at a great time. The owner of this BMW E46 M3 vert was super cool and made sure I got the photo I wanted. Does anyone know what kind of bumper that is? It doesn't look stock, that's for sure.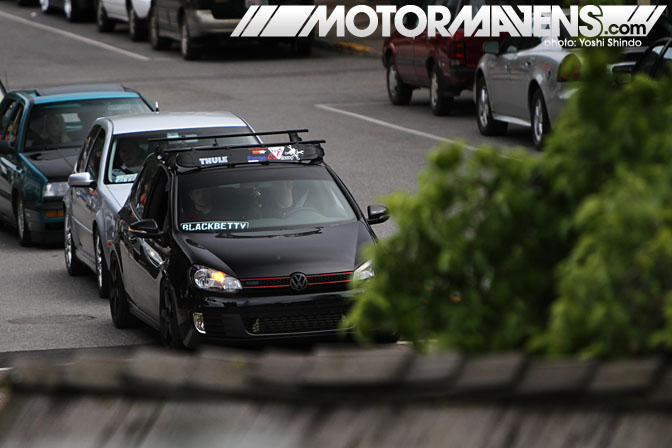 Leavenworth is a pretty small European themed town. It's a pretty popular Northwest tourist destination that is known for having some pretty awesome bratwurst.
While walking on the main street, I happened to glance over and see this GTI peeking though a couple of trees and a roof. I wish I was able to check the car out up close! It was hard to check out all the cars because there wasn't one big centralized parking lot that everyone could go to. Everyone pretty much had to drive around and find street parking wherever they could. It's a shame, because it made shooting all the cars kind of difficult. I'm sure I missed a lot of cars. If anyone attending the cruise has photos posted up on Flickr or something, please paste a link in our comments section!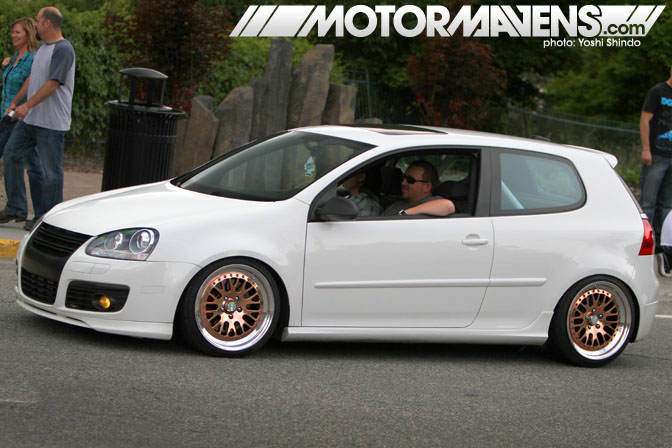 One of my favorite wheels, I swear… I think properly sized CCW Classics look good on ANYTHING! This is the first time I've seen the copper colored Classics also, and I think they look good! I also like how low this Vee Dub is. Very nice!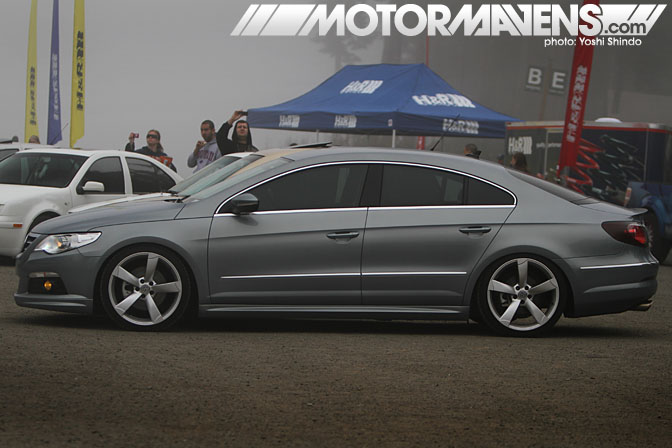 While my original comment on this car was off by far! I think its great that everyone had to correct me on this since I'm still very new to the "Euro scene" lol. I was informed the car had a Votex body kit, Hartmann wheels, E-code lighting. This car was definitely an eye catcher! Volkswagen did a great job of making a big bodied four door. I think the body lines remind me of a Mercedes Benz though, what do you guys think?
Stay tuned to MotorMavens for Volume 2 of the coverage from the Leavenworth Euro Cruise!
::Yoshi Shindo
---