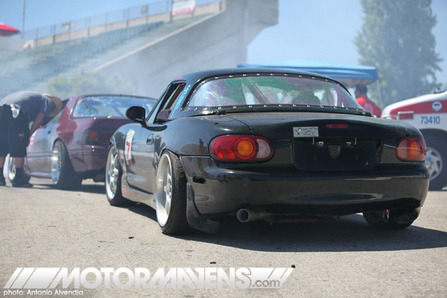 Independence Day weekend was certainly a busy for those of us in Southern California. There were so many parties and car events to go to, it was really difficult choosing what to do this weekend. While many of my other friends spent the 4th of July having BBQs or enjoying the cool breeze in Huntington Beach, Drift Day organizer Naoki Kobayashi talked my friends and I into making the long, long trek out to the National Orange Show (NOS) Center in San Bernardino, CA for the Megan Racing Drift Competition.
You don't have to say it; we know what you're thinking. Megan Racing? Yes, we're talking about that Megan Racing. Working with Naoki from Drift Day, Megan Racing has decided to show its support of grassroots drifters, by throwing a fully catered drifting competition (thanks for the tacos, Megan Racing!), complete with a two thousand dollar purse for the winners. (Although, we didn't stick around til the end, so we weren't sure if they actually gave out money to the winners, or just a really expensive handbag.) Either way, we think it's great that a company with products catering to the grassroots drifting community would actually give back to the grassroots drifting community by putting together an event like this!
This weekend wasn't our first time in San Bernardino.  Yesterday though, we happened to notice how much it looked like the wild west. Many of the buildings near the NOS Center were vacant, with "For Lease" signs or boarded up windows. Many of the restaurants and businesses on the street in front of the track looked empty as well, making us wonder if people actually lived in this part of town!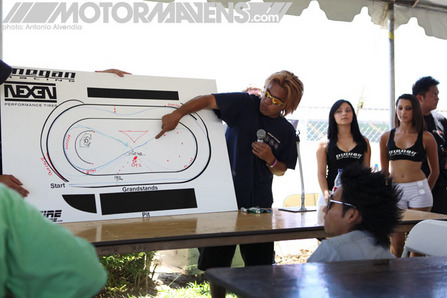 When actually made our way to the driver's meeting, we were surprised at how many people actually made it to the event. Grassroots drift event regulars like Hiro Sumida, Yoshie Shuyama, Colin Frost, Quoc Ly, and the newly blonde Taka Aono were some of the Formula D pro drivers in attendance (as judges and volunteer staff) , but we were pretty surprised to see guys like Daijiro Yoshihara there, who was also apparently there to help judge the event, looking quite a bit more "dressed-up" than anyone else at the venue!
Aside from the Formula D pro drivers, there were actually quite a few members of the automotive media in attendance – this Megan Drift Competition was a bigger deal than we initially expected. Modified Magazine, Urbanracer, EverythingDrift, and MotorworldHype were just some of the automotive media outlets shooting coverage. We also ran into our friends Josh Herron and Will "B-Roll" Roegge, the drifting scene's new dynamic video duo, who can always be seen trackside, each rocking a Panasonic video camera, fluid head tripod, and forest of facial hair.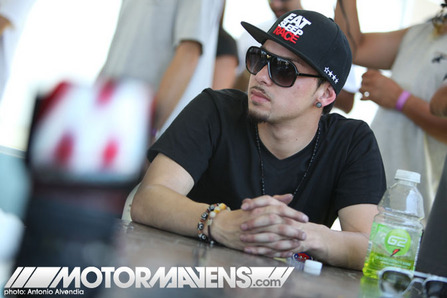 There were also quite a few Formula D Pro-Am drivers at this event making their return to drifting, like Lance Feliciano (pictured above in the EatSleepRace hat), Andy Hateley and Stanley Tran.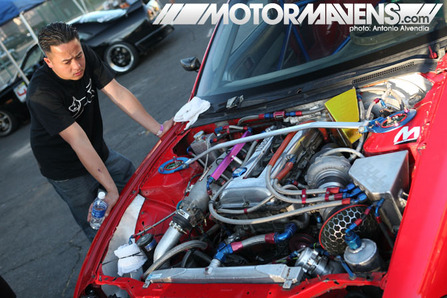 Lance Feliciano's Full Race S14 was having engine problems all day during the open practice sessions. His SR20DET sounded like a popcorn machine, unresponsive and producing zero power. If I remember correctly, they were having alternator issues?? With hard work from his good friends, he was able to get the engine fixed and running well again in time for qualifying. Even though he didn't have any practice at all, he did very well in qualifying, proving that Justin Pawlak isn't the only OG member of the Dori Dori Club with skills!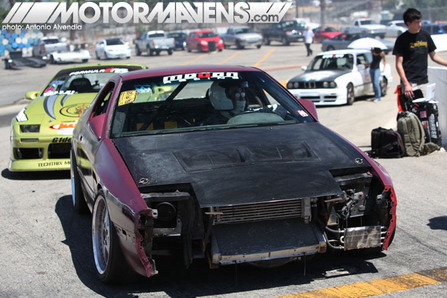 North Hollywood AE86er Kelvin Arreola was competing in his FC3S RX7. Kelvin tells us he got his car for free, so he enrolled in welding classes at a community college just to use their equipment to make the roll cage in his car. He also has another FC that he's apparently trying to build with an LS1 engine swap, envious of the power and torque and reliability that Mike Essa's gold FC (pictured, behind) enjoys.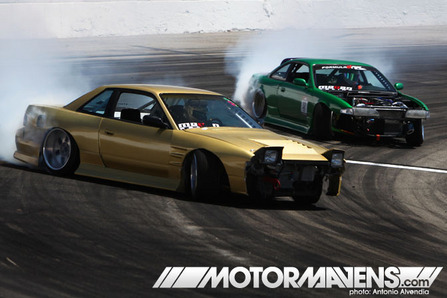 San Diego-based All Star Bashers Tommy Roberts (gold S13) and Matt Powers (green S14) were tearing it up in their typical aggressive style, running close tandem on just about every portion of the track. It's no secret that these two cars are some of my favorite cars at grassroots drifting events because of their aggressive stance and driving style.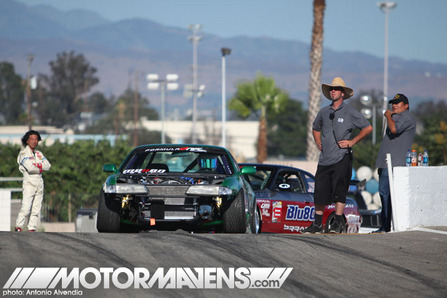 Here's Matt Powers again, getting ready to launch his S14 into the bowl at the NOS Center's oval track, as Jin from US Earth looks on, fully suited up. Just look at how much the details of this car stand out – neon green control arms, bright orange tow strap, and super fat wheels? Come on.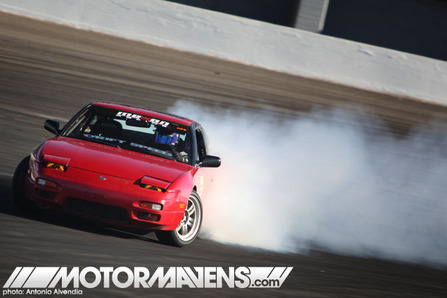 Stanley Tran is always smoking (LOL)! We haven't seen Stan's red RPS13 at a drifting event in a minute! He hasn't driven any events in quite a while, since he's been busy with his work at NBC Universal, but he proved yesterday that he can still tear it up with the best of them, and it won't take too long for him to get back in the groove and win JustDrift Top Drift Battles again.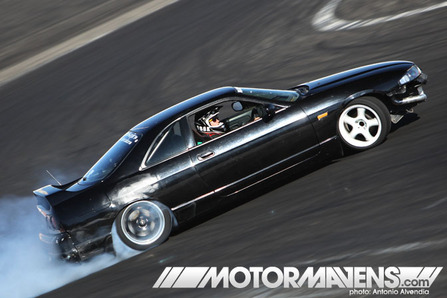 We've seen the driver of this R33 Skyline, Ryan Litteral, at Adams Kart Track in the past, using his R33 to put on a fashion show for all the scene girls in the 909 area. He was back at it at, ripping it up in the 33 again during the Megan Racing Competition. Not bad for a car he purchased for only $5000… and that's "with papers!"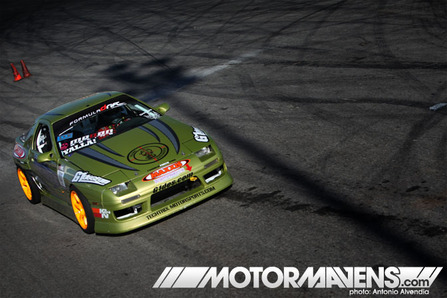 We'll finish this first coverage update from the 4th of July Drift Competition with this shot of Mike Essa's FC3S RX7 charging into the the first sweeping left hand turn. This FC definitely had us open. Mike was definitely killing it, with big angle and big smoke throughout the entire course.
This is just the first half of the coverage. Be sure to stay tuned to Motor Mavens for Part 2 of the Megan Racing Drift Competition, coming very very soon!
While we were out at the event and hanging out with friends, watching fireworks afterwards… apparently some $#!theads stole my truck right in front of my place, and last night my favorite uncle had a stroke. He's in the hospital now, and I can't even go and visit him cause the @$$holes took my truck.
I just decided to post up these photos while waiting for my friends to come pick me up and help me deal with all this drama. Until next time… peace out, and keep an eye out for my truck!
:: Antonio Alvendia
---