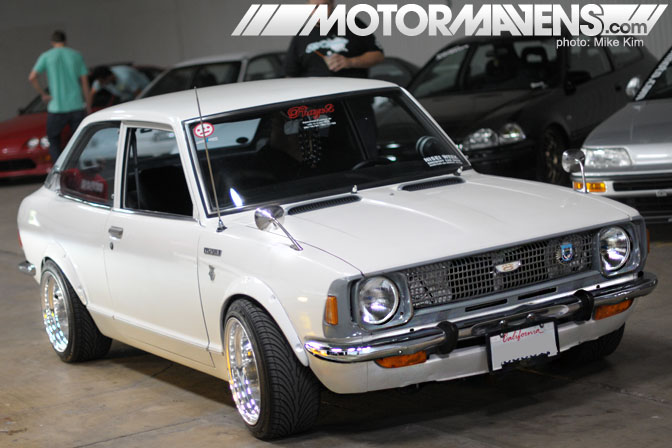 Over a year ago, when you heard the phrase 'It's JDM Yo!' you would just think of a bunch of Japanese cars with parts from Japan following a trend.  Now, as soon as you hear it, the first thing that comes to mind are the hot models and Tony 'It's JDM Yo' Lee with his posse at every major car show representing.  The meet turned out more like a car show but with free entrance and in and out privileges for both people and cars.  With vendors, food trucks, free NOS Energy Drinks to quench your thirst, and lots of eye candy the day went by without a hitch.  A raffle, emceed by Tony and Miss Natalia Marie from NOS, was held and proceeds went to help fund Big Abe's daughter Sophie's funeral cost (if you don't know who Big Abe is, he's the guy with the big ass rim hanging from his neck).  I have to give a big shout out to Big Abe for showing up to the meet after going through what he and his family had to endure.
A familiar sight at any major meet or event in the SoCal area, Anthony Do and the Infinit crew rolled deep with 10+ cars.  So many that I couldn't get all of them in a single shot!  Each of the cars in team Infinit rock sick JDM wheels from new school to old school and they all have crazy stance and offset, even on the front wheel drive cars!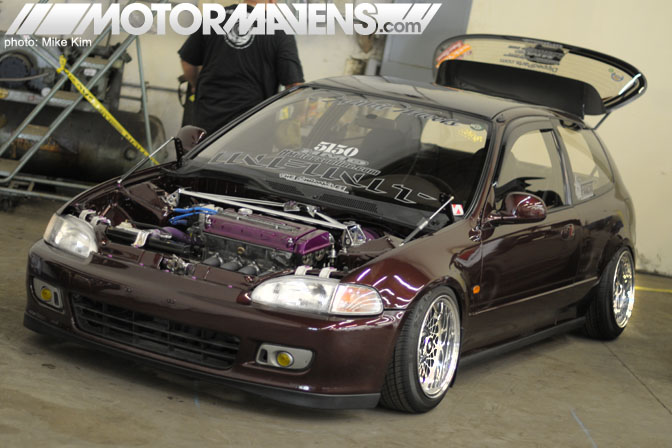 Abraham Ceja aka Infinit Abe has one of the cleanest and sickest EG hatchbacks I've seen.  With some low offset staggered SSR mesh wheels and an individual throttle bodied B series the car is always a show stopper when it comes to Hondas at the meet.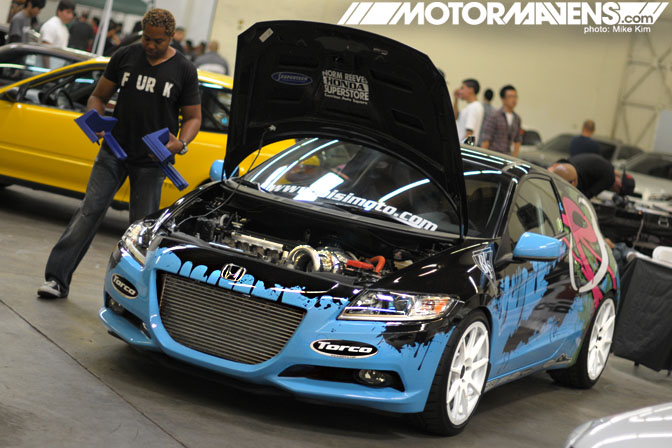 Bisi Ezerioha from Bisimoto brought out his fully built Turbonetics/AEM powered Honda CR-Z to the meet.  As I arrived to the show, I was expecting to see his design matched trailer and his Escalade pickup, but he told me that he DROVE the car there from his shop.  We then discussed what the point of having a car is if you never drive it!  Not to mention the car is a hybrid so it is smog exempt.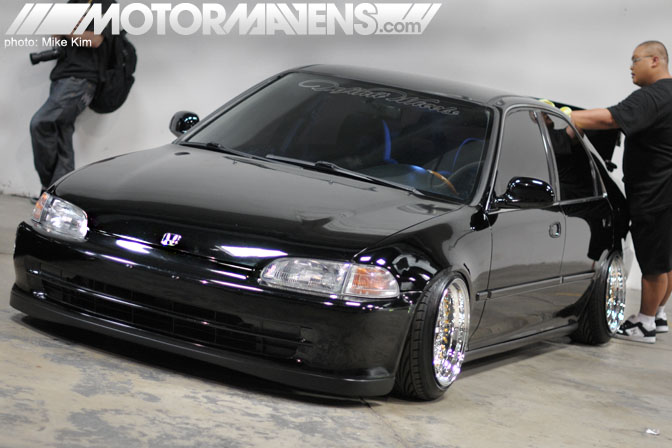 Arnel Ortiz from Phaze 2 brought out his VIP styled EG Civic sedan with BBS RS mesh wheels with gold plated hardware and a Universal Air ride system to match.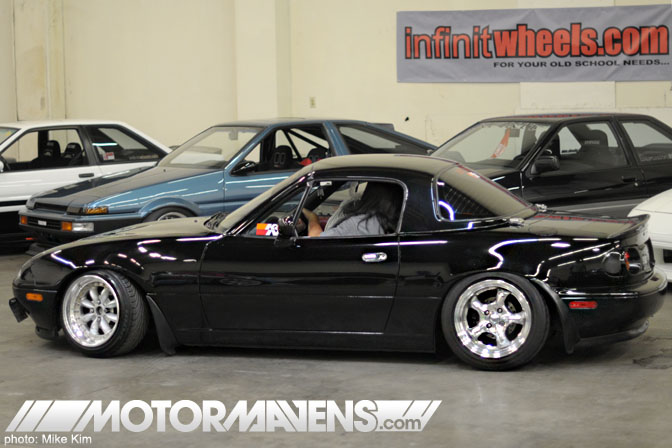 After arriving to the show with my homie Terry Pham, I quickly got out of the car to take this snap of his immaculate 1993 Mazda Miata Limited Edition.  I then helped him get the other two Work Goocar wheels off of the car to put his 15×10 Panasport race wheels on the rear.  I was with Terry when he originally purchased the car and was stunned at how clean the car was.  With an all red interior and OEM hard top/paint job, the only things he changed were the tail lights, now Garage Vary tail lights, wheels and an aftermarket trunk spoiler.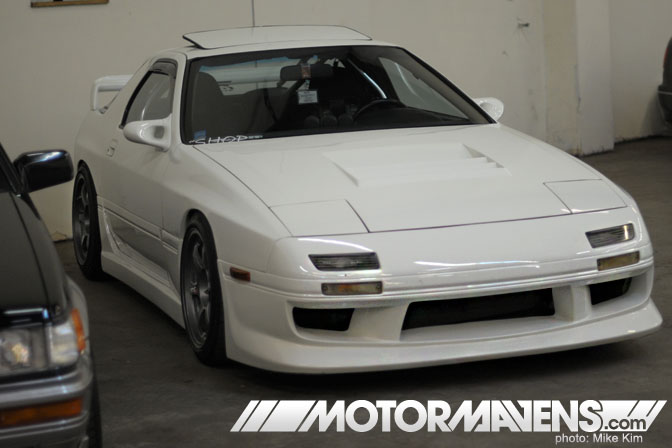 Chumpot Chansonthi from Infinit brought his clean white Mazda FC RX-7 rocking some SSR Type-C wheels.  His car definitely is one of the cleanest FC's I've seen at meets and shows. Not only does he have a really clean paint job, Chumpot also went as far as replacing all of the moldings, weather seals and plastic bits to give it a showroom finish.
Mikey Cristi rolled in a bit later with his all metal flared "VIP*BOX" Scion xB with his CCW wheels.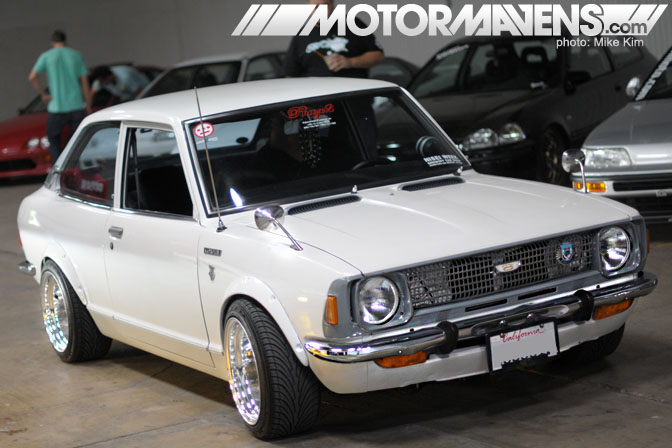 This Phaze 2 1971 Toyota Corolla Mango Peanut was one of the few Japanese classic cars at the show.  I'm really digging the fender mirrors, how about you?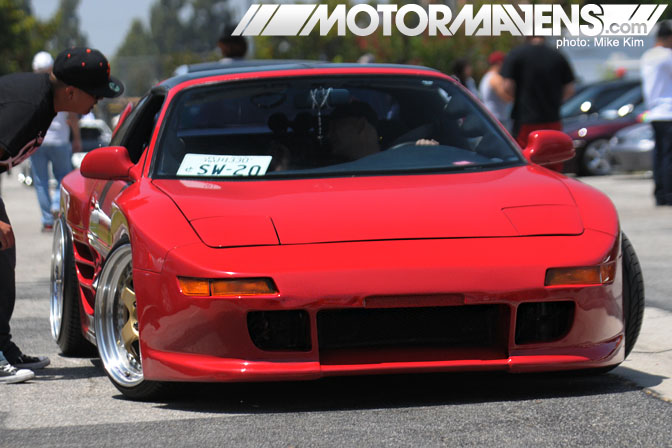 This clean red SW20 MR-2 Turbo with a TRD styled widebody kit showed up later in the day.  His wheels were a nice complement to the widebody on this now seldom seen car.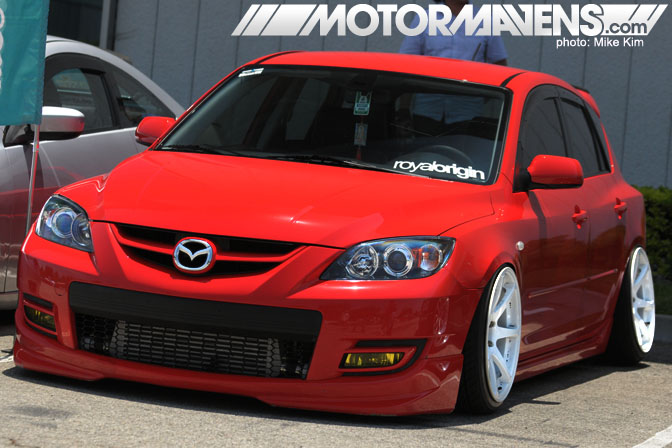 While just cruising through the parking lot I spotted this royalorigin Mazdaspeed 3 with one of the craziest stances of any FWD car.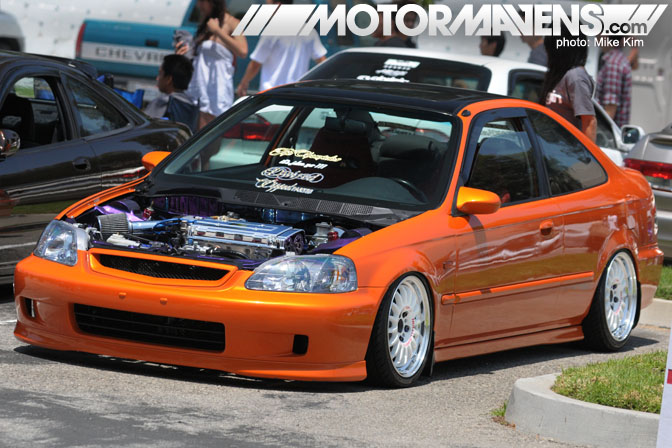 I normally don't like bright Lamborghini-esque colored cars but this Civic, owned by Chivas Sotelo, definitely got my attention.  Sitting on some dope Sprint Hart CP-R wheels and a chameleon colored engine bay, Chivas drove down from Las Vegas for this weekend of events.  His car reminded me of how show car style and JDM can be fused together successfully.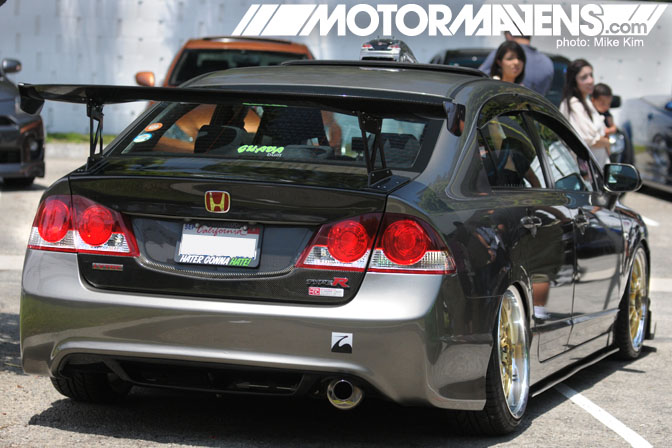 Since this meet was about 'JDM' style, this 2007+ Civic Si Sedan was not lacking any.  The FD2 Civic Type R rear end conversion is no cheap modification.  Usually costing over $1000, this rare mod definitely sets the car apart from other Civics.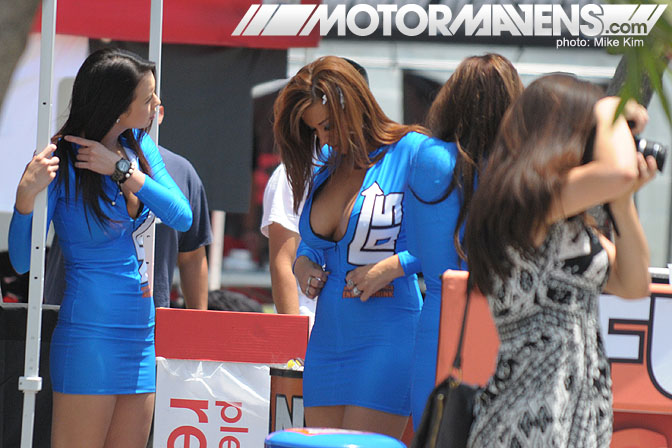 Natalia Marie and her friend (I somehow forgot her name) were making sure they looked good for the day ahead of them.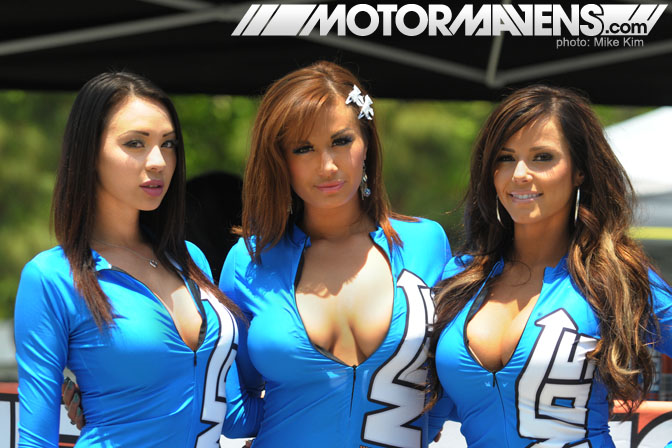 Speaking of eye-candy, the NOS Energy Drink Girls were out giving free energy drinks to the thirsty people.  And I'm sure plenty of people were very thirsty at one point during the day.  Maybe even a few times thirsty?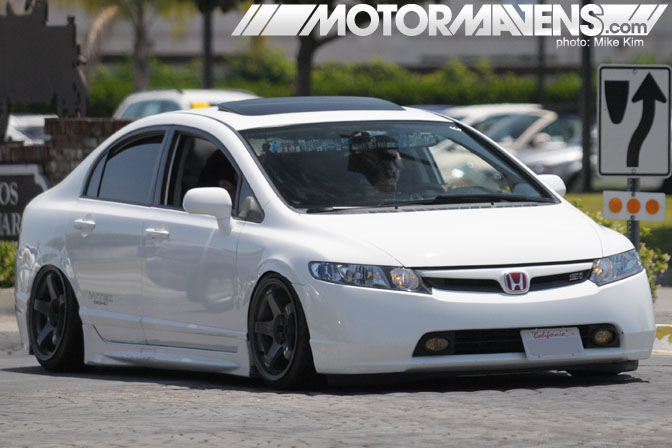 There were a few cars not in the meet which had pretty cool setups.  This 2007/2008 Civic Si sedan had some awesome stance driving through to the parking area.
The day ended without any hitches and I would have to say one of the most successful "car meets" that I've seen in a long time without any drama.
:: Mike Kim
Abraham Ceja
,
AEM
,
Anthony Do
,
Arnel Ortiz
,
BBS RS
,
Big Abe
,
Bisi Ezerioha
,
Bisimoto
,
CCW Wheels
,
Chivas Sotelo
,
Chumpot Chansonthi
,
Civic Si
,
conversion
,
Corolla
,
CR-Z
,
EG Hatch
,
EG Sedan
,
FC RX-7
,
FD2 Civic Type R
,
Garage Vary
,
homepage
,
Honda
,
Hybrid
,
Infinit Wheels
,
It's JDM Yo
,
jdm
,
Mango
,
Mazda
,
Mazdaspeed 3
,
meet
,
Miata
,
Mike Kim
,
Mikey Cristi
,
MR-2 Turbo
,
Natalia Marie
,
NOS Energy
,
nos energy drink
,
NOS Energy girls
,
Panasport
,
Phaze 2
,
royalorigin
,
S=
,
Scion
,
Sprint HArt CP-R
,
SSR Mesh
,
stance
,
SW20
,
Terry Pham
,
Tony Lee
,
Toyota
,
TRD
,
Turbonetics
,
Type C
,
Universal Air
,
VIP Style
,
Work Goocar
,
xB
---