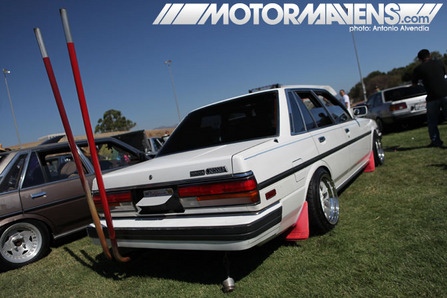 Cressidas and Levins and Sprinters and Skylines, oh my! I was just clearing out some images on my Mac and transferring them to one of my terabyte drives when I stumbled upon these images I shot at the Japanese Classic Car Show last month. Before I transfer them to the HD archive and forget all about them for another year or so, I thought I'd just share some more pics of these awesome Japanese nostalgic cars!
As seen with the crazy red takeyari (the big red exhaust pipes) at the show, Irik Farnacio's bosozoku inspired MX73 Toyota Cressida definitely turned some heads at the show… even if many of them were the heads of old people with a "WTF look" on their faces, haha. I'll be honest… I'm really not feeling the pink painted OEM mudflaps, but I think the idea of having takeyari on a Cressida is cool! This is just stage 1 for Irik's car, as I've already spoken to him about some future mods he wants to make on the car… possibly including a redone takeyari setup, welded not bent. Shaken, not stirred.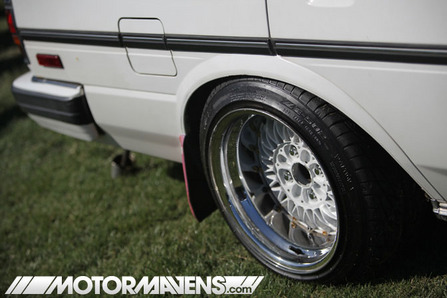 Nice fitting wheel setup… 15×8.5 and 15×9 Simmons wheels (yes, wheels from Australia) with 195/50/15 tires all around. Irik told me he wasn't sure of the offset because he bought the wheels used and has spacers on the car too, but from the looks of the rear wheels (pictured) they look negative something (-20?) because of that fat lip!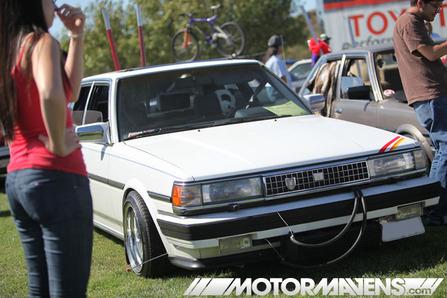 Up front, we have a front mounted oil cooler with… zipties? I hope those aren't the only thing holding that hose onto the oil cooler! BTW, by the shape of that oil cooler, it looks to me like an OEM FC3S RX7 oil cooler, but I could be mistaken. (Well, actually, I'm pretty sure that looks like an FC oil cooler from my days of junkyard hunting.)
Funny, I just realized that the chick who walked into the frame while I was taking the photo was also picking her nose! Lol.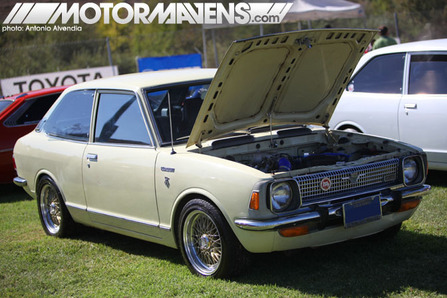 This is a TE21 Corolla from 1971. Also, in case you were wondering, it's a peanut, not a mango. Some of my ex-Jalopnik automotive writer friends asked me recently what's the difference between a peanut and a mango… so let me explain. People who are reading this blog from different parts of the world, let me further explain… peanut and mango are slang nicknames that old Filipinos have given these cars, because of the way the side profile of the car is shaped.
Peanuts are TE21 sedans. They come in two door variety, but for some reason, Toyota refers to them as sedans. They're easy to spot because they have a short butt, and the chrome vents on the rear pillar are longer vertically than they are horizontally.
Mangos, on the other hand, are TE27 coupes. They are two door, sportier looking, and for some reason, Toyota refers to them as coupes even though they also have two doors, just like the TE21 2-door sedan. However, mangos have a larger (longer) butt, which is great for people who like more junk in the trunk. Also, in case you don't have both a mango and a peanut side by side, you can also tell the difference because underneath the rear pillar, a TE27 mango's rear chrome vents will be longer horizontally than vertically. Maybe I should do a side-by-side comparo in a future story. I just need to find a clean looking TE21 for the photos.
Oh, and don't call it an E20 or E21 or E27 or even E2x Corolla, cause that's just ridiculous. It's not a BMW… and referring to the car as such shows that you're a noob and you learned everything you know about cars from Wikipedia, not actual experience. Get off the internet sometimes, kids!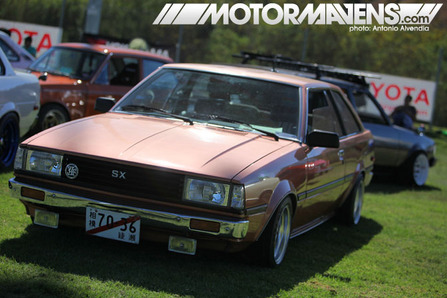 I noticed this TE72 Corolla liftback because it had a less commonly built up body style. This type of TE72 with the square headlights came out in 1981, 1982 and 1983, but I think it's less common to see this body style built up because most TE72 owners tend to prefer the 2-door or 4-door sedans, or even the super rare TE72 sport liftbacks, which look like the older brother of the AE86 Levin 3-door hatchback.
This being said, I give props to the owner of this TE72 for showing this body style a little bit of love! It has nice details too… nice stance, foglights, super rare metal front bumpers (and they're chrome, so the owner of this car is most likely Filipino).
A nice touch also is the Japanese tempora plate with the red line going through it. These plates aren't for road use… it's only supposed to be used temporarily so the driver can get from point A to point B. It's like the equivalent of those red paper tags in California, that you find on the rear window of non insured cars. It was funny to me (and cool!) that the owner of this Corolla had tempora plates… I normally see those at drift events in Japan, because drifters with non-registered, no shaken (sha-ken, or street legal registration) cars often use those tempora plates to get their cars to race tracks on weekends.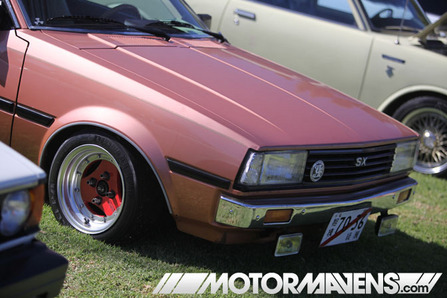 Another nice detail up front… rare Advan Racing A3A wheels, in 13×8 inch size. Oh hell, are those Pirelli P7F tires?! If so, then the owner of this car is Filipino for sure.
Another thing about Advan Racing wheels… in case you don't know how to tell the difference between a normal Advan A3A and an Advan Racing A3A… Advan Racing wheels have a squarish box that says "Racing" on the triangular face of the wheel. Normal Advan A3A wheels only say "Advan."
I've owned several sets of A3As in my life, but never a set of Advan Racing wheels. Maybe I should pick up a set. But then I'd only want to run them with Yokohama Advan tires. Obviously.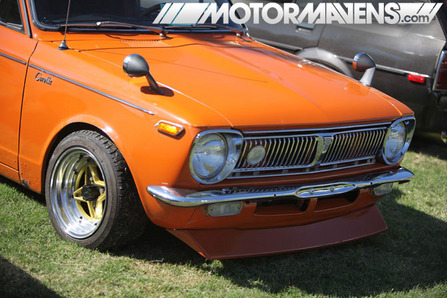 This is a KE10 Corolla Sprinter, owned by John Russakoff (aka Whiteboy John) from JSP Fabrication in San Diego, CA. John is an outstanding drifter (remember that light blue S2K engined AE86 from D1GP Irwindale events?), sh!t talker, welder, and fabricator.
John's KE10 sedan looks awesome, plain and simple. I still want to buy it! He drove it on the streets regularly for quite some time, and put these outstanding looking wheels on it. They are Enkei AP Racing wheels. Rare for sure! I wish Enkei still made wheels like this nowadays!
Problem: One thing about KE10/KE17 Corolla Sprinters is the fact that it is extremely difficult to get cool vintage Japanese wheels for them. This is because the wheel PCD is 4×110, not 4×114.3 like a normal RWD Toyota of this era. Most of the cool Japanese 4-lug wheels of the 1960s, 70s, and 80s are 4×114.3, so it's a lot harder to find cool wheels for an old car like this KE10. First gen SA22C RX7s are 4×110 also, so John considered putting Panasports on the car, but they just didn't have the look he was going after.
Solution: John is a fabricator by trade, so his skillset involves solving problems like this. He found a set of 4×110 to 4×114.3 PCD adapters which were about an inch thick, so effectively he put a 1 inch spacer on the rear of the car, and swapped the PCD. This allowed him to use this set of 13×7 Enkei AP Racing rims in the rear. For the front, he simply swapped in front coilover struts and disc brakes from an AE86, which allowed him to lower the car to his liking and put the gorgeous Enkeis on the front, with the added benefit of actually being able to stop the car. Those 40 year old drum brakes didn't work too well… They didn't work at all, actually!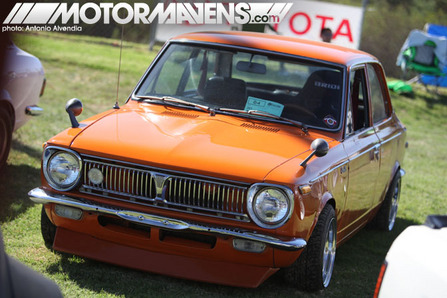 Bride seat in a KE10 sedan? Well it looks like this car has a mixture of old and new style going for it… 1969 car, with newer style 1980s wheels, and kouki bullet fender mirrors from a 1969.5 KE10 SL and a Bride seat. But it's all John's style for sure. He says he even has the SL center console and shift knob. Nice!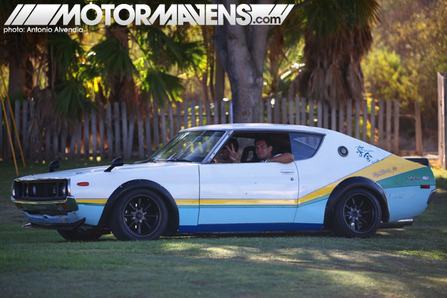 This Kenmeri Skyline is just one example of all the STYLE that exists in San Diego! I just lovvvvve the way they've painted this car. Stay tuned for more on this car, and more Japanese Nostalgic goodness from Motor Mavens!
:: Antonio Alvendia
More Japanese Classic Car Show related stories on MotorMavens
Japanese Nostalgic Car Magazine

---