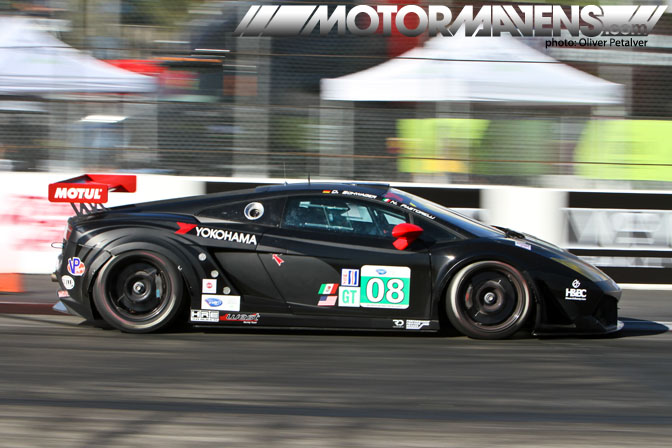 This past weekend, the Toyota Grand Prix took over the streets of Long Beach, CA. This annual three-day festival of speed consisted of the Izod IndyCar Series, the American Le Mans Series, Firestone Indy Lights, Toyota Pro Celebrity Race, SCCA Pro World Challenge Championship, and a team tandem competition from Formula Drift. We don't normally cover open wheel racing on Motor Mavens, but since we were all in Long Beach two weeks ago for Round 1 of the Formula Drift series, we thought it would be pretty interesting to experience the annual Long Beach Grand Prix to show a little bit of contrast on the site.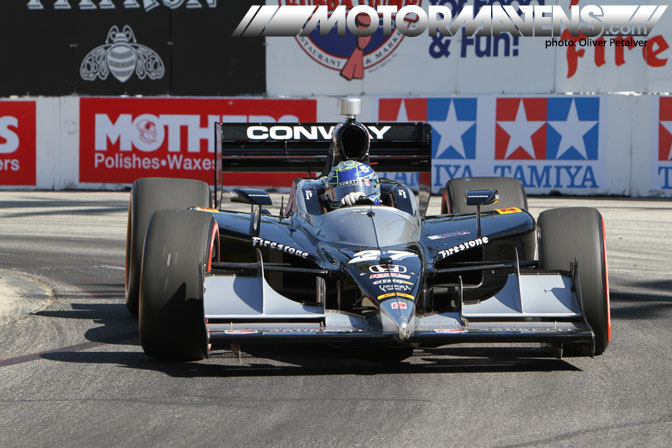 Britain's Mike Conway (above) emerged as the winner of the IZOD IndyCar race. Last year, Conway fractured a vertebrae and broke his leg during the Indianapolis 500. An injury like that would spell the end of a racing career for some people, but Conway was able to overcome that incredible setback and take his first IndyCar win at Long Beach. What a way to make a comeback!
Look at how many people are in the stands! Fan favorite Danica Patrick, in her GoDaddy Honda, speeds along Turn 1 on Aquarium Way and Shoreline Drive. She ended up in 7th place. Turn 1 is a crucial portion of the track for racing drivers; it gets tight with traffic at times. Turn 1 is where previous LBGP winners Helio Castroneves and Will Power got themselves involved in a pretty big collision.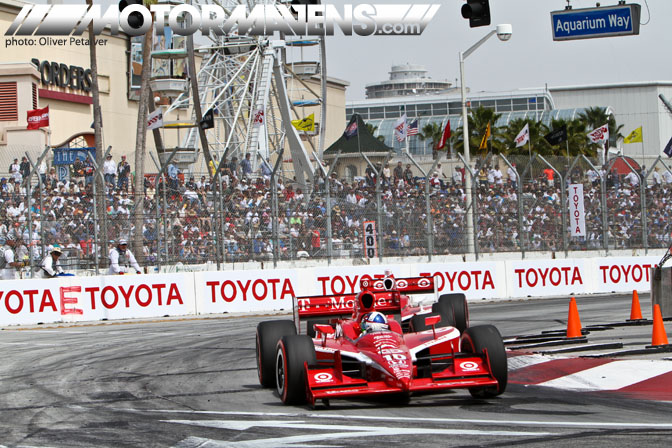 Dario Franchitti has a lot of fans in the Indycar series, and finished in Third Place. He's currently first in the points standings. Being on top of his game in other aspects of his life aside from racing, Franchitti is also #winning off the track – he married actress Ashley Judd. Good job!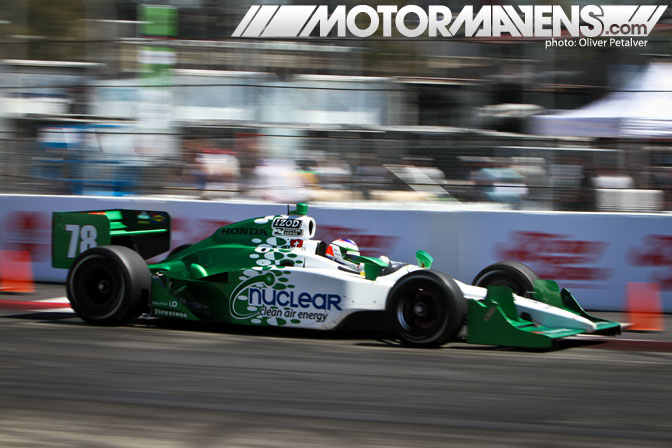 There were actually quite a few professional female drivers at the Toyota Grand Prix of Long Beach. Another female driver, Simona de Silvestro from Switzerland, ended up in 20th place. Brazilian Ana Beatriz finished ahead of Simona, capturing 19th place. It's kind of interesting and unexpected to see the words "Nuclear clean air energy" together when there's so much talk in the media about nuclear contamination in Japan.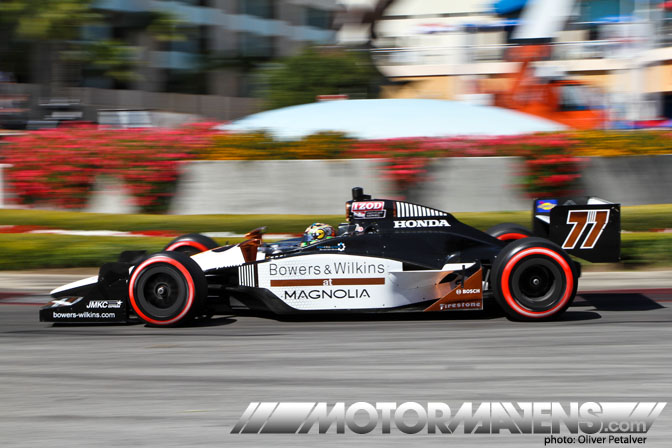 Colorful flowers are an atypical sight on the various racetracks of the IndyCar series. Alex Tagliani with Sam Schmidt Motorsports speeds around the infamous Dolphin Fountain in front of Mai Tai Bar, Bubba Gump Shrimp, and the Long Beach Aquarium. It's pretty cool to see a home audio company (Bowers & Wilkins) as a sponsor in the IndyCar series. I wonder if any companies like that will ever start sponsoring drivers in Formula D?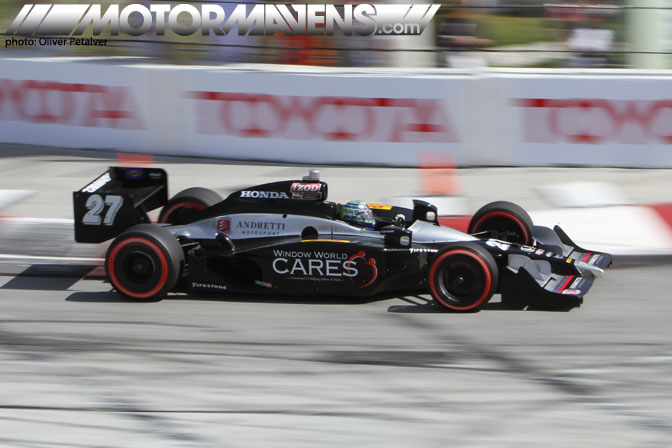 IndyCars utilize a 3.5L V8 that produce approximately 650 horsepower and can reach 100 m.p.h in only 4.2 seconds.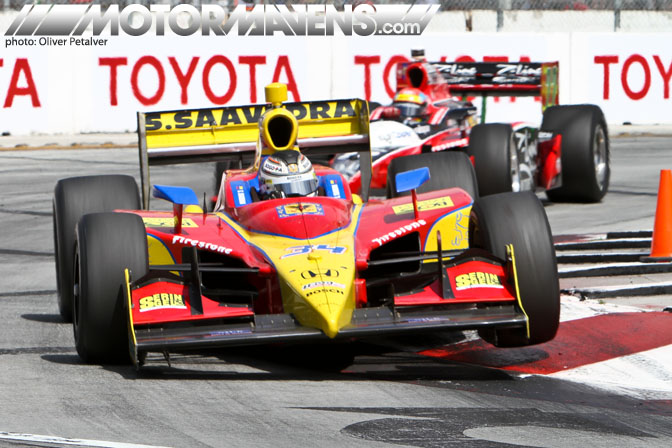 Sebastian Saavedra, of Conquest Racing,speeds along Turn 1 with three wheels planted.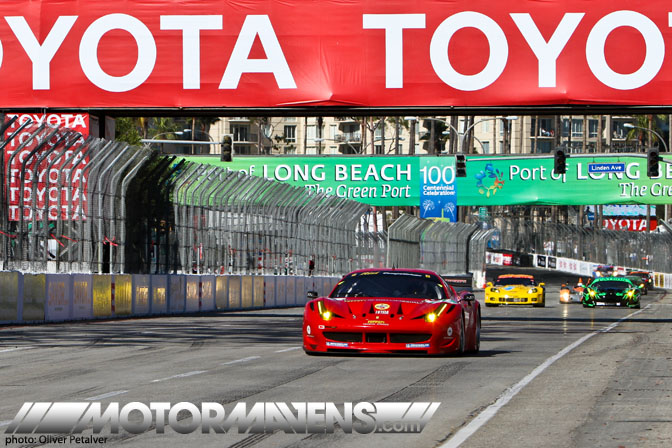 There's nothing like pushing a Ferrari 458GT around the streets of Long Beach. Here, Shoreline Drive is barely recognizable with all the banners and barricades. The "Rosso Red" Ferrari 458 Italia GTC by  RISI Competizione has a mide-engined V8 producing 465 hp.
The American Le Mans Series was one of my favorite races of the festival. Not only because it included elite and prestigious brands such as Aston Martin, Lamborghini, Ferrari, Porsche, and BMW, for example, but because it was as if I was watching a real life Gran Turismo. My jaws dropped watching these exotic supercars speed by!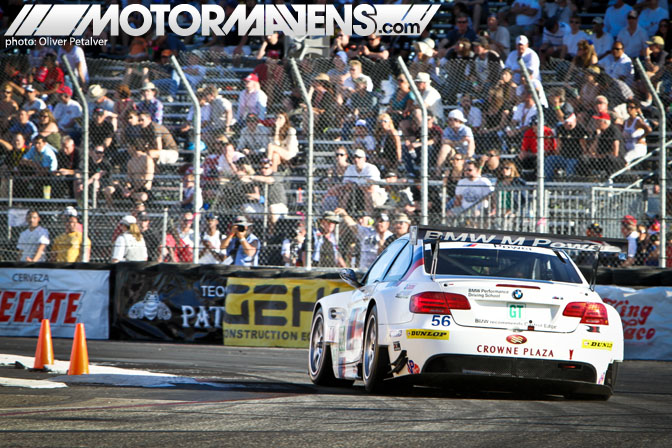 The American Le Mans Series is far from virgin territory for BMW. Back in 2001, they won everything in sight with their BMW M3 GTR. Fast forward a decade later, this No. 56 BMW M3 GT driven by Mueller/Hand won 1st place  in its class. I'm just in love with the wide-body kit of this car! The ///M3 always has a place in my heart since I used to own an E46. "Once you go ///M, …."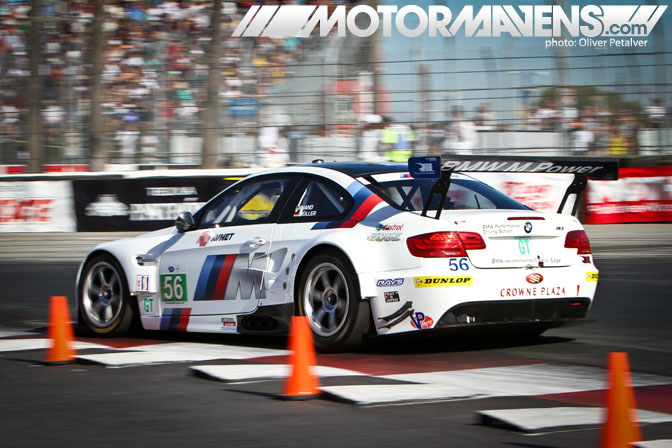 How can one not say this M3 GT is sexy?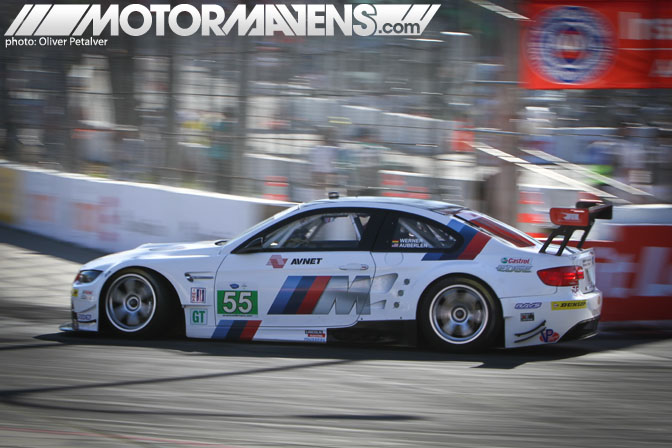 The other BMW M3, No. 55 driven by Auerlen/Warner, finshed in 7th after colliding with another car.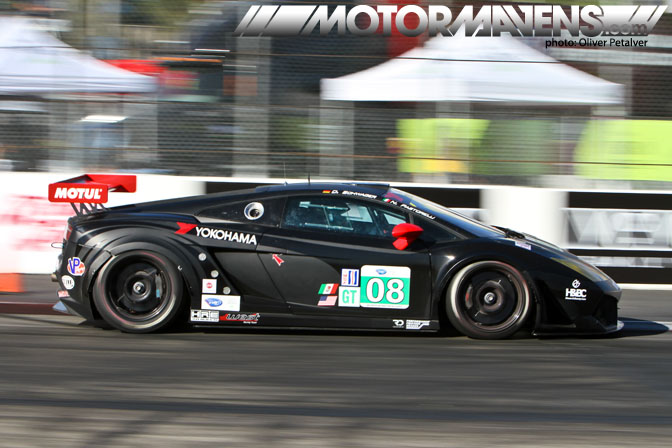 The No. 08 Lamborghini Gallardo driven by Pastorelli/Schwager is one the sickest-looking cars in the series. Love it!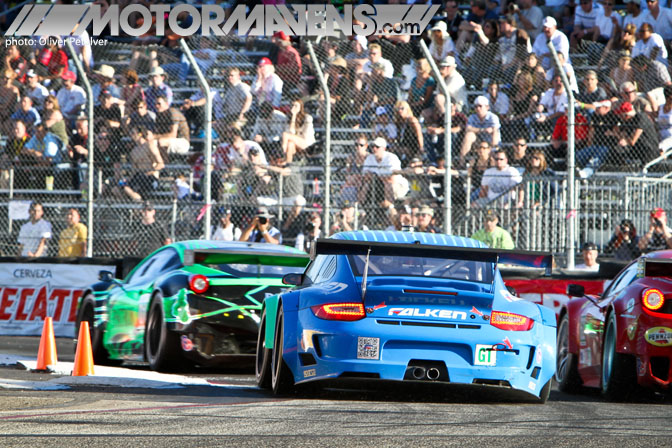 The Falken Tire Porsche is surrounded by the No. 02 Extreme Speed Motorsports Patrón Ferrari F458 Italia and red Ferrari F458 Italia as it goes around Turn 10.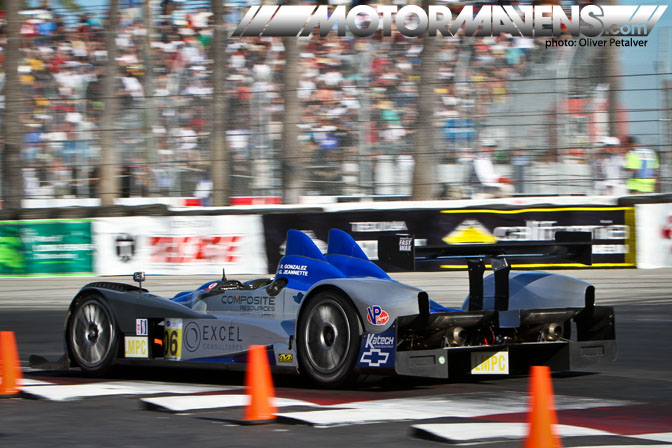 This Oreca FLM09 driven by Jeannette/Gonzalez came 1st in the LMP Challenge class. The FLM09 features a full carbon fiber chassis, carbon brakes, and Xtrac sequential gearbox with paddle shifters.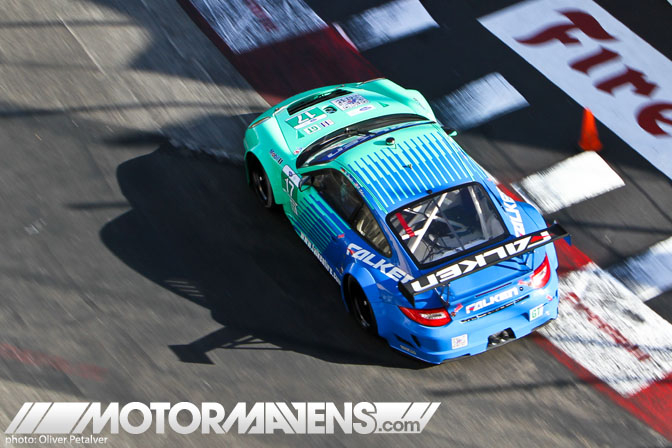 Here's an aerial-view of the Falken Tire Porsche 911 RSR driven by Henzler & Sellers. The team came in a very respectable 4th place in its class.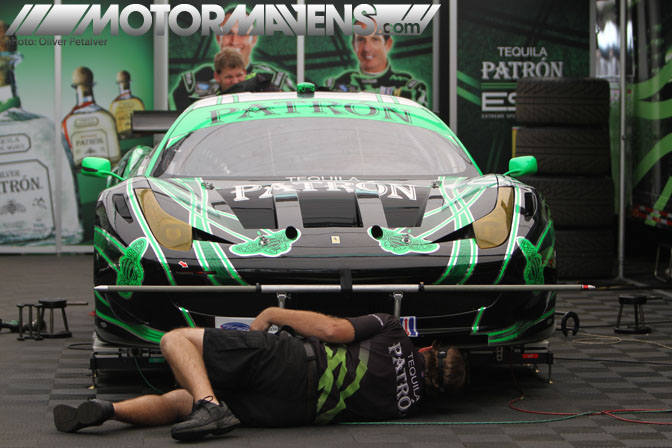 This No. 02 Extreme Speed Motorsports Patrón Ferrari 458GT gets inspected in the paddocks before heading for a practice run.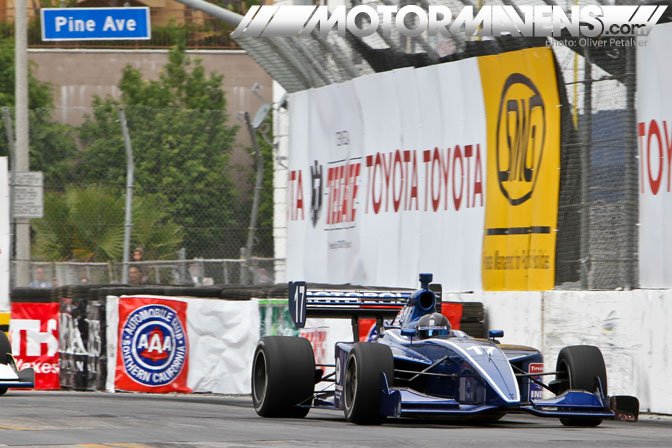 Rusty Mitchell, of Team E, speeds along the straight-away on Seaside Way after Turn 8 during the Firestone Indy Lights.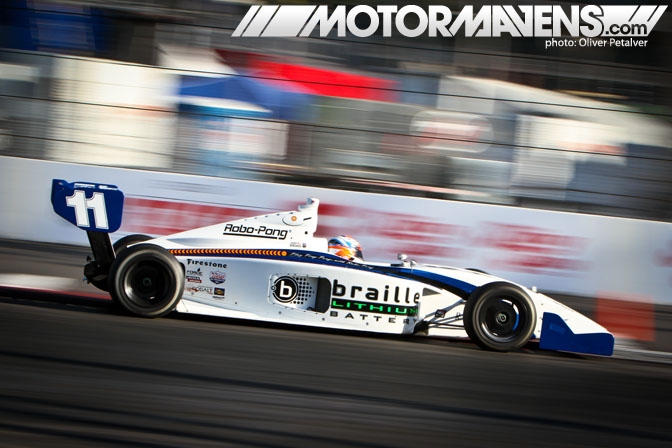 No. 11 Josef Newgarden, of Robo-Pong / Sam Schmidt Motorsports, led for a majority of the laps until he hit the tire barrier. He's currently 2nd in the standings.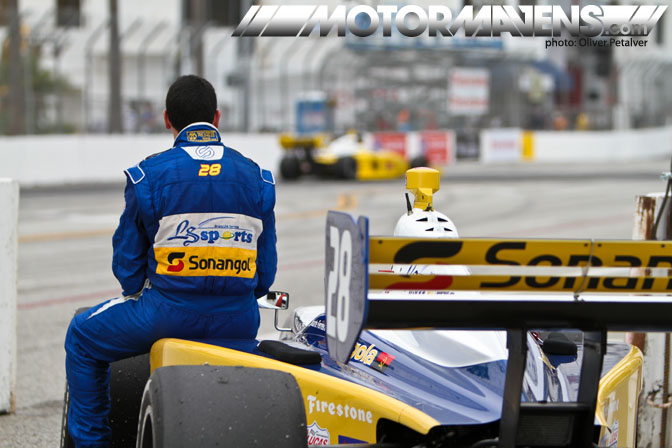 Duarte Ferreira of Angola had to pull over and watch from the track sidelines after he experienced problems with the gearbox.
This was my first time shooting the Toyota Grand Prix of Long Beach and it was an absolute blast to shoot despite walking around for a total of a half-marathon. If you're not familiar with the 1.97 mile, 12-turn track, it runs along scenic Shoreline Drive and encircles the Long Beach Convention Center. It was estimated that 175, 000 people took part of the festivities. If you happened to miss out this event, be sure to mark your calendars for next year. For more information on the Toyota Grand Prix of Long Beach, visit www.gplb.com
::Oliver Petalver
Alex Tagliani
,
ALMS
,
American Le Mans
,
American Le Mans Series
,
Ana Beatriz
,
Aquarium Way
,
Ashley Judd
,
Aston Martin
,
BMW M3
,
Bubba Gump Shrimp
,
Charlie Kimball
,
chevrolet
,
Danica Patrick
,
Dario Franchitti
,
drift
,
EJ Viso
,
Ferrari
,
FIL
,
Firestone
,
Firestone Indy Lights
,
Formula Drift
,
Formula One
,
Graham Rahal
,
Helio Castroneves
,
homepage
,
Indianapolis 500
,
Indy Car
,
Indy Lights
,
IndyCar
,
Izod
,
Izod IndyCar Series
,
James Hinchcliffe
,
James Jakes
,
JR Hildebrand
,
Justin WIlson
,
lamborghini
,
LBGP
,
Long Beach Aquarium
,
Long Beach Grand Prix
,
Mai Tai Bar
,
Marco Andretti
,
Mike Conway
,
MotorMavens
,
Oliver Petalver
,
Oriol Servia
,
Patron
,
Paul Tracy
,
Porsche
,
Raphael Matos
,
Ryan Hunter-Reay
,
Sam Schmidt Motorsports
,
SCCA
,
Scott Dixon
,
Sebastian Saavedra
,
Sebastien Bourdais
,
Shoreline Drive
,
Simona De Silvestro
,
Takuma Sato
,
team tandem
,
Tecate
,
Tony Kanaan
,
Toyota Grand Prix
,
Toyota Long Beach Grand Prix
,
Toyota Pro Celebrity Race
,
Turn 1
,
Vitor Meira
,
WCC
,
Will Power
,
World Challenge
---