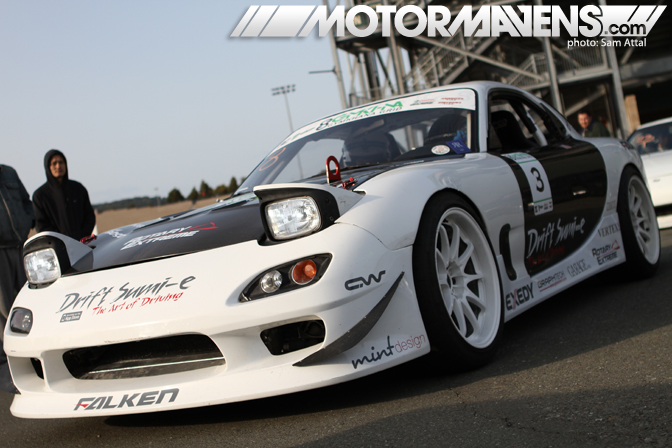 "Drifting will continue to grow, but that's only if we continue to support drifters on the amateur level, and most importantly, the people who organize the grassroots drifting events. After all, it is those people who are building new drifters and teaching them how to drive." – Antonio Alvendia in Drifting: Sideways from Japan to America
Despite the obvious plug (forgive me), what Antonio wrote in 2006 is evident five years later.
These grassroots events are where many of the nation's best drifters first made their marks. While Japan was fortunate to have small, frequent drift events, Americans were left to figure out ways to get their tracks open to such a sport.
Now, after years of consistent growth and the expansion of our own small drift events, we've come to see plenty of tracks around the nation become accustomed to drifting. These events have been paramount in molding skilled drifters, some of whom have made it in the big leagues.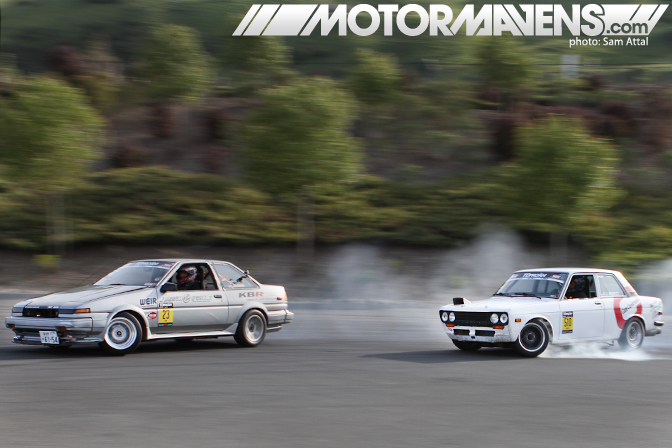 However, for many years now, the San Francisco Bay Area hasn't been able to provide a consistent outlet for its "home grown" talent. The ThunderDrift events at Thunder Hill Raceway are very popular, and provide a great place for Northern Californians to flex their drifting skills. However, it's hard for some people to make it all the way out to Thunder Hill on a consistent basis, because it's nearly two or three hours away from some parts of the Bay Area. Some drivers simply don't have the ability to make a four-to-six-hour round trip every time they want to go drifting. Now, maybe they won't have to.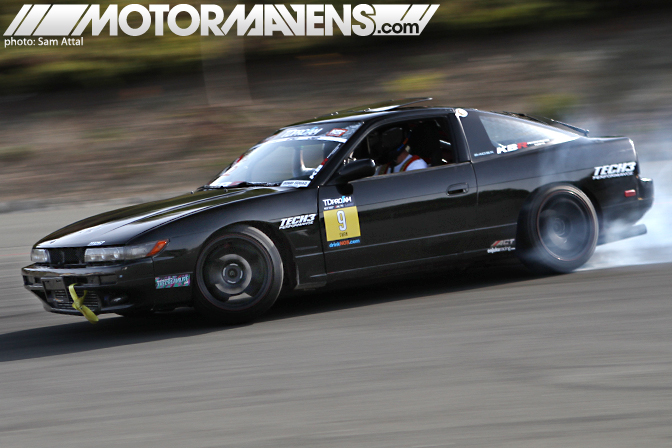 Infineon Raceway is now home to the weekly Sonoma Drift Program. The raceway recently held an exhibition and I was lucky to be able to attend. Although not everyone might think so, something like this is monumental for the Bay Area drift scene. The track now regularly provides a large skidpad with a small media island in the middle and a bunch of cones set up around it. This particular event was for a good cause too – all proceeds went toward a relief effort for Japan.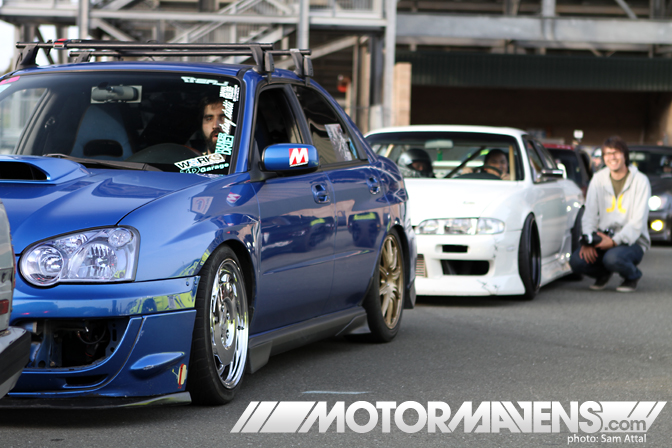 The event had a great turnout. Many Bay Area natives came out in support of the cause and got some track time as well. The grid was a pretty cool spot to be – especially since I was surrounded by some familiar cars and owners.
Here's Kiavash Shariloo, otherwise known as Kia. He steers a rear-wheel-drive converted Subaru Impreza WRX. He's also the owner of a relatively new shop that specializes in Subarus called TD Garage in Walnut Creek. We met just a month ago when I spotted his car outside of a restaurant in Berkeley and I started snapping some shots. His car is pretty dope, he's a nice dude and he's got a pretty gnarly beard as well! Behind him is Mark Arcenal of Fatlace in his Nissan 240SX S14. I'll have more about his ride in a later post.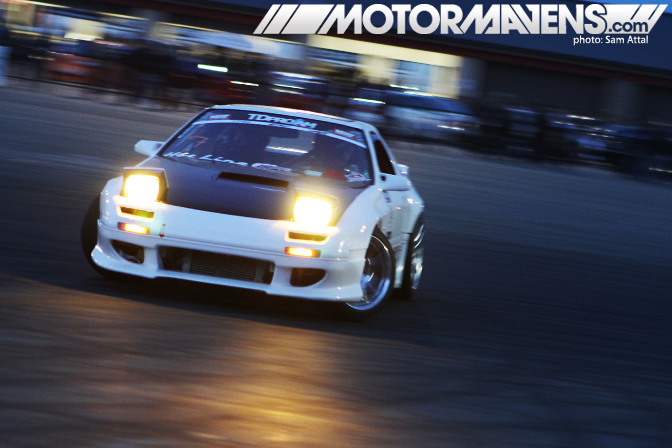 This Mazda RX7 FC3S was laying down pretty good angle into the night. It turns out that the owner, Lexis King, lives about five miles away from me in Richmond. I don't know of too many drifters from around here but he's holdin' it down for the 510!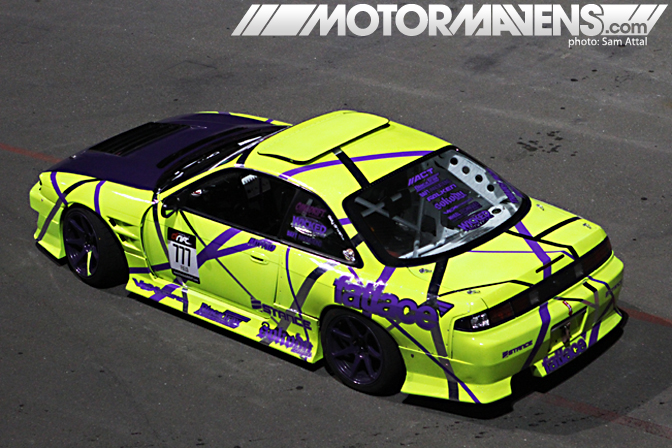 There were some professional drifters in action as well…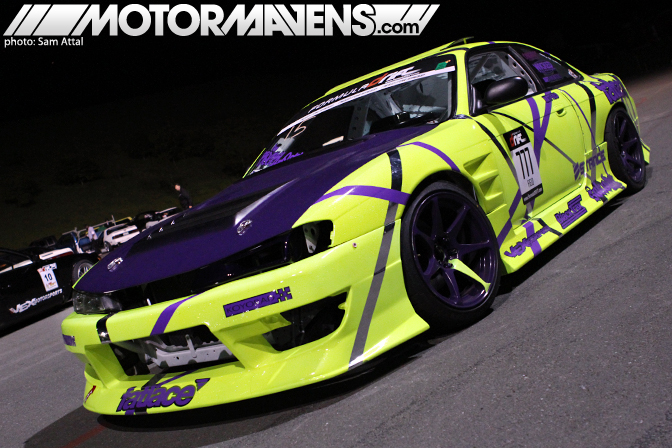 Matt Field, a NorCal native, brought out his Formula D-driven S14. This thing caught everyone's eye with its highlighter-green paint.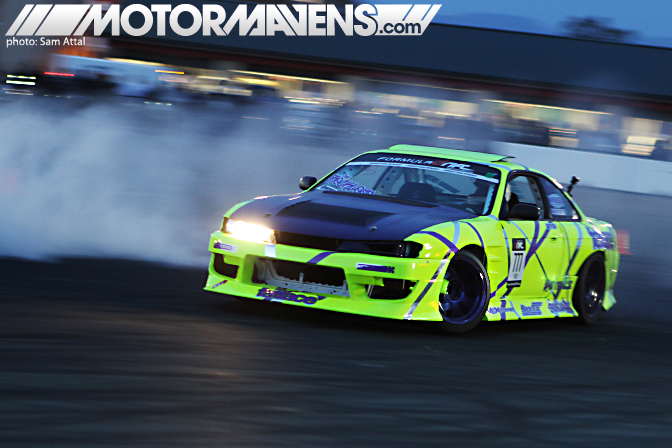 In fact, it was one of the only cars I could shoot as the sun went down, thanks to its wild new livery.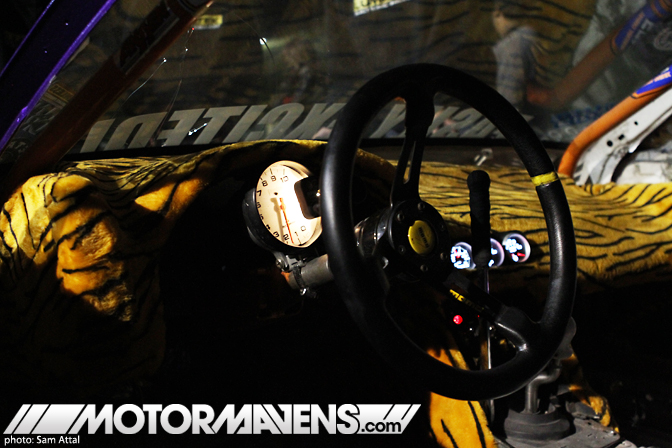 Speaking of wild, check out the interior of this Nissan 240SX S13. The outside is painted purple and I'll bet (well, more like hope) the ladies like it!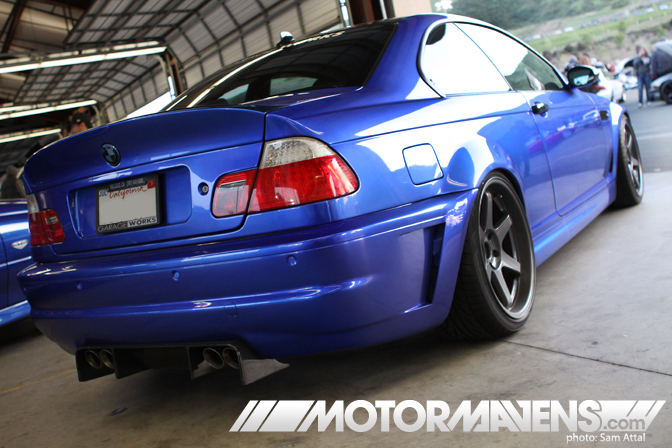 In and near the garages, there was a small car show for spectators to check out. Although many of the cars didn't stand out as spectacular, I found some that I really liked. I saw this BMW E46 M3 before at Wekfest and simply fell in love. The car's lines work with the aftermarket body parts and the wheels to make a simple and clean, yet noticeable, package.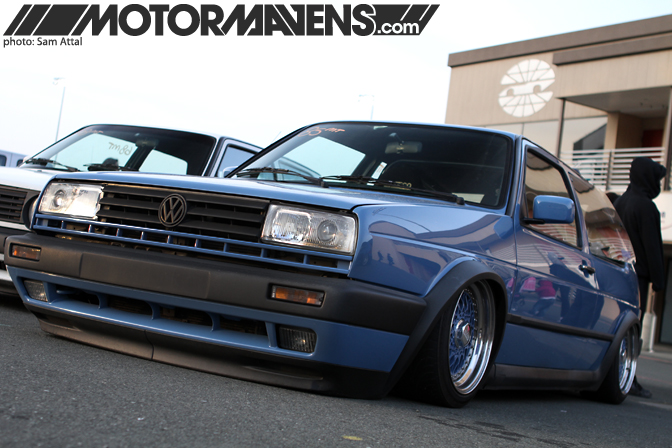 I'm usually not a big fan of Volkswagens, but Kevin Antaki's bagged MK2 Golf is simply too beautiful to resist. The matching BBS wheels are a nice touch.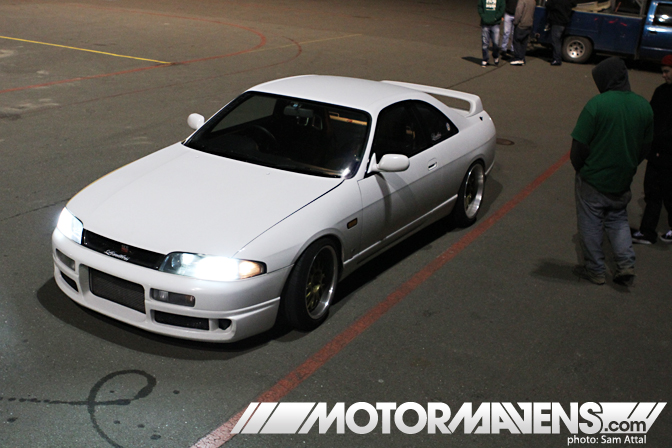 The crowds were amazed by the presence of this Nissan R33 Skyline at the event. It's not everyday that you see such a rare car being daily-driven in NorCal. It's too bad that the owner's registration was about to expire.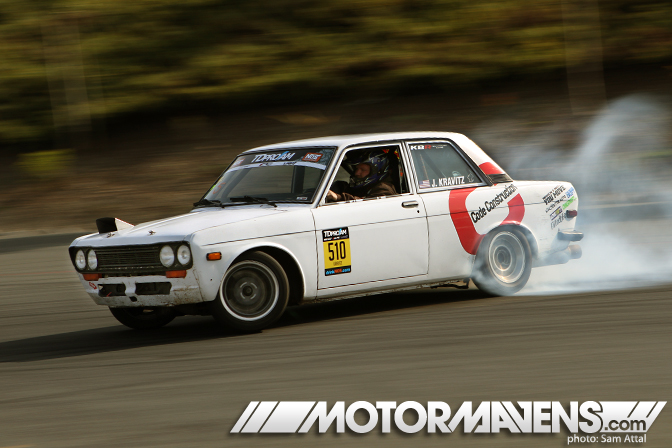 Back on the track, Josh Kravitz was killin' it in his Datsun 510. He came in at high speeds, initiated well, and executed turn-to-turn transitions smoothly.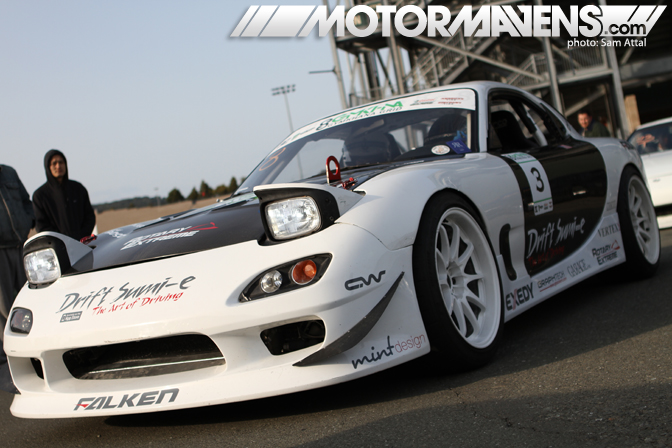 It was awesome seeing San Francisco's own Formula D star Calvin Wan behind the wheel of his Mazda RX-7 FD3S again. It's been a while since I last saw Calvin's car. To this day, it is still one of my favorite drift cars. The last time I saw it, it was wrapped in the green and blue Team Falken colors. The car looks damn good now with all the white paint and carbon fiber revealed.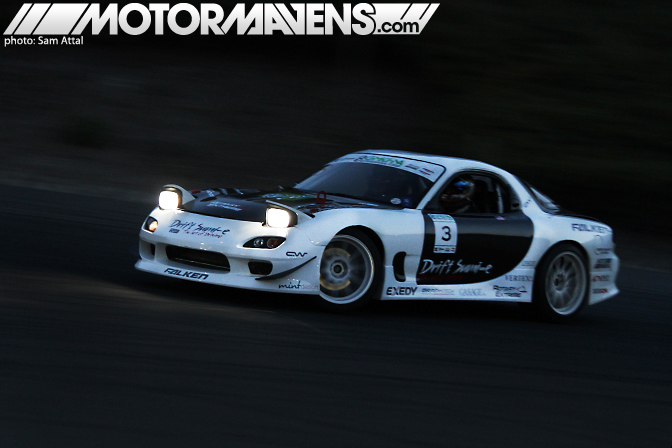 Calvin has all his skills on point, too! It was impressive to see how he hasn't gotten rusty since his time away from Formula D. He still drives like he's competing for a podium spot. Respect!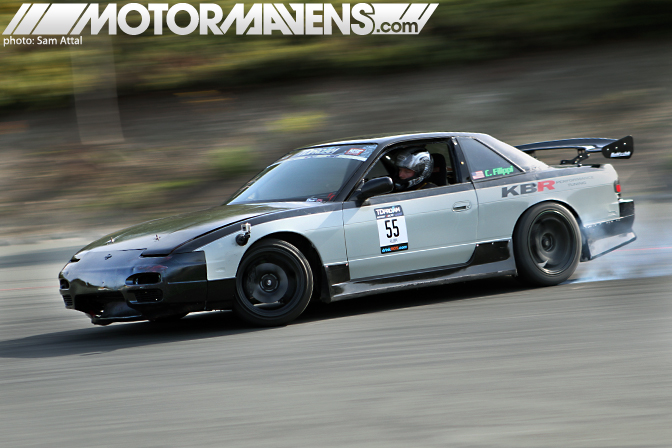 Registration is now open for the first official event on May 4. It costs $80 to drift and those who wish to do so must pre-register on the track's website. Spectators will pay $10 at the gate.
Even though this was the first event, it showed that there is great desire for drivers and fans to have something like this. I predict that, with more of these events, we can expect to see more professional drivers coming out of the Bay Area.
:: Sam Attal
240SX
,
510
,
AE86
,
Angle
,
Bay Area
,
BBS
,
Berkeley
,
BMW
,
BMW E46 M3
,
Calvin Wan
,
Corolla
,
Datsun
,
Datsun 510
,
drift
,
drifting
,
E46
,
Falken
,
Fatlace
,
FC3S
,
FD3S
,
Formula D
,
Formula Drift
,
Golf
,
Impreza
,
Infineon Raceway
,
Josh Kravitz
,
KBR
,
Kevin Antaki
,
Kia
,
Kiavash Shariloo
,
Lexis King
,
Limitless Motorsports
,
Livery
,
M3
,
Mark Arcenal
,
Matt Field
,
Mazda
,
Mazda RX7 FC3S
,
Mk2
,
Nissan
,
Nissan 240SX S13
,
Nissan 240SX S14
,
Nissan R33 Skyline
,
Norcal
,
Northern California
,
R33
,
Richmond
,
RX-7
,
RX7
,
S13
,
S14
,
Sam Attal
,
San Francisco
,
San Francisco Bay Area
,
SF
,
Sideways
,
Sil80
,
Sileighty
,
Skyline
,
Sonoma
,
Sonoma Drift
,
Sonoma Drift Program
,
Subaru
,
Subaru Impreza WRX
,
TD Garage
,
Team Falken
,
Volkswagen
,
Walnut Creek
,
wekfest
,
WRX
---