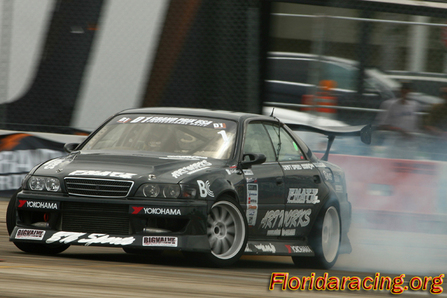 Since we didn't have time (or money) to go to the D1 Grand Prix event at Gulfstream Park in Miami FL last weekend, we asked all our photographer friends if they were going, in hopes that we would get to see their photos. Well, we struck out. None of our close friends were going, even the ones that lived right there in Florida. Everyone seemed to have other plans that weekend – what's wrong with you guys?
Thankfully, with the help of our friend Google, we were able to find images posted on a forum by one of the guys from Floridaracing.org. (We've seen some of these guys at the track before – whenever we see them at the track, we see them with multiple Canon DSLR bodies and some huge Canon lenses.) We were searching the internet for photos for a few days, and the ones found on Floridaracing.org's album seem to be the best photos we've found from D1 Miami thus far. Props, guys!
These photos were apparently taken by one of their photographers named Jerms. Below are some excerpts from their photo album. For more photos, make sure to check out the Floridaracing.org site by clicking this link.
Up top, we have Daigo Saito, driving his awesome black JZX100 Toyota Chaser, the overall winner of the event!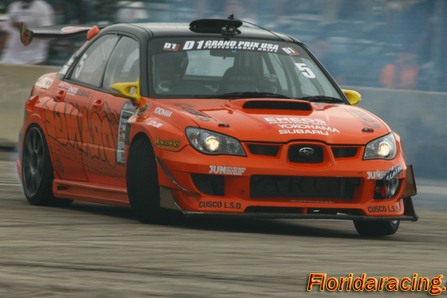 This is none other than Kazuhiro Tanaka from Team Orange, driving the back-up of his teammate Kumakubo's back-up car, which has been redone with an updated Impreza face and newer front bumper. Even though they were driving their 2nd and 3rd string cars, it's always a treat watching these guys drift. After all, the pro drivers from the D1 Grand Prix series are the guys who started all of this high level professional drifting, aren't they?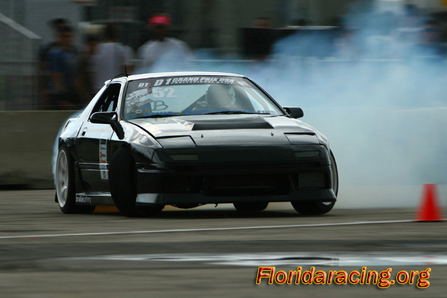 This black FC3S RX7 looked fantastically mean and dark! Unfortunately, the slippery conditions of the D1 Miami track, caused by the off-and-on rain led this driver to eventually lose control, slamming the rear end of his FC into the concrete barriers pretty hard. We hope the car will be fixable! This was a clean FC, and definitely one of our favorite privateer cars of the event!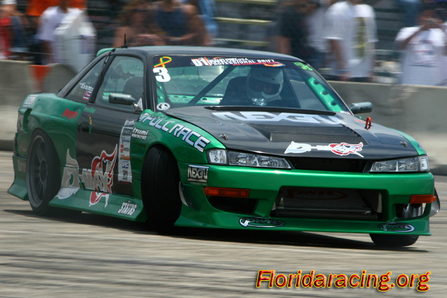 Hawaiian son Forrest Wang won 3rd Place at the Anaheim opener of this year's D1 series, and is a fan favorite because of his bright green car and driving style. Unfortunately though, he did not have the same luck in Miami, and did not advance to the finals.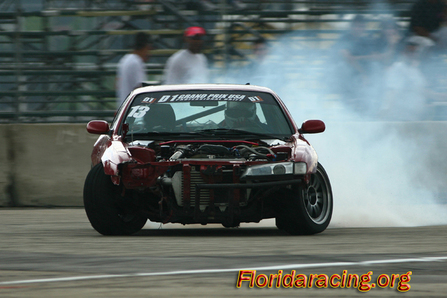 We're not sure who was driving this car, but it sure looks cool and aggressive like that, with half the front end missing… but hardly the type of car you normally see passing tech inspections at D1.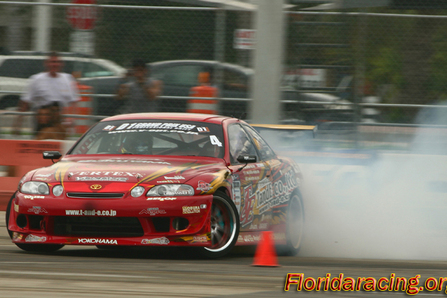 Vertex aero designer/owner Takahiro Ueno always seems to have a fan following because of his awesome looking red JZZ30 Toyota Soarer. Just look at the bright teal Project Mu brakes grabbing your attention through the red detailed spokes of his wheels.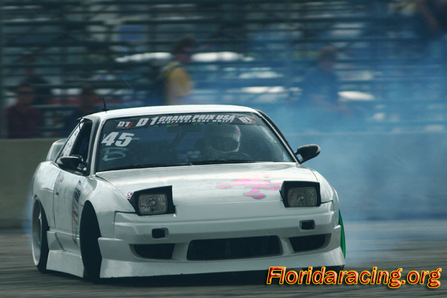 Just look at the rear wheels of this S13 and how close the sideskirts come to the ground! Awesome.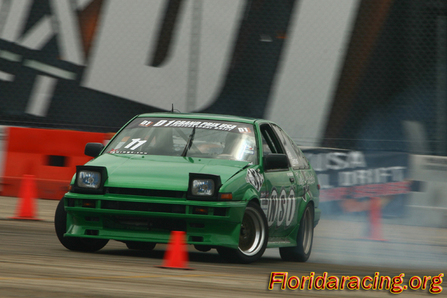 Any AE86 afficionados know what type of bumper that is on the Non Stop Tuning car?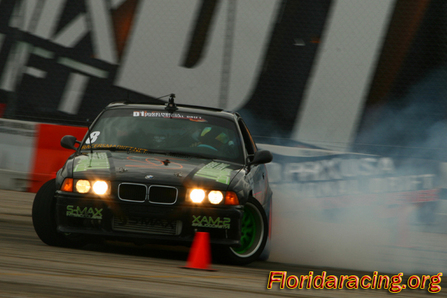 It was also nice seeing this E36 Bimmer get down and dirty! Cool!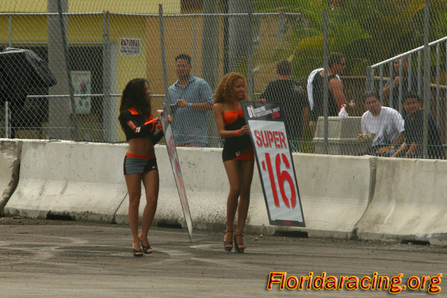 The D1 girls from Miami reminded us how much we like those Eighth St Latinas! 😉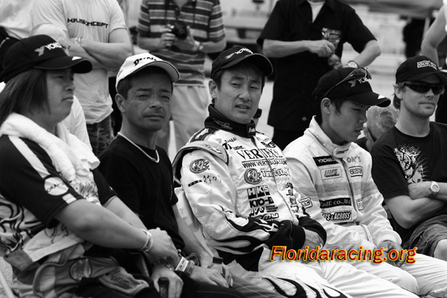 Here's a photo of what looks to be the driver's meeting. It looks like all the Japanese drivers are dying in the heat and humidity of Miami. We're not exactly sure what Ueno was telling the others in this photo, but we think it's probably something like, "dang yall, they never told us it would be this hot when we signed up to do this! It sure isn't like that Miami Vice movie!"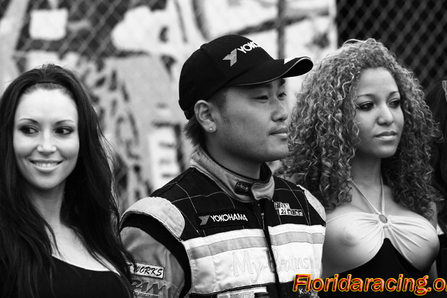 Here's a shot of Daigo Saito, the driver of the black JZX100 Chaser that put on a hell of a show, winning top honors at BOTH of the first two events in the D1GP USA series. He's shown here with the D1 umbrella girls, who were putting on quite a show of their own. 😉
:: MotorMavens
PS: Thanks to Floridaracing.org for the photos! Please visit their site for ALOT more photos from this event and other events!
AE86
,
Chaser
,
d1
,
D1GP
,
Daigo Saito
,
FC3S
,
Forrest Wang
,
Impreza
,
JZX100
,
Kazuhiro Tanaka
,
Kumakubo
,
Miami
,
RX7
,
STi
,
Team Orange
,
WRX
---