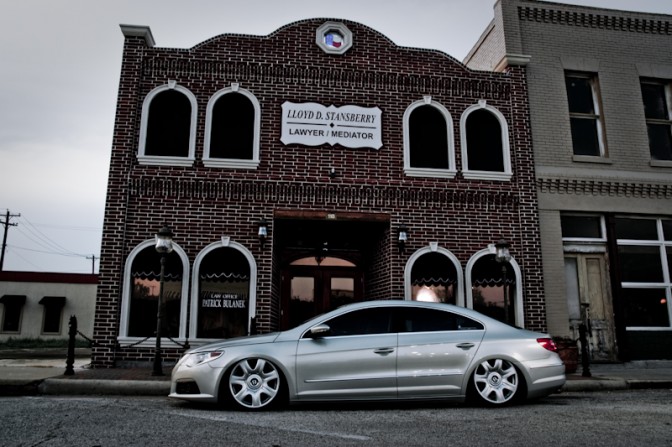 I was recently on the VWVortex Forum clicking through the classifieds and searching for some parts for my broken Mk2 GTI… that's when I stumbled across this beautiful 2008 Volkswagen Passat CC from Alvin, Texas.
The first thing I did was pick up my jaw and wipe away the drool. I know, as any other VW/Audi owner would, that the Bentley rims are normally considered expensive and a bit overdone, but not in this case! In this particular instance, they shed new light on just how aggressive the CC can look on mono block wheels.
For the readers out there that think this might be Photoshopped, think again – it's the real deal. These pictures of the CC drew me in and made me want to find more information about the owner. However, finding the owner of this ride was more difficult than I expected. After days of posting on forums and other online outlets (i.e. Facebook, MySpace, etc.), I was beginning to give up hope… but then I received an email from the owner, so after all of the suspense of whether I'd find him or not, I thought I'd let him tell his own story with just a little help from me.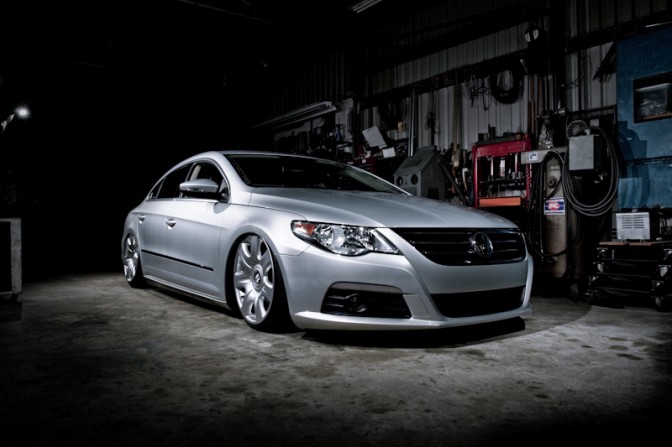 Matt Harms: My name is Matt Harms and my car is pretty simple. I got it back in November of '08 and knew it had to be bagged. Funny thing is I actually ordered bags before I took delivery of the car.
MM: So, tell me how you were able to get it so darn low? What kind of equipment are you working with?
Matt Harms: Well, I'm running Bagyard bags in the front and rear with a pieced-together management system. A single 38o air compressor, a three gallon tank, EasyStreet manifolds, and a seven switch switchbox.
MM: I love how the Bentley rims look on your car! Are you still rocking the  Bentley rims or have you moved on?
Matt Harms: Right now I'm rocking the Rotiforms BLQ's. They are 19×8.5 et35 (see last pic). The Bentleys are 19×9 et41 and have been retired for awhile. They should be back on once we get my girl's Volkswagen Tiguan on bags.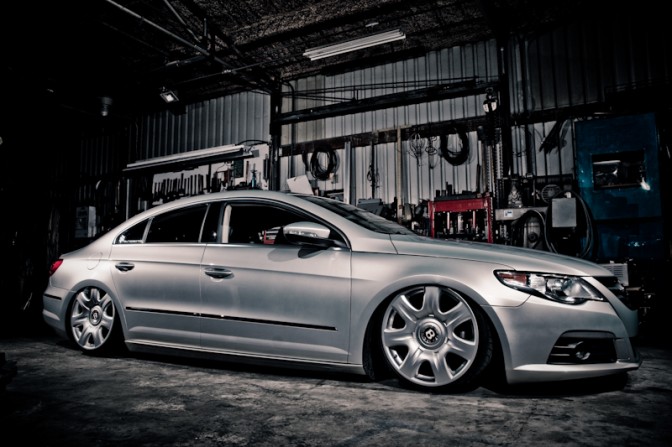 MM: EXCITING! I can't wait. I'm definitely looking forward to seeing them on a bagged Tiguan. Other than the air bags, what else have you done to the car aesthetically and what do you plan on doing in the future?
Matt Harms: I've color matched the front blinkers and rear reflectors. I've still got plans for a full audio setup in the trunk and to do just the basics on the motor (probably stage 2 engine management software) and call it a day. It's still a daily driver so I just plan to keep things simple and clean.
MM: So tell us man, what made you get the Passat CC?
Matt Harms: I actually hated the CC when the spy shots came out. I previously had owned a 98' Passat before I got the CC and when I heard "Comfort Coupe" I got all excited about it being a 2 door, but once I saw the pictures I was a bit pissed and said it sucked and I didn't like it. Once they started hitting the dealers, that's when things changed. One day I had to go to the Volkswagen dealership to get some parts and my buddy who worked there showed me a CC that they had on the showroom floor with the 2-tone interior and that was it.  I was sold. It took another couple of days of lying on the showroom floor to make sure I could bag it using a mk5 Golf bag kit. I ordered the bags and then started paperwork on the car.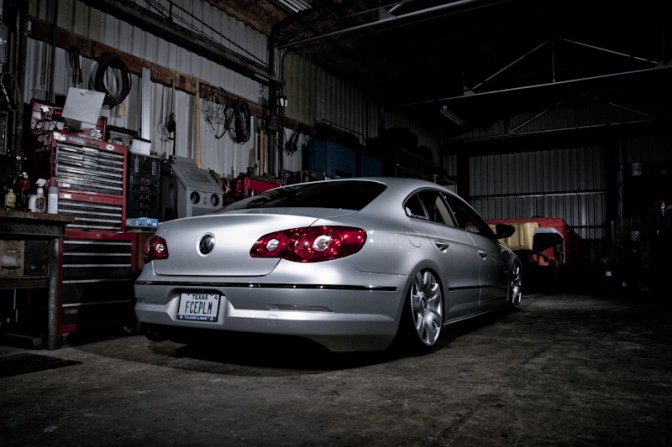 MM: What was your main influence on the overall look of your car?
Matt Harms: Bags were an up and coming thing in the VW scene so that was my main influence. Other than that I wanted to be low and still have drivability. My old Passat was tucking tire static and it was a pain to drive, so I knew bags were the way to go from the start. I wanted to keep the car clean and simple (pretty much bags and wheels )but after that I still want to do more. I knew from the beginning that bags would make the CC epic.
MM: Your car is definitely epic! So tell me Matt – how is the VW scene in Alvin, Texas? Any cool rides? Any other bagged VWs?
Matt Harms: Actually the VW scene in Alvin is dead. Other than me and my grandfather, who plays with air-cooled VWs, there isn't much. I'm about a half hour from Houston where the scene is up and coming.
MM: As I was going through your thread on your car, I noticed beside all the love you were getting on your car there was also a lot of trash talking. How do you handle that?
Matt Harms: It was kind of a big deal when I got the CC bagged. As far as I knew, it was the first. All of my friends loved it but I'm sure, as you saw, that not everyone loves it. I get a lot of hate from of other people and from other CC owners. It doesn't bother me, cause haters gonna hate!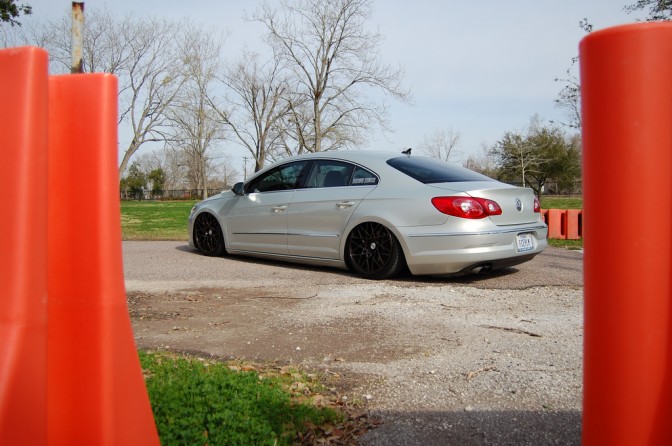 MM: I hear ya man. HATERS GONNA HATE – that's a great motto. I think I might have to steal that from you. So you never told me, who took those pictures of your car in the garage with the Bentley rims?
Matt Harms: My buddy Guian Mirabueno took the shots with the Bentleys and I did the shots with the Rotiforms.
MM: Actually, those photos that your buddy took really spoke to me. The  first time I saw them, I wanted more. I just love the Old Town, rustic feel of them and the garage shots add character to a simple and clean CC like yours. Thanks again, Matt!
Big ups to Matt for answering all of those questions for the MotorMavens Crew. I can't wait to check out his future build thread on VWVortex. Keep on dubbin', bro. And for the rest of you guys out there who hate… keep on hatin'! Guys like Matt Harms will keep on ridin' – Low and SLOW!
:: Tamer Omran
---