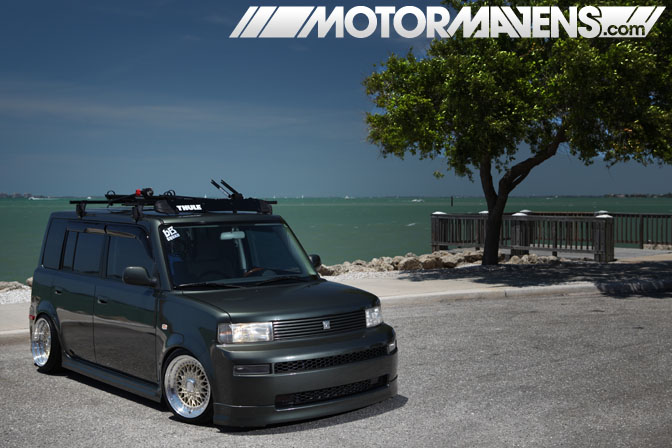 Looking through the terabytes of photos in our Motor Mavens photographic archive, we noticed these photos from our last trip to Florida sitting in a folder, never before published and never before seen on our site.
It was one of those perfect Florida days, with the tang of fresh salt water in the air and the sun seeming to just chill and hang out like an old friend – warm and breezy in a "no worries" sorta way. So, what does one do in Paradise? That's right… check out the cars. We were in Florida to attend the Scion Exposed 6.0 event in Sarasota anyway, so we thought we'd do a little carspotting at the show. That's where we saw our favorite car at the show – this clean, minimalist, emerald gem, owned by Nick Rico of the bB Squad.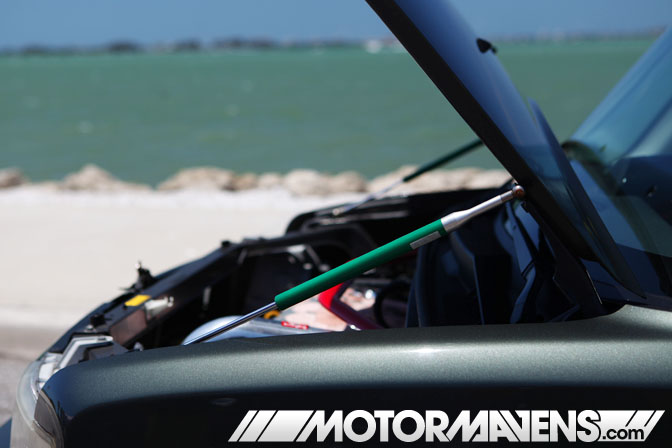 We loved the choice of dark emerald green on Nick's xB, and the green and white accents of the Tein hood dampers on that deep emerald background make you wonder if Nick just rolls up to events with his hood up just to show peeps how he "coooooordinates." LOL Actually, when we spoke to Nick and his dad, we found out that he drove out all the way from Atlanta GA to Sarasota FL just to attend the show, which was the year's largest Scion gathering in the East Coast.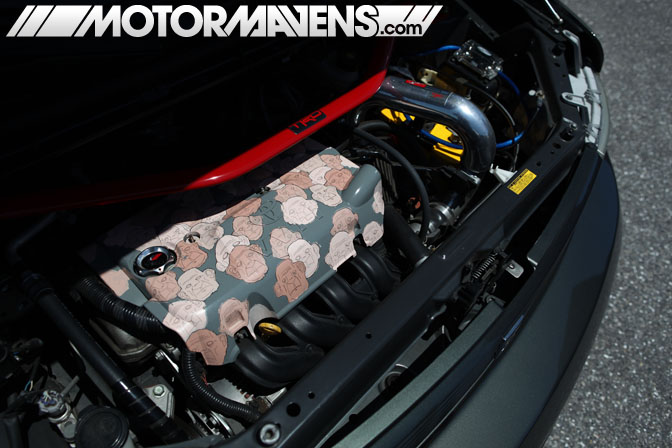 Scion owners (especially those who own xB's) are known for trending toward personalization and self-expression, and Nick is no exception. Check the valve cover artwork executed by Nick himself as a nod to the aesthetic – adding some form to all of the function. Hey Nick, how about custom painting something cool at the Motor Mavens office next time we see you?
Performance has also been slightly improved by the Injen air intake and the TRD strut bar… not that this xB is intended as a canyon monster or anything. Nick also added a metal TRD oil filler cap just so he can burn his fingertips every time he adds oil to his engine. Oh wait… this Scion xB is a newer car. He probably doesn't have to add oil to top off his stock motor yet.
Who doesn't love BBS RS wheels? Especially when they are incorporated so skillfully into the impact of this understated crowd pleaser's stance? BBS is headquartered in Georgia right next to Road Atlanta, so hopefully the BBS marketing folks see Nick's car and sponsor him with more BBS wheels, since he's repping them so hard in the south east region of the USA, and now on the internet!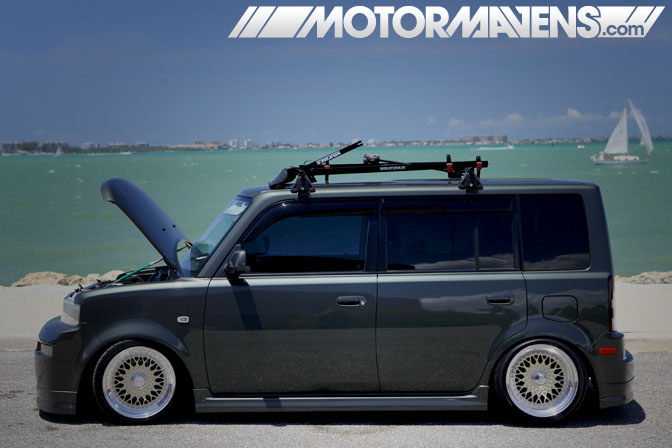 You may or may not be a fan of the lines of the xB – at its release it was definitely one of the more polarizing vehicles produced in a long time, causing many a heated argument amongst fellow car enthusiasts – but even haters of "the box" design can see the appeal in a clean, functional example of minimalist excellence like Nick Rico's emerald gem.
:: Avon Bellamy
---