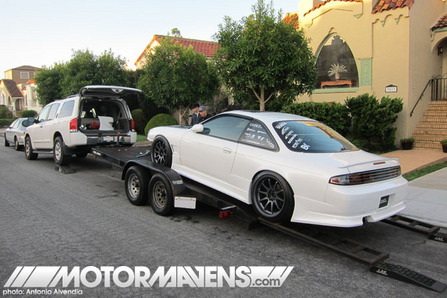 This past weekend, I went up to San Francisco to hang out with some of my old school friends from the Bay Area… but unfortunately a lot of them were out of town! Hawaii, Japan, Philippines… damn! Sometimes I have such bad timing! It was a good thing Calvin Wan was in town – he told me he had two events that he needed to attend that weekend. He needed to bring his FD3S RX7 to a motorsports show in Vallejo, and then bring his S14 Silvia (it really is a RHD Silvia from Japan) to the Wekfest Car Show in Japantown San Francisco. I've been hearing about (and seeing pictures of) the annual carshow in San Francisco's Japantown for quite some time, but this weekend was the very first time I had ever had a chance to attend it myself. I think in the past it used to be called the JDM Theory J's Gathering, but apparently they decided to rename it Wekfest (pronounced like 'weak-fest'). Or it could be that the organizers are different now? Not sure.
Anyway, the Weksos Wekfest event was pretty crazy… TONS of cars, TONS of people in attendance, and a line of impatient people that stretched around the block. Seriously… that was a pretty long line!
For us, the show started very, very early. We had to leave Calvin's house to pick up his S14 at 5:30am in order to get his car staged and parked by 7:00am! It's definitely an early start to a car show, but for me it was even more difficult because several groups of my Bay Area friends decided to get together and take me out for my birthday the night before. This being said, I didn't even get back to Calvin's house until 4:30am, so I only had about an hour of sleep, haha!
Groggy as hell, I still managed to snap a photo as we loaded up Calvin's S14 on the trailer. I think it looks pretty cool – a white Nissan S14 Silvia being trailered by a white Nissan Armada? That guy likes to match. (Oh, and that's real Vertex aero and real Vertex taillights we're looking at BTW. I don't see this combo much, probably because those taillights are expensive as hell.)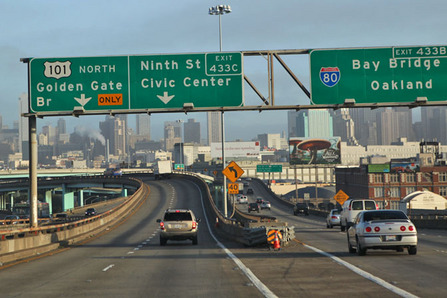 Kind of a crappy snapshot of our drive into SF. I love the view of the city on the 101 North as you enter San Francisco.
Our first stop in San Francisco was the Safeway store parking lot near Fillmore and Geary… One of my favorite sneaker shops in SF is right behind this parking lot! Everyone knows what/where the Fatlace store is, but I wonder how many people know about Harput's? Harput's is one of the OG spots for sneakerheads in San Francisco. In fact, musicians like the Beastie Boys and Run DMC used to get kicks at Harput's when they were in town. My Adidas rock everywhere I go/ gettin utterly respected at every show… Next time you're in SF, stop by and say whatup to the store owner, Bootsee Harput – he's a super cool guy with some serious HEAT stashed away. Ever seen a pair of first edition Adidas shelltoes? I have… and Bootsee has em locked away in the back.
Anyway, the Wekfest crew had their carshow check-in there, so there were tons of cars hanging out in the parking lot. I decided to snap a few photos, as I was sure that we'd be able to see much better detail in the cars while they were parked outside.
This here is an internet famous Datsun 610 wagon from San Jose's Heartbreaker crew. It's great to see crews of old school Japanese cars popping up in San Jose! When I used to live in SJ, it was nothing but Integras, Civics, Accords and Eclipses. Thank God that guys like them are starting to get blown up online. They weren't the first ones from San Jose building old school Japanese cars, but they certainly are helping other young car builders take notice of and give respect to older Japanese metal.
Here's the tail end of everyone's favorite Datsun 610 wagon. Super low as hell. Riding on air suspension, in case you didn't already know. I'm sure you did, though.
He's rocking his tsurikawa (subway train handle) correctly as hell. It's supposed to drag on the ground, just like that… when the bosozoku guys in Japan would drag either their tsurikawa or small buckets underneath their cars, it was their way of showing off HOW LOW their cars were.
THIS is cool. Hanging small stuffed animals from your towhook is NOT COOL. Get it right. Don't be an ignorant internet forum kid. I hate stuffed animals hanging from rear towhooks. It is stupid as hell. Get the picture, don't be lame.
I'm pretty sure everyone on the internet knows this car too. This is the Heartbreaker shakotan zombie S30 240Z, owned by Yuta Akaishi. It looks way different from the last time I saw it though. The car now sports some new bodywork (certain items on the body were fixed, as the car gets prepped for paint) and some huge flares. It also sports some new wheels – a set of SSR Mk-3 wheels that Yuta had powdercoated gold. Hey, does that sticker on the rear window say Hellagay? Lol.
Here's a front view of Yuta's Z… it sure does look different from before… it's no longer silver; instead, it received a new coat of gray primer in the front, making the rusty/primer oversprayed grill stand out even more than before. A closer look reveals Yuta's carefully hand written blog url across the hood, hand painted-in letters on the tires, and massive fiberglass overfender flares hanging above the new gold wheels like metal umbrellas. The side marker reflectors are missing now too – I know that some fans of this car might be disappointment, but don't worry… Yuta's famous S30 Z is just undergoing the next phase of its reconstruction and redevelopment. I'm sure your jaws will drop again when you see the finished product.
Here's a close up look at the flares and the wheels. Good thing they don't have safety/tech inspections at carshows, because if this were a track event, there's no way this car would pass tech inspection. I'm not referring to the missing screws on the flares; what I'm referring to is the lugnut that's missing from the front wheels! (Yes, it's missing from both sides.) You can get shank lugnuts at Autozone or Pep Boys, Yuta! LOL had I known you would have needed some for the show, I would have brought you some from my stash. Hilarious… kinda dangerously funny I suppose.
All joking/teasing aside, I think it's awesome that these SSR Mk-III wheels have shank faces. This means these wheels must be really old, and not a brand new set of Mk-IIIs that someone just ordered from SSR last month.
I also like how the hardware on the newly powdercoated SSRs were replaced. That's the type of attention to detail that I personally like.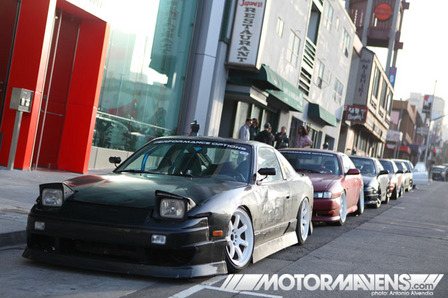 After Calvin checked his car in and got his load-in instructions, we trailered the S14 down the street for unloading. Across from the entrance to the Japantown parking structure, I saw a very familiar looking group of battlescarred S13s and S14s. Well it was none other than the infamous Wolf Reign crew (howl at the moon) from San Jose. I first met these guys just last week, at the HellaFlush 3.5/Team Drift Competition at Buttonwillow, but I immediately liked them. These guys are super cool, and pretty funny as well. Driving wise, they aiight I guess… (Haha, just kidding fellas!) No, but seriously… people should keep an eye out for the reign of the Wolf. These guys will be pretty big in the future. They're aggressive drivers, hardcore, committed, and they're closely knit, just like an actual pack of wolves. A couple of them are kinda hairy too, just like actual wolves.
They have some energy too – these guys were hella hyper already when we rolled up in the Armada. They were yelling super loud across the street, "Hey yo! You guys want some donuts? We got hella donuts over here!" hahaha and they just left that pink box of donuts on top of one of the S13s all day. Some homeless guy could have gotten some snacks!
Much love to the Wolf Reign crew… I was happy to see that they were showing love to MotorMavens too! They were all rocking Mavens stickers on their cars! RESPECT!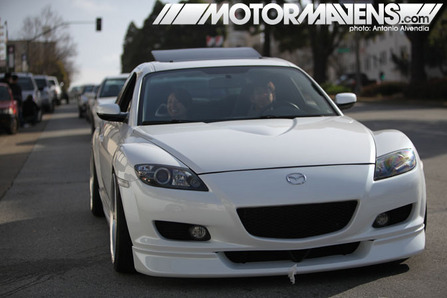 Speaking of respect… much respect due to the owner of this Mazda RX8. Damn, I don't think I've seen a better looking RX8 on the street! The stance and color make it looks so clean and aggressive! I've driven an RX8 R3 before on the racetrack and on the street, and I gotta say, I like them alot. Very fun car!
I'm such a dummy though, I should have stopped this guy and talked to him about his car, but I was busy taking pics of all the cars, and he was making his way into the parking structure to park his car underground at Wekfest. If anyone knows the owner of this car, please contact us!!! I'd love to shoot more photos of it, but I failed miserably at getting the owner's contact info. I'm so dumb.
Speaking of clean white cars, check out this super clean Infiniti G35. It's rocking the 350GT badges (kinda sideways) and a GORGEOUS set of Volk GTF wheels, appropriately (perfectly) sized for the car.
Big ups to the owner of this car. I see G35s every day all day, and most of the fixed up ones I see look pretty wack – either the wheels are lame, or they don't fit right, or the car has some ugly paint color or body kit. This particular car looks awesome as hell. I love it. The black roof and pearl white paint look gorgeous together.
Ya know what else looks gorgeous? The limited edition Top Secret X Volk Racing GTF wheels that the G35 was wearing. Dammit, they look soooooooooooooo GOOD. Awesome detail in the face, and super fat reverse lips. It makes me want to buy a 5×114.3 car so I can rock these wheels on something! What should I get?
Since I don't currently own a 5×114.3 car anymore, let's move back to a topic that I know about – 4×114.3 cars! Specifically, this AE86 Corolla GT-S. This is a super clean kouki coupe! I don't think I've ever seen it before, because I probably would remember the skittles green paint.
I love the clean OEM Japanese kouki bumpers, and the carbon fiber trunk lid looks very clean with the matching hood. Did you think I forgot the Modex/SSR Dori Dori wheels in appropriately aggressive sizes? Of course not. Nice car.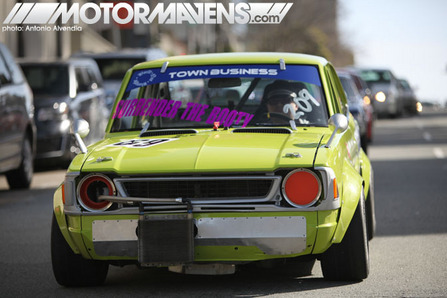 Here's another green old school Corolla. This time, it's a super modified TE21/TE27 chassis with humongous fiberglass flares and some old school OEM Toyota fender mirrors.
I'm not quite sure if it's a 1972, 1973, or 1974 Corolla. It has a 1973/74 hood and grill, but the side "eyebrows" suggest it could be a 1972 Corolla too. The front valance has been covered by a large piece of sheetmetal (for cooling purposes, no doubt) and a huge oil cooler, with AN fittings and steel braided hoses that run through the headlight hole.
This Corolla is owned by Joey Gauthier from a shop in Oakland called Performance Options. I spoke to Joey real quick (like 2 minutes), and he said his car has a 3TC engine with a gear drive kit. Pretty cool… not many people out there have gear drive setups on their 2T/3T engines, which eliminate the timing chain and make a noise that sounds similar to a supercharger.
Back when I got my TRD gear drive for my own TE27, the only other person I knew who had one was a good friend by the name of Tom Carter, who actually has the rare HKS gear drive kit for his 2TG. Tom is probably the first person who ever made a TE27 related website. I learned a lot from him; he even helped me buy and trailer my very first TE27. What a great guy!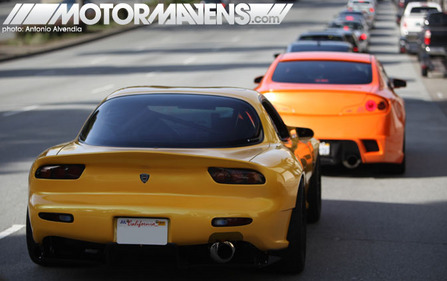 RotorMaven Edward Uche wasn't at the show, but I know he would have liked this yellow FD3S RX7. I don't really know what kind of aero kit or rear taillight cover it has. It kind of looks like a modified RE Amemiya cover with a molded in lip wing, but I honestly don't know.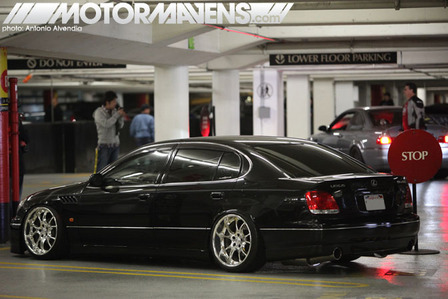 This JZS161 GS400 was sitting in the staging area of the parking structure, slammed pretty low with aggressive fitting wheels. I love the exhaust.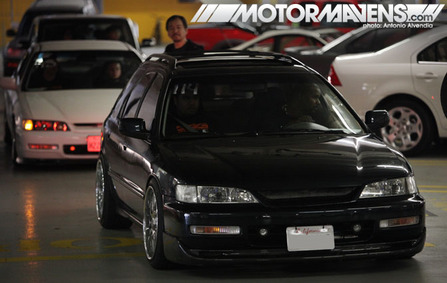 Also in the same area, I spotted this Honda Accord wagon, rocking some aggressive wheels. I was pleasantly surprised to see this car; I've always admired these types of Accord wagons. I wish more people would build them! This would be a pretty gas efficient, practical car to rock on the daily. I would prefer it without the mesh grill, and without the foglights if it were mine, but I liked what the owner of this car did with it overall. I like cars that are practical, with a lot of interior space. If I didn't already own a wagon, I'd consider looking into getting an Accord wagon kind of like this one.
This was definitely my favorite AE86 in the entire show. The Infinit Wheels crew knows what's up! Super clean, with perfect camber, perfect sized wheels for factory fenders, super clean paint, a front chin spoiler and aero mirrors… hot shit, this car is super dope. I don't usually like AE86s this much because I know quite a bit about AE86s and I'm super picky. This being said, I respect the builder of this car a lot.
Anyone can slam a car and put a 20 valve in it… but this car is the product of a knowledgeable owner with great automotive style, respect for the car itself and restraint. This is why I love it so much. This is what a TOP DOLLAR AE86 looks like. (I'm not talking about how much money went into the build… I'm talking about how much this car is worth now, and how much it will be worth in 10 years if it still looks like this.)
Perhaps one of the cars I was most excited to see driving up to the show was this Lincoln Continental sedan! (I'm not quite sure what year it is. 1964? 65? 66?) Now THIS is gangsterrrrrrrrrrrrrrr. I LOVE THIS CAR! The body shape is so gorgeous, with the huge flat body panels on the sides looking like two huge surfboards attached to the car. I also love the wheels and whitewalls… so damn fresh. I want one sooo bad. Time to start saving my pennies.
I thought it was cool to see this Continental rolling into the show, with a bunch of VIP styled Lexuses and Infinitis behind it. This Lincoln is old school VIP!
The rear end of the Continental looks so dope too. Lincoln definitely made some awesome cars in the 1960s… what happened..? So sad. 1964 Continental > 2004 Navigator.
I took so many photos at the event, I decided to break them up and upload them bit by bit. Stay tuned to MotorMavens for our next update, which will include photos of the best looking cars inside the show!
:: Antonio Alvendia
240Z
,
Accord
,
AE86
,
Armada
,
Bootsee Harput
,
Calvin Wan
,
Fatlace
,
FD3S
,
G35
,
GS400
,
Harput
,
Harput's
,
Heartbreaker
,
Hella Flush
,
J's Gathering
,
Japantown
,
JDM Theory
,
JZS161
,
Lincoln Continental
,
Mk3
,
RX7
,
RX8
,
S14
,
S30
,
Silvia
,
SSR
,
TE27
,
Top Secret
,
Trueno
,
tsurikawa
,
Volk Racing
,
wekfest
,
weksos
,
Wolf Reign
,
Yuta Akaishi
---