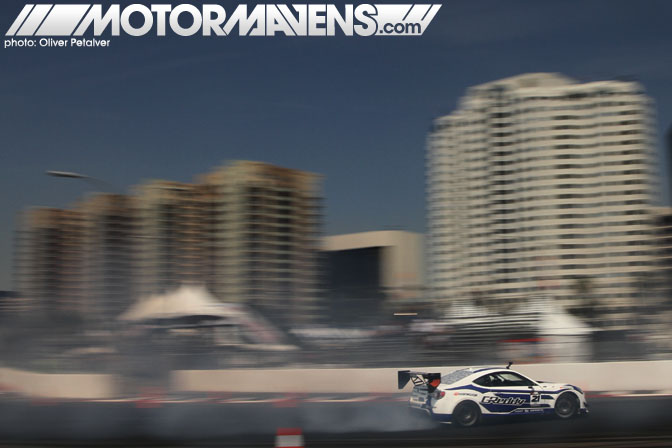 It's such a beautiful day here in Long Beach at the first round of the 2012 Formula Drift Championship season! The sun is shining, with a cool ocean breeze blowing the clouds of tire smoke. The loud roar of race engines at full throttle somehow mixes harmoniously with the squealing sounds of tires being decimated on the pavement. Not a bad way to spend a Good Friday.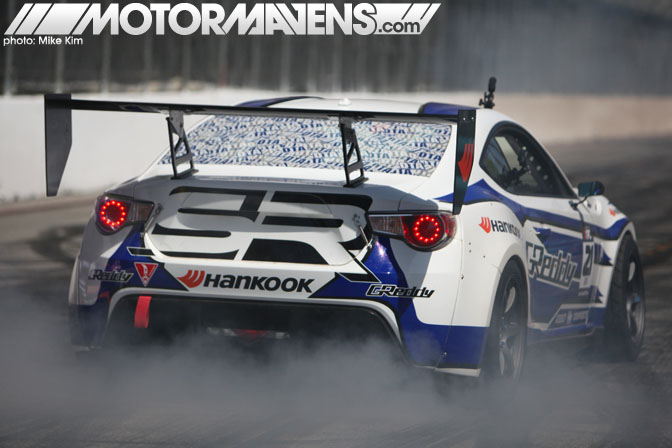 Probably the most anticipated car debut of the 2012 Formula D season, Kenshiro Gushi's GReddy Scion FR-S was definitely turning heads. This is the very first Scion FR-S built for drifting in North America, so a LOT of eyes will be on this car over the course of the Formula D event. I can't wait to see all the FR-S photos that people post on Facebook, Twitter, and Instagram.
Ken did pretty well on his first outing with his new FR-S, qualifying 14th with a speed of 54.4 mph through the concrete lined course here in Long Beach.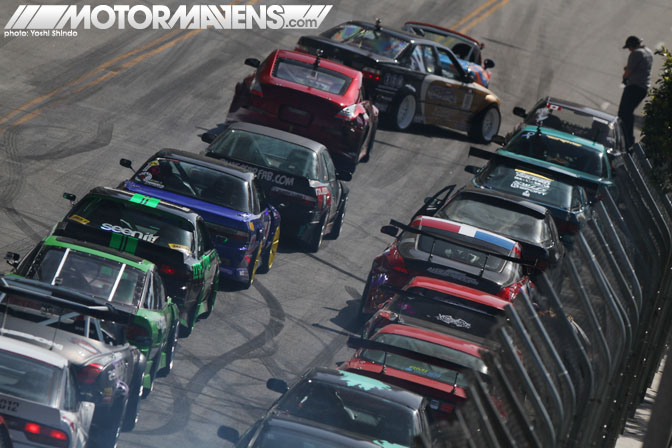 The starting grid looks crazy, with all the cars lined up, doing donuts and burning out to warm up their tires. Even the casual spectator with ZERO track access or media credentials can take cool photos of the starting grid if they simply walk across the bridge that connects the parking structure to the Long Beach Convention Center. I saw quite a few people shooting photos and videos with their mobile phones from the bridge today!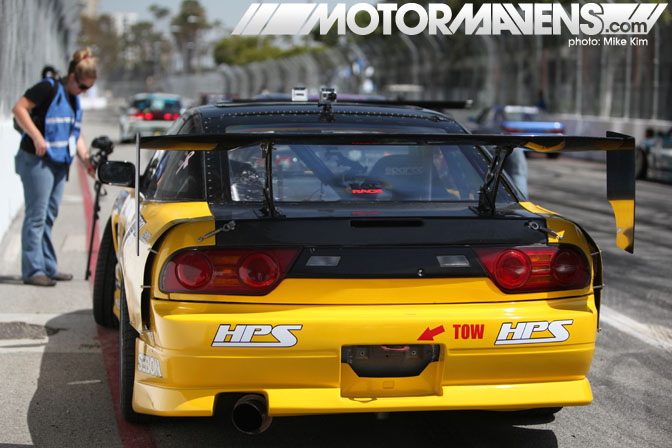 I was glad to see Robbie Nishida from Japanese drift team Hey Man back in the United States driving the HPS RPS13 Sileighty. Robbie is a good friend and a talented driver. Robbie qualified 25th today, with a speed of 54.5mph.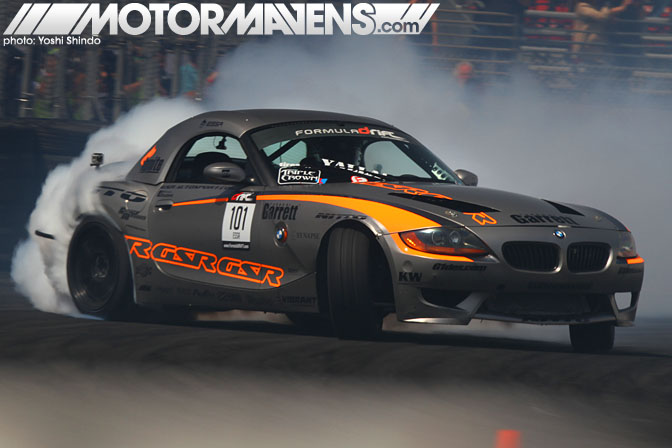 Nitto Tire sponsored Mike Essa was back in action, in his Garrett turbocharged BMW Z4. This is one of the classiest cars in the Formula Drift series – I wish all the Formula D cars looked this good. Mr Classy qualified 20th.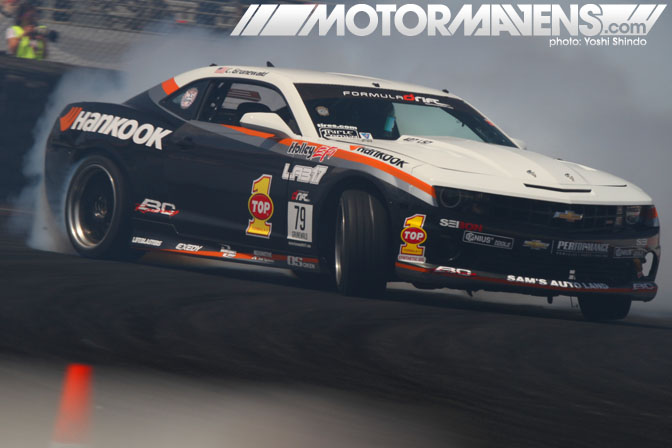 Conrad Grunewald's Camaro always has a professional appearance at Formula D events, qualifying in 8th place. This year, it has a lot more black paint covering the car, although it still carries the Hankook theme. I just noticed that there's an OS Giken sticker on the car – I had no idea that OS even made parts for Camaros!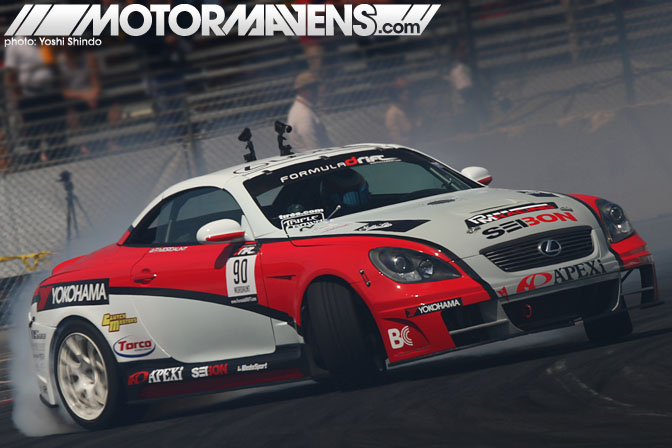 Pat Mordaunt is now driving the Apex'i Lexus SC430. Apparently, he got Ryuji Miki's seat this year. It's nice to see Apex'i back in Formula D after a year-long hiatus, and back in the big show – Pat qualified 23rd today.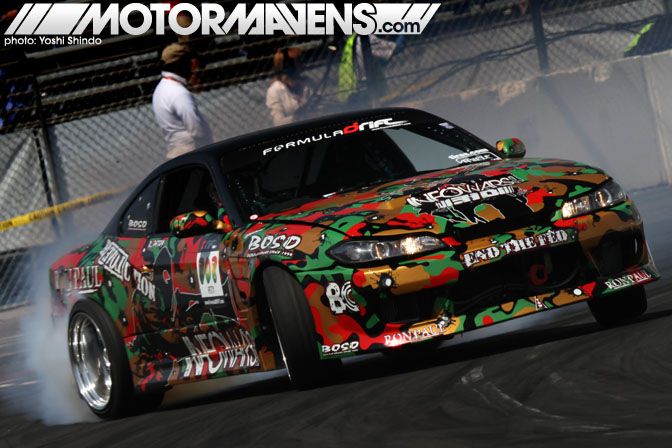 Crowd favorite Ross Petty is still smoking it up in his… I mean, with his Garage Boso Nissan S15 Silvia. For the 2012 season, Ross debuted the S15 with a crazy new rasta-camouflage paint scheme, and… no visible tire sponsor?! Tire companies, if you want your brand to become COOL within the drifting crowd, sponsor this guy! Privateer Ross qualified 29th today.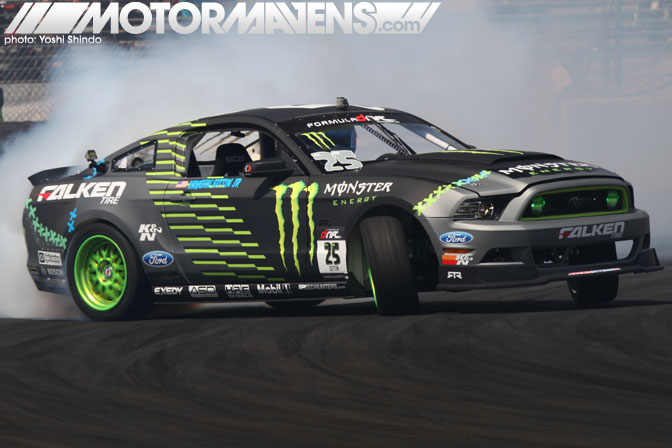 Newly married Vaughn Gittin Jr debuted the new livery on his Monster Mustang on Wednesday night, with a Free-Beer-and-Monster-Energy-Drink party in Downtown Long Beach. JR texted me about coming to the party, but sadly, I couldn't make it because I had to pick up Seattle-based MotorMavens shooter Yoshi Shindo at the airport. Oh well, I don't drink beer anyway… if they had a Free Whiskey party, I probably would've made Yoshi take the bus. Maybe next time…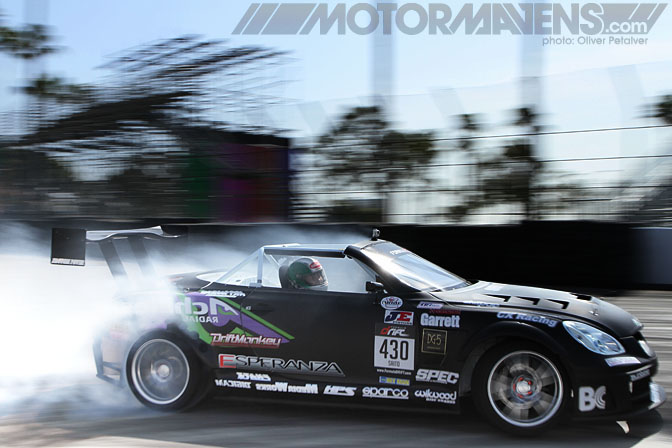 Everyone is excited about having D1 Grand Prix Series Champion Daigo Saito finally here in the USA, driving in the Formula Drift series. However, instead of the FNATZ JZX100 Toyota Chaser we're normally used to seeing him drive, Daigo is driving a Lexus SC430 sponsored by Achilles Tire. I wonder what their tires are like – I only recently heard of this brand, and I've never even driven on an Achilles tire in my life… but apparently they're good enough to get Daigo into and 18th place qualifying position!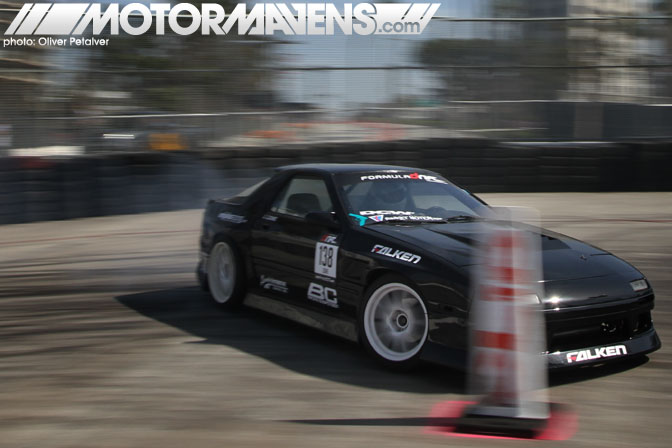 Florida-based FC3S RX7 driver Jeremy Lowe made the trip to Long Beach, and we're glad he did! I've never met the guy and have no idea what he looks like, but I love the way his RX7 looks, so that makes him cool in my book. It's one of the rare good looking "street" based cars in the Formula D series! He qualified 19th.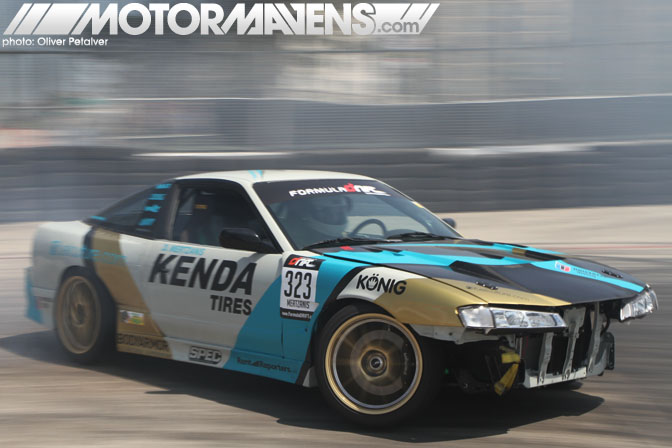 Atlanta driver Dennis Mertzanis has a new paint scheme on his S14-faced RPS13. Dennis luckily squeaked by and qualified in 32nd place! Whew! Congrats Dennis… but it's going to be a tough battle against First Place qualifier Ryan Tuerck in the graphically challenged Retaks S13.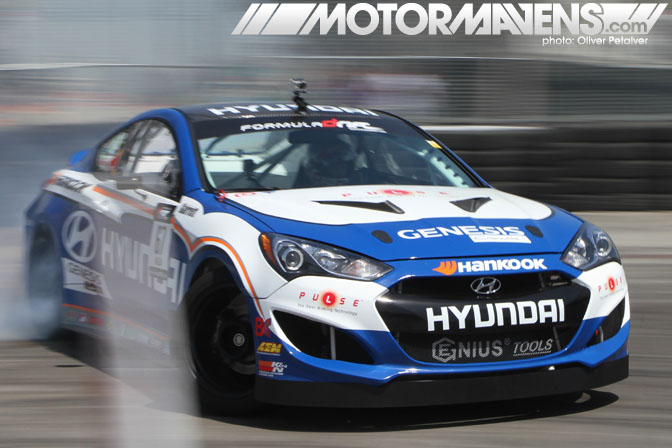 Rhys Millen is still killin… today at the driver's meeting, they made fun of Millen's age, calling him an old man… but he still drives hard, qualifying in 2nd Place! The judges jokingly said it was because he was getting sponsored by Viagra. Haha!
We'll have A LOT more photos that we'll be posting throughout the event weekend… stay tuned to @MOTORMAVENS on Instagram and Twitter, and of course, Facebook!
:: Antonio Alvendia
2012 Formula Drift Championship
,
Achilles Tire
,
Antonio Alvendia
,
BMW
,
Camaro
,
Chaser
,
Conrad Grunewald
,
Daigo Saito
,
Falken
,
FC3S
,
FDLB
,
FNATZ
,
Formula D 2012
,
Formula Drift
,
FRS
,
Garage Boso
,
Hankook
,
homepage
,
Jeremy Lowe
,
JZX100
,
Mike Essa
,
Mike Kim
,
Nitto
,
Oliver Petalver
,
OS Giken
,
RX7
,
Ryan Tuerck
,
Scion
,
Scion FRS
,
Vaughn Gittin Jr
,
Yoshi Shindo
,
Z4
---