As most of our readers already know, my automotive background has been primarily focused around the culture of Japanese cars. I still remain a purist in this sense, but in the last few years, my automotive tastes have broadened. Ever since my first trip to Europe (something like five years ago), my interest in German cars has been steadily increasing. I never really paid attention to the Volkswagen brand because I've been a long time fan of rear wheel drive cars… but I immediately saw the light the first time I drove a Volkswagen Golf R.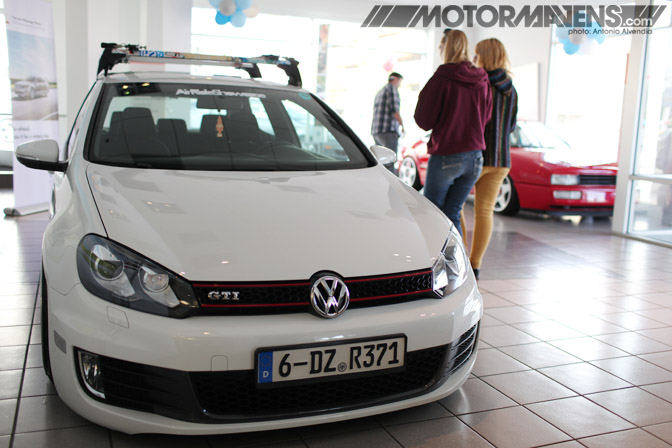 My good friend Mitch Sison from EcoShine Auto called me up over the weekend and told me about this meet happening at Volkswagen of Van Nuys, organized by Brandon Chasin of Wustefest. I figured it would be a good opportunity to see some nice looking local Vee Dubs, so I grabbed my camera and my brand new Canon EF 35mm 1.4L lens and headed to the meet.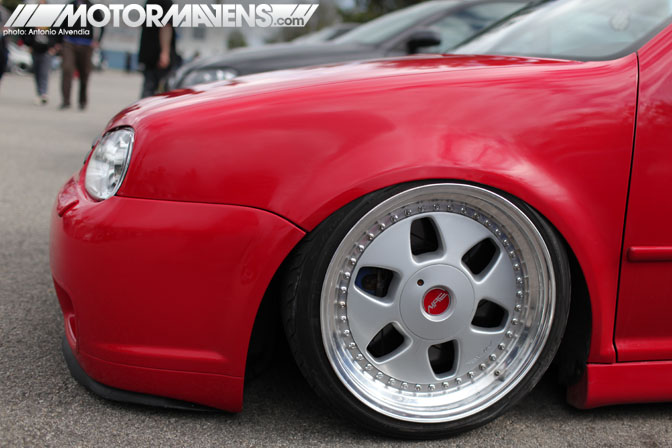 Since I just got the lens about a week prior to the meet, I didn't get a chance to pick up a 72mm CPL filter for it yet. All my other CPL filters were for larger diameter lenses, like 77 and 82mm, so the photos I took with my sharp new lens were unfortunately spoiled with tons of amateurish reflections. However, I promised Brandon (Van Nuys VW's new Internet Marketing Manager) I'd post up some photos from the event, so here goes…
Check out the MAE wheels on this VW Golf. Actually, I just realized that I don't know how to tell the difference between a normal Golf and a GTI. Or a Rabbit. I'm such a noob in the VW game… but I can still appreciate high quality wheels.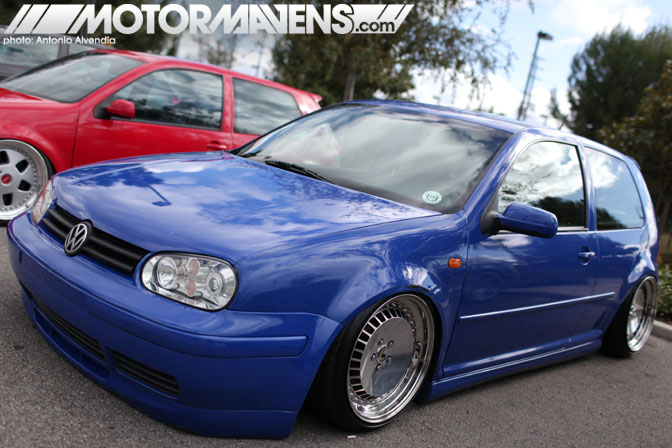 Oh Schmidt. This thing is low. And blue. With awesome looking, expensive Schmidt wheels.
The owner of this car must be a real Schmidt head. No Schmidt, Sherlock. It's obvious. The dice valve stem caps are a nice touch. Hopefully some kid doesn't steal them for his bicycle.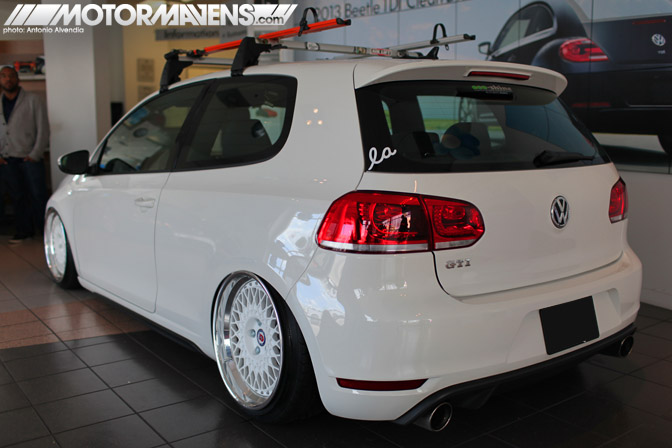 It was pretty awesome to see this slammed Volkswagen GTI sitting inside the dealer showroom! Awesome! More car dealers need to display clean modified cars in their showroom displays! Modified versions of brand new cars certainly would make ME want to pull the trigger on a new car.
I was curious about the cool looking bike rack on the roof, but I'm not a huge fan of the stickers on it. Either way, I'd like to do some more research on that roof rack. It looks cool!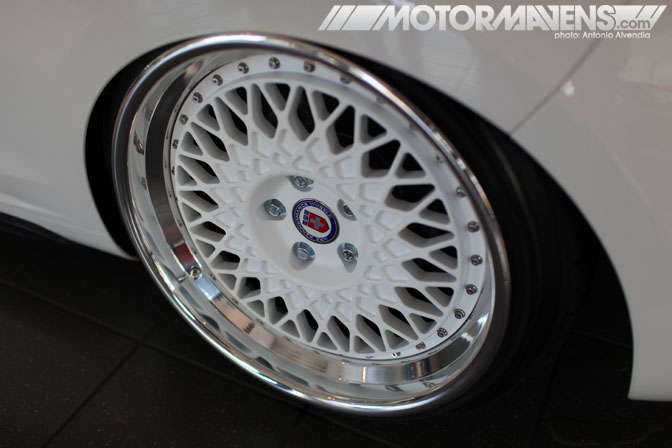 These meshies also look cool. These white powdercoated HRE mesh wheels really set the car off!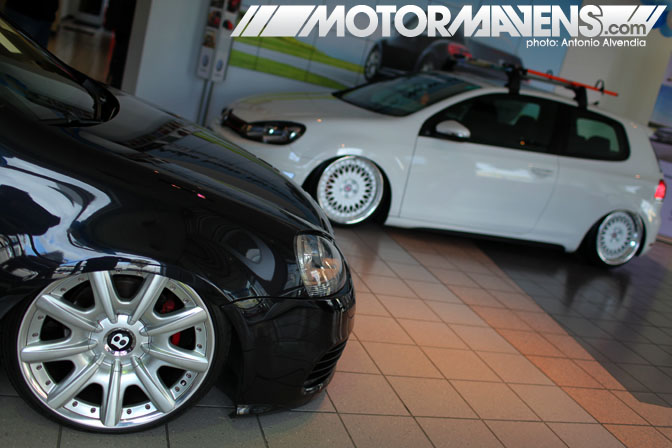 If you like the "Bentley wheels on Volkswagens" trend, Ecoshine Mitch's black GTI was a shining example of how to do it. Literally – his car was so shiny, I couldn't really take photos of it without seeing my own reflection in the photos. This was all because I didn't have a CPL filter for my new lens yet… so frustrating! This is why I didn't take many photos of it. Sorry, Mitch!
Mitch's car was so damn low, his Bentley wheels were tucking… but what really impressed me about his car is how clean he was able to maintain his black paint. Well, I guess that goes with the territory when you are a professional car detailer like Mitch!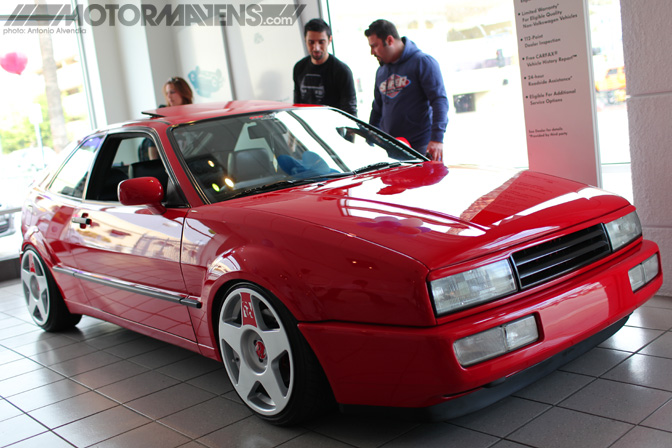 It's not often you see a Volkswagen Corrado this clean! I love red paint on cars, and I really love it when red cars have white, bright silver or light gold wheels. It reminds me of European rally cars! The wheels in question are Fifteen52 Tarmacs, which pay homage to the rally wheels of Europe!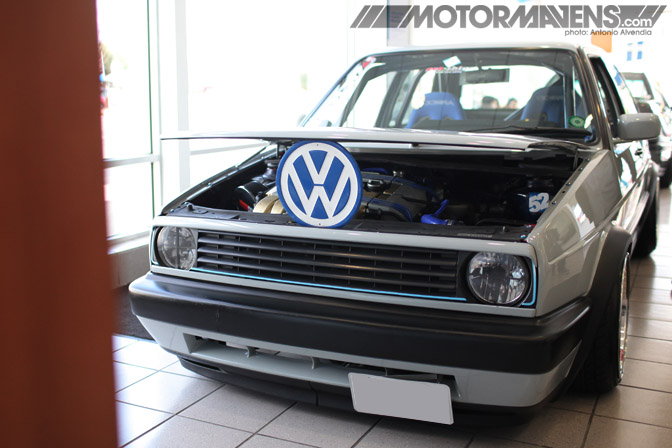 This oldschool grey GTI was cleeeeean! And it looks like it's fast, from the looks of its rollcage and engine bay. I didn't get to speak to the owner, so I didn't get to hear the engine specs.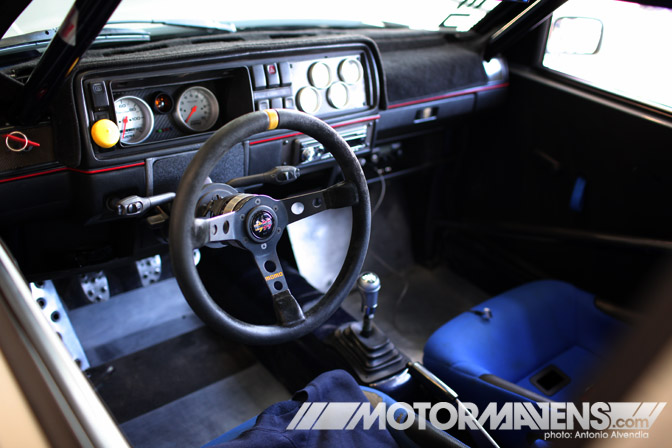 Check out the racy interior here… with the 350mm Momo deep cone steering wheel, aluminum floorplates, Autometer gauges and blue Cobra seats complementing the roll cage. It makes me wonder which track events this car attends!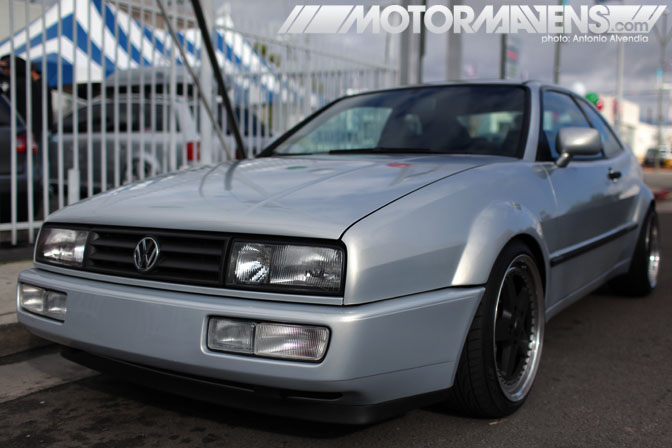 Eugene Lee from SocalR32 showed up with his newly purchased, super clean silver Corrado. This thing is gorgeous!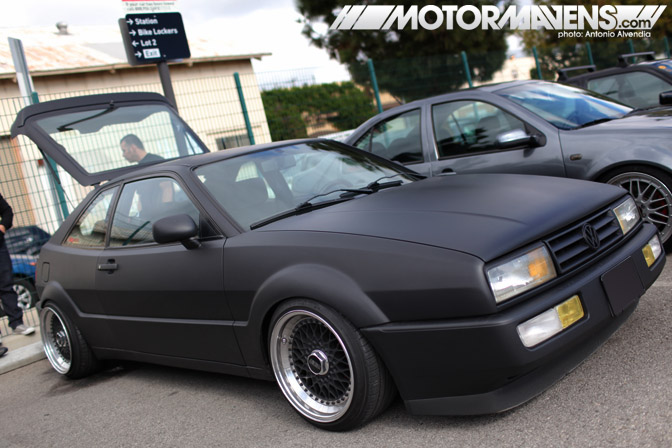 This matte black Corrado in the parking lot looked pretty clean with its black mesh wheels too. Very nice!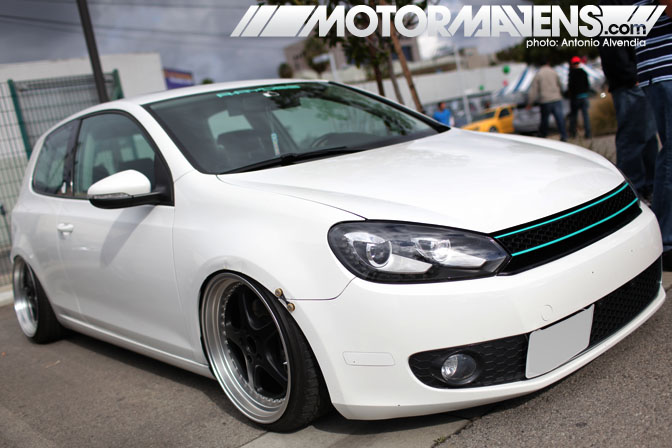 This Mk6 TDI stood out from the crowd for sure, with its Miami Vice style colorways. Check out the bumper ties… The owner of this Mk6 is our friend Bernie M Chacon III from Dub Nation (Vee Dubs, not the Twenty Inch Strong guys). He probably removes his bumper a lot, and wanted to make things easy by attaching it with these bumper ties…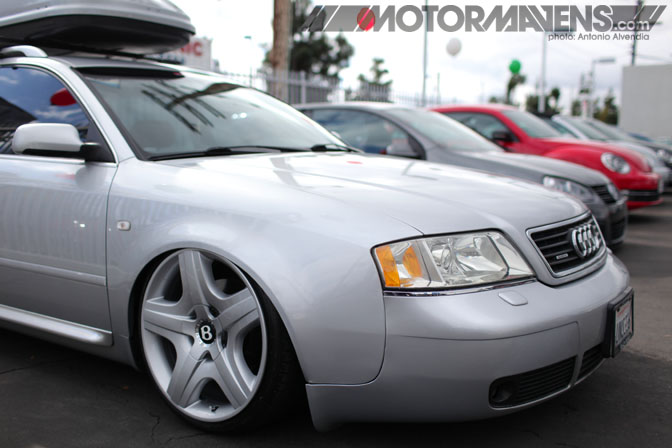 Here's Ecoshine Mitch's other car… this Audi Wagon is filled with car detailing supplies! Mitch is apparently movin on up… to the Eastside! When he detailed my AE86 back in October, he was rocking a Toyota pickup truck! Toyota pick up trucks are super reliable though. I should buy one.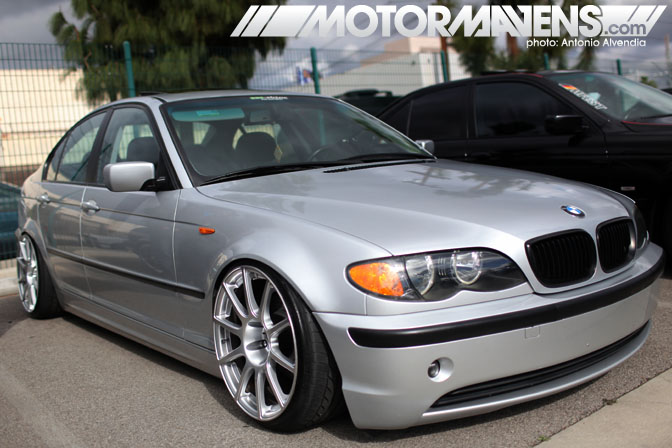 Last but not least… this E46 BMW 3 series looked ridiculously awesome and low at the event! I remember thinking, what type of person shows up to a Volkswagen meet driving a BMW?! (Me! I drove one of my BMW wagons through the parking lot, while all the VW guys looked at me like I was lost. Haha!) Anyway this clean silver E46 had insanely stretched tires. I know some people don't like that style, but I think it looks cool and aggressive. I noticed that the edges of the lips were painted black. I wonder if the purpose of that was to make it look less stretched?
Anyway, I'm heading to the racetrack. I published A LOT more photos from the meet on the MotorMavens Forums, so check em out and let us know if you know the owners of any of those cars!
:: Antonio Alvendia
---