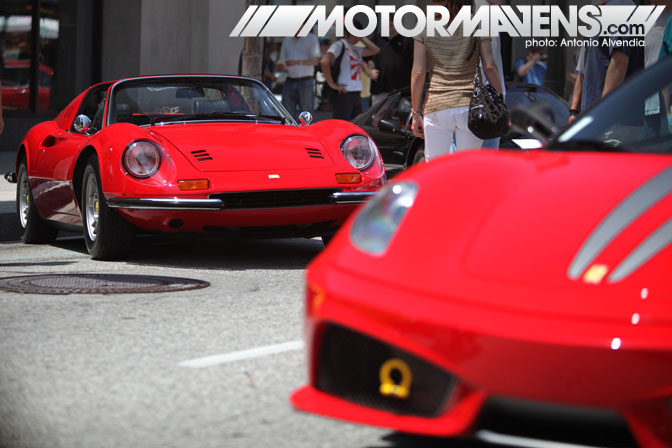 Last weekend, I made the trek out from my Orange County home to meet up with Antonio Alvendia at the Concorso Ferrari, where the streets of Old Town Pasadena were closed down and overrun by tons of gorgeous, shiny Ferraris as far as the eye could see.
We don't normally attend these types of events to shoot coverage for our website, but since this all happened right next to where Antonio lives, we figured we should check it out. Anyway, who wouldn't want to spend the day with tons of beautiful Italian cars? I was dumbfounded by how many gorgeous looking Ferraris turned up to fill up all of Pasadena's famous Colorado Boulevard.
Pictured above is a 1972 Ferrari Dino 246 GTSi; most people perceive Dinos to be under the Ferrari brand but in actuality its not.  Enzo Ferrari (founder of Ferrari) named after his late son Alfredo "Dino" Ferrari because it was considered to be inferior to the Ferrari brand, as some of the earlier cars had V6s while Ferraris of that time had powerful V8s.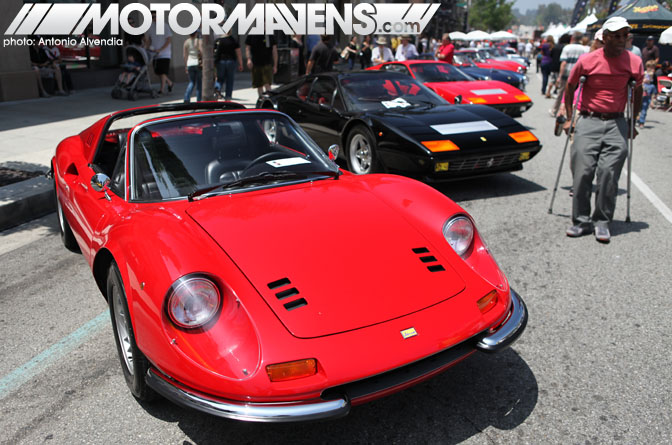 Here is a better shot of the Dino 246 GTSi. At the time while many cars on the road during the 1970s, such as all the big American muscle were still running carburetors while the Dino introduced fuel injection to its engine, truly ahead of its time.
Not every Ferrari came in bright Imola Red, as another popular color was Ferrari yellow.
As you can see, Dinos populated most of the event. I personally don't feel Dinos deserve to be carried under the Ferrari badge, but many may beg to differ. I just hope none of the readers are current owners of Dinos, as they might want to challenge me to a duel. Unlike me, our Editor in Chief (and head photographer) Antonio Alvendia found these cars to carry a certain allure about them, and couldn't stop taking pictures of them.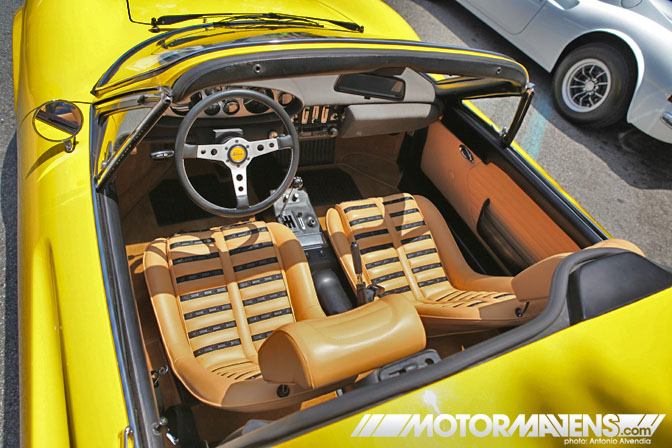 You gotta hand it to some of these Ferrari owners, as they have managed to keep their interiors spot on, as if it rolled off the showroom floor just yesterday. Check out these gorgeous seats, and the H-pattern notches for the gearbox, not to mention the Momo Prototipo 350mm steering wheel. Cool!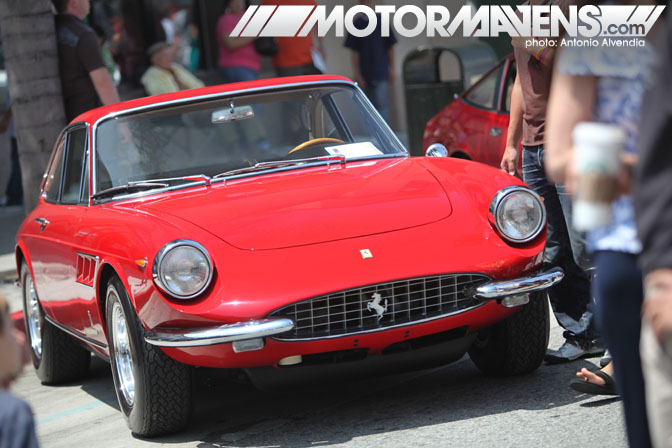 The Ferrari 330 was the successor to the Ferrari 250 series. First introduced in 1963, this 1967 330GTC (pictured above & below) was more similar to the Ferrari 275 series, as it had a short wheel base and independent suspension, but with a larger 4.0L V12 engine.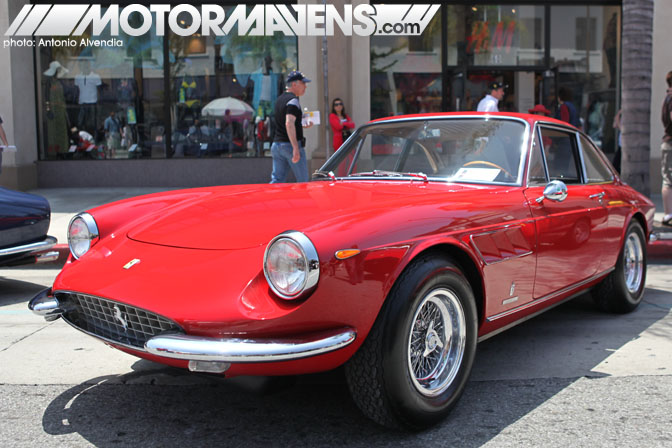 The bodylines on this car truly make it wonderful to look at. I could spend hours on end just staring at it. Next time though, I need to bring one of those folding chairs, so I can just pull up right next to it and pretend I'm cruising down the California coast in it. One day, I suppose… one day.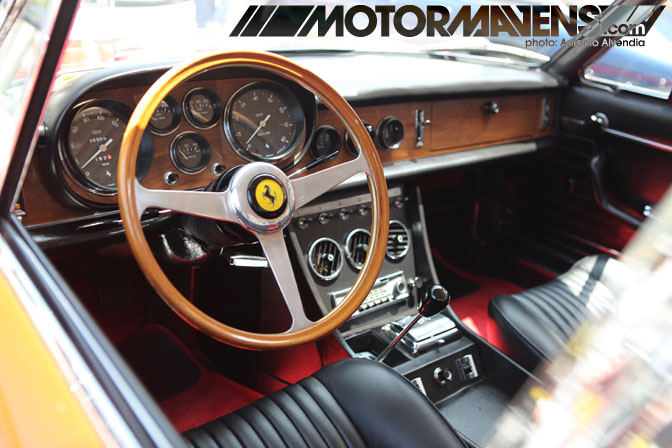 Just check out that interior shot of the 330GTC; from the hand crafted fine wood dash with its classic big-and-in-your-face instrument panel and those seats (ahhh) so fresh you could eat off of them, though I wouldn't necessary recommend that. I bet this car is a garage queen – I would believe so, as I found out that only 600 of these cars TOTAL were ever produced.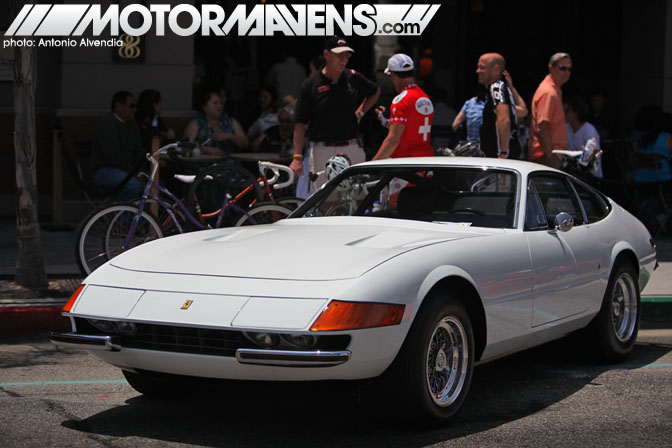 Unofficially coined by the media to commemorate Ferrari's win at 24hrs of Daytona, its official name is the Ferrari 365 GTB/4. Designed by Pininfarina, the 365 GTB was considered radically different in styling compared to other cars in Ferrari's lineup. Its sharp edged nose almost has a certain Lamborghini characteristic, rather than a traditional Pininfarina Ferrari design.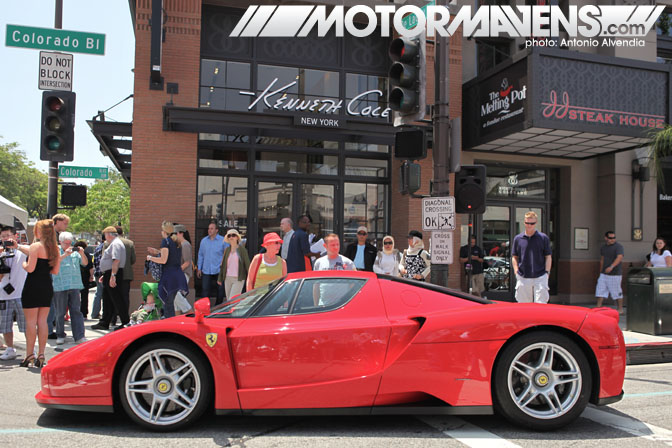 The main attraction of the show was this Ferrari Enzo, as people new and old lined up to have their picture taken next to this 1.2 million dollar automobile.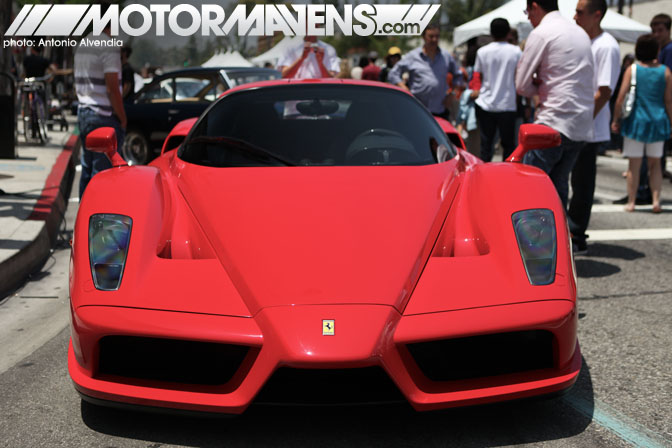 Would you leave your Ferrari Enzo parked on a busy street like this one? With people touching it, and breathing on it, I certainly wouldn't. (haha) Beside it being named after its founder Enzo Ferrari, it also packs a mean punch, powering this is a 6.0L V12 producing 660hp and 485lb-ft of torque, that's enough power to jump start a small decent sized planet.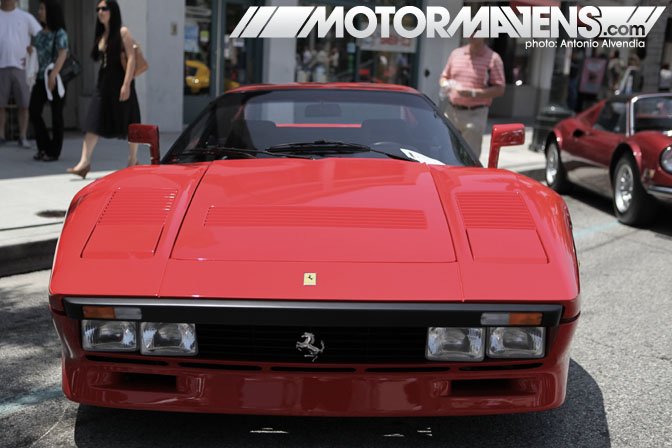 In 1984 Ferrari built the 288GTO to compete in the new Group B race series and a minimum of 200 cars were required for homologation. However entering in the series ended up being just an idea. Shortly after having the cars built, Ferrari withdrew from the series. The 288 GTO never raced a single race, and all of the 272 cars built remained purely road cars.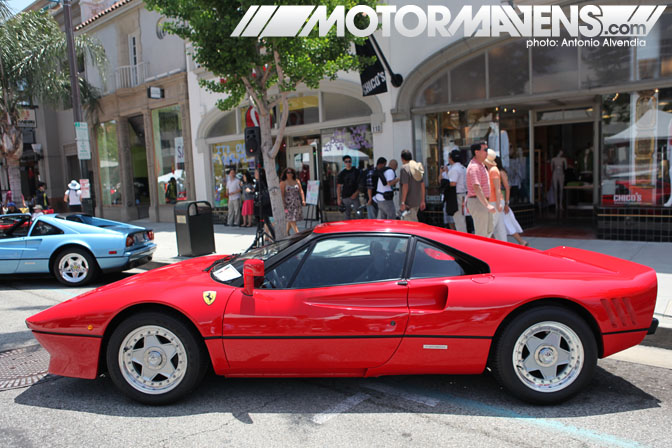 Pictured above is a 1985 288 GTO, powered by a 2.9L turbocharged V8, producing a whooping 400 horsepower and was the first street legal production car to reach a top speed of 186mph. In 1985, I wasn't even born yet and Ferrari was already producing outstanding cars like this. Insane.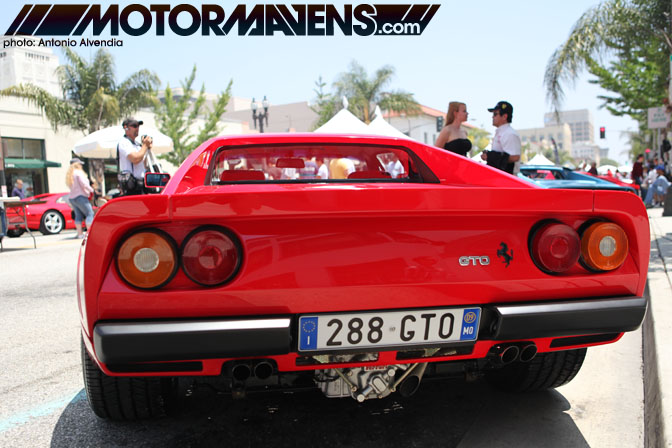 The rear section of the 288GTO is truly sexy. Don't you agree?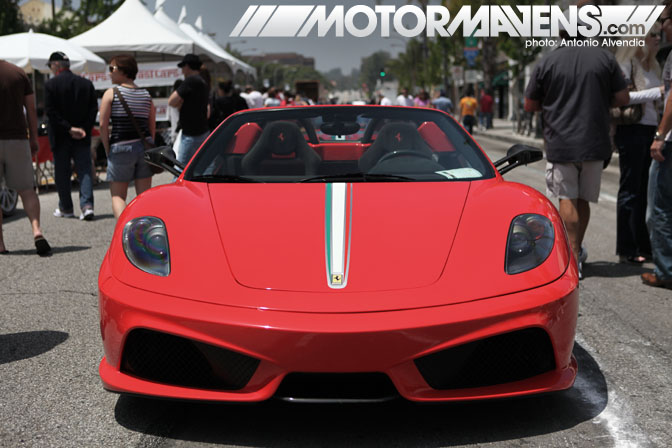 Out of the many classic Ferraris, this modern F430 16M Scuderia was overlooked by many.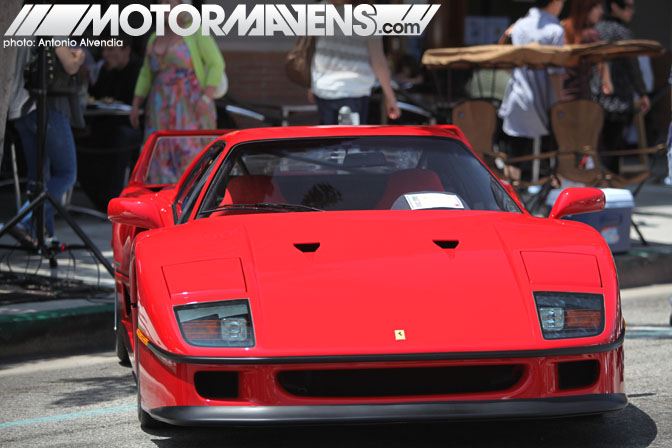 This Ferrari F40 is truly an amazing car for its unique looks and also for its speed. During its production run from 1987-1992, it was named the fastest road legal production car to break the 200mph barrier. This was also the most expensive car of its time, with a price tag of $400,000 dollars. There were even reports of people paying upwards of 1.6million for it, during a time when the rest of the world was going through an oil crisis and the USA was enduring the Reagan/Bush Senior era.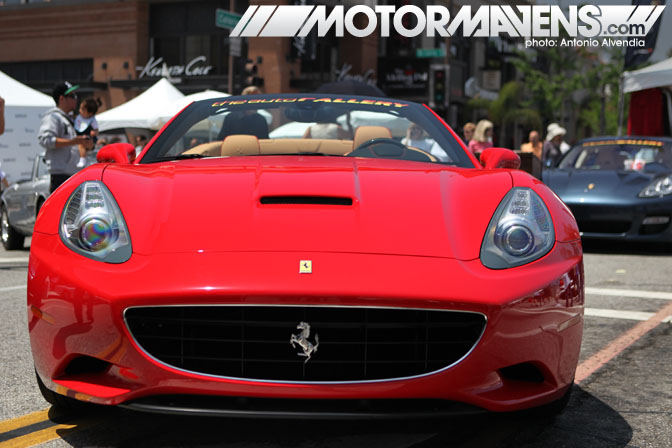 This Ferrari California pictured above is more my taste – I just love how a bone stock Ferrari California looks! This face is starting to grow on me.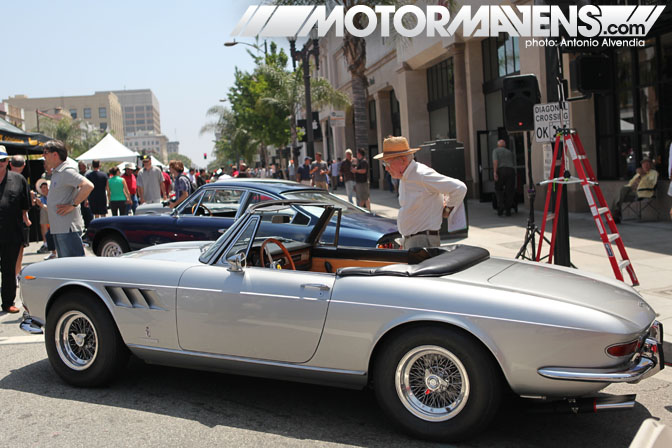 In 1966, Ferrari introduced the 330GTS Convertible to the American market. It came at a time when the US was changing its rules and safety regulations towards convertibles. The GTS after all these years still takes my breath away, and has remained one of the most classic, most elegant drop-top cars ever to be produced. The 330GTS production only lasted for two years, ending in 1968 with only a total of 100 cars to make it to our shores.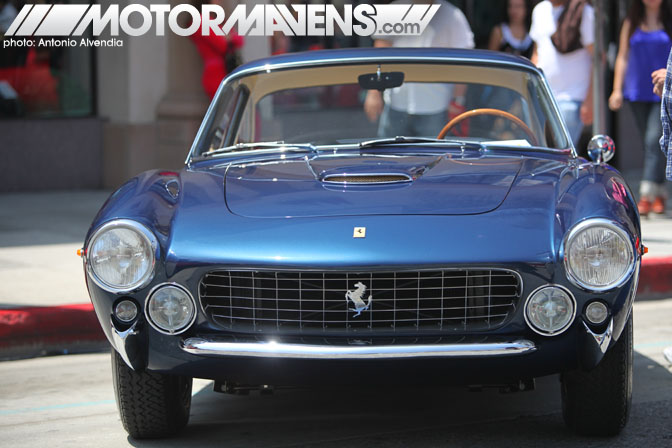 The gorgeous blue vehicle pictured above is a 1964 Ferrari 250 GT Lusso. Redesigned by Pininfarina, the 250GT was taken back to the drawing board to add more flowing lines and more of a fastback shape, which was popular in the mid 1960s. I really think this is the end all, be all of Ferrari! I truly love this car, as it represents elegance and wealth all in one car. As you may have noticed, I do have a great appreciation for older classics… so if you must know which  Ferrari I would choose for my own stable, I would choose this 250 GT Lusso every time. Would you agree? If not, what's your favorite?
I'd like to thank Westley Hatakeyama for letting me know about the event, and I would like to commend the Ferrari Club of America's Southwest Region for bringing out all these wonderful cars and for putting this event together. For more information, check out their website, linked below!
::Tamer Omran
16m scuderia
,
288 GTO
,
330GTC
,
330GTS
,
365 GTB/4
,
Antonio Alvendia
,
Avon Bellamy
,
california
,
Concorso Ferrari
,
Convertible
,
daytona
,
Dino
,
Enzo
,
Enzo Ferrari
,
Ferrari
,
Ferrari 250 Lusso
,
Ferrari California
,
Ferrari Club of America
,
ferrari Enzo
,
Ferrari F40
,
Ferrari F430
,
Ferrari red
,
Group B race
,
Group B rally
,
Imola red
,
May 16th 2010
,
Nardi
,
Old town Pasadena
,
pasadena
,
Pininfarina
,
Rose Bowl
,
saturday
,
Scuderia 16m
,
Sunday
,
t.omran
,
Tamer Omran
---