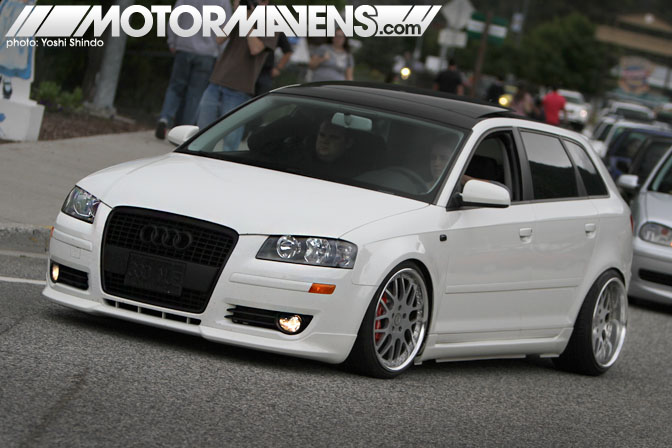 Summer is late this year in Washington state. Usually, around this time, the sickness of the overcast weather breaks and June is quite nice. However, this year the clouds are sticking around longer than expected – make that wanted. But the weather can be beaten – by those with enough motivation to attempt it.
Through the mountain pass where it looks the gloomiest and down the other side; hope shines through. The clouds break away slowly as you come down Stevens Pass and the rays warm you through the windows. As you get closer to the end of the mountains, the river next to the highway rushes and you can hear it now that you've rolled down your windows. There, nestled at the bottom of the east side of the Cascade Mountains, lies a small and amazing little town called Leavenworth –  where every year, for the last 10 years, hordes of Euro cars descend from the mountains to disturb its unsuspecting calm.
If you were a resident of Leavenworth, watching the horde descend, this amazing example of a grocery hauling, family wagon done right would have been your introduction to the untold riches which were on the way. I'm told that this Audi A3 wagon is owned by Kendall Williams. I don't have any more info on it but the photo almost speaks for itself.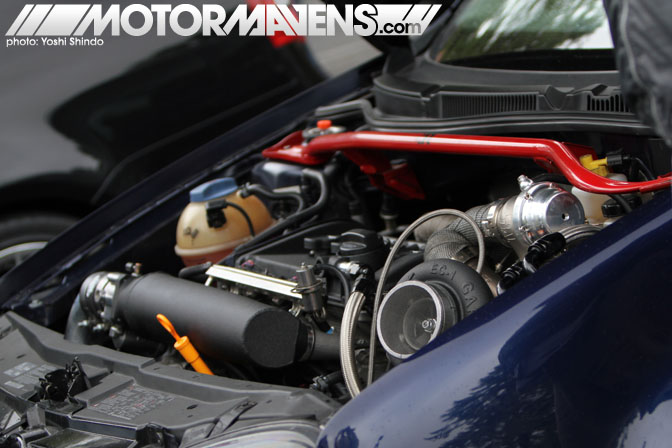 Leavenworth is a German town that somehow got lost and settled in Washington. Every building looks as though it was built in the old days, even the McDonald's. It's home to the famous Nutcracker Museum, the biggest Oktoberfest outside of Germany – amazing bratwurst where the lines never end, and awesome candy shoppes (taffy and chocolate to die for if you like that sort of thing). It is also the place where, once a year one, of the largest (if not the largest) Euro car drives makes its destination.
There was no shortage of go fast cars on the drive this year; lots of inter-coolers peeking out and blow off valves turning heads.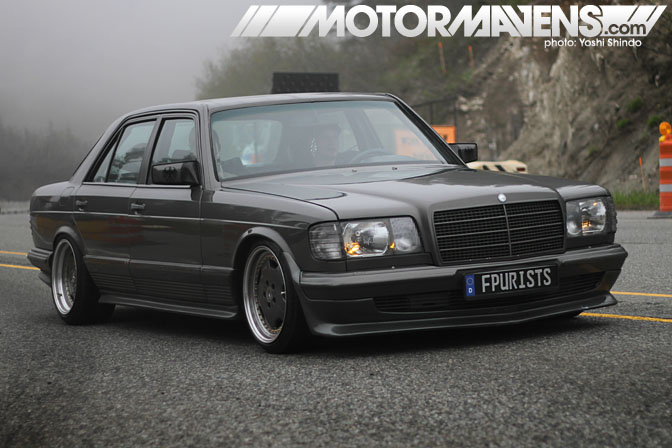 This Mercedes Benz 500SE AMG came through the fog like an older gentleman who knows what he's talking about and doesn't have to say much to get his point across. This is one of those cars that doesn't have to try hard at all for people to appreciate it.
The North West car culture is really starting to come into its own, and maybe more correctly, it's being recognized a lot more through the features and showcases of forums and blogs like MotorMavens. This Leavenworth drive attracts hundreds of cars – and when I say hundreds I mean hundreds. From what I've been reading online, last year there were some 700 cars attending but that number was stretched to a healthy 800 cars this year!!!
While Yoshi Shindo and I were hanging out, taking pics and passing out fliers, we had multiple tourists come up and ask us what was going on. They all seemed to be surprised, even astonished, by what was taking place. They also found it fitting that one of the largest drives in the country for Euro cars ends in a little German village nestled in the mountains in Washington State. This is my third time on this drive and each time it gets better.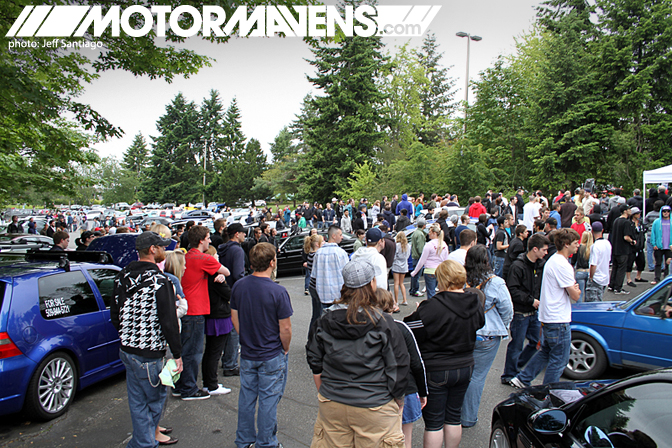 Like Yoshi said before, we got to the main meeting spot, Bellevue Community College, a bit late, but we were in time to see most of the cars and catch the drivers meeting before everyone broke out in a mad dash to avoid the traffic trying to get out of the parking lot. Coming into the lot, some people gave us some weird looks –  as you might imagine since I was driving an R32 (Nissan Skyline – not VW haha) and Jeff Santiago was driving his slammed S2000.
However, despite differences in OEM manufacturer preferences, we were welcomed. It was nice to see, as car enthusiasts in general, we could appreciate all things on four wheels. Although, as we left the college, one young man who was in a green MK3 Jetta decided to give me a thumbs down while he waited on the shoulder of I-90. I don't hold it against him though – haters gonna hate!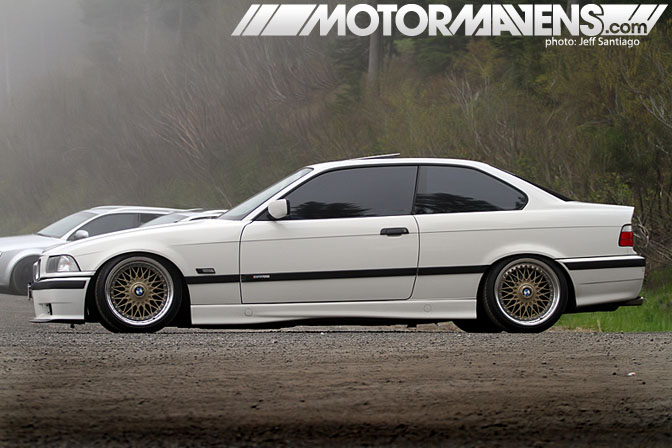 Travis Cuykendal made it on the drive this year in his 1995 Alpine White BMW 325is that he's been playing with for three years now. It's an M3-style car complete with the bumpers, sideskirts, and moldings. DDM coilovers are what give it the ride height and the BBS rc090 wheels (Style 5s) 17×8 et20 give it the style. The interior was done up in custom plaid interior by Travis himself.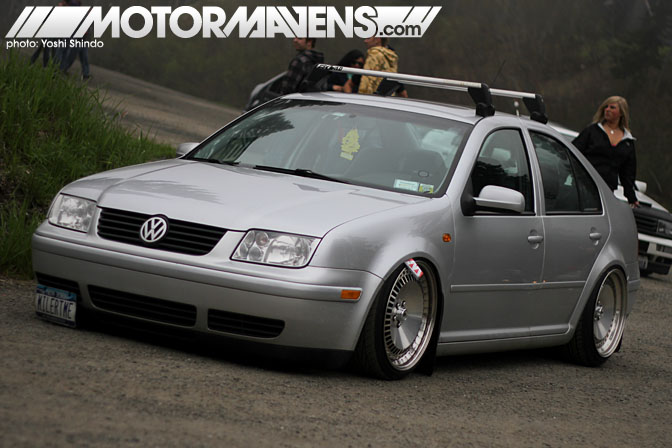 Ryan Miller most likely has won the award for longest traveled for the drive. He came all the way from New York! I'm not sure if he came to Washington just for the drive or not but he was able to show off his ride for us all to drool over. This 2000 Jetta TDI sits on Schmidt TH Lines (front:18×9 rear:18×10) , R32 interior (not Skyline lol), and Bagyard Airride with hard-lines by Swoops.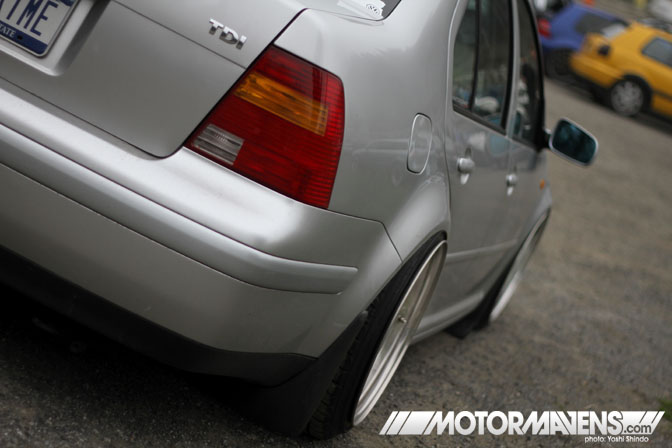 Here is the same car from the rear! I know we in the Japanese import world think about fitment constantly, but these Euro kids are killing it – and have been for a long time. That's OG!
The drive from the college to the summit is a good one in its own right; going right though the countryside in the west side foothills of the Cascades. The rain was coming down as we went through this section. Yoshi was half hanging out of the passenger side of my car getting wet as he tried to take rolling shots; one of which you saw in the last post. As we got closer the the summit, the fog was growing thick and, by the time we got there, you couldn't even see down the road. Seeing a train of cars seemingly coming out of nowhere (because of the fog) was like something out of a movie.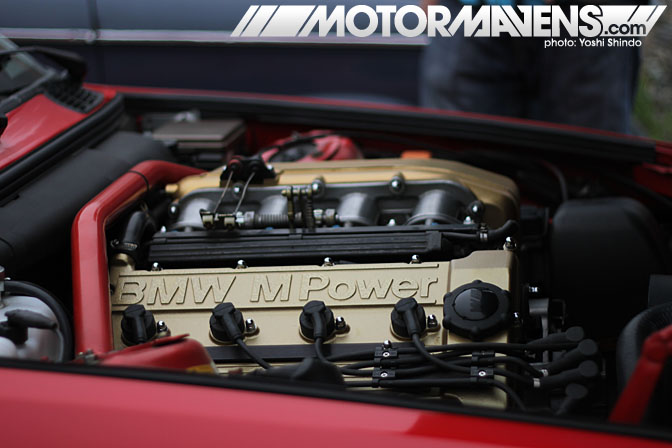 Up at the top of the Pass, we caught up with the young man who owned this E30 M3. For the life of me I can't remember his name but he knew about MotorMavens and even Team Instant Party! Crazy! (Update: His name is John!) In fact, it was cool to hear a few people I chatted with were familiar with the site! Hopefully more will be after this drive and we can continue to support the Euro scene. At any rate, if the owner of this car gets in touch with me, I can give you a shout out!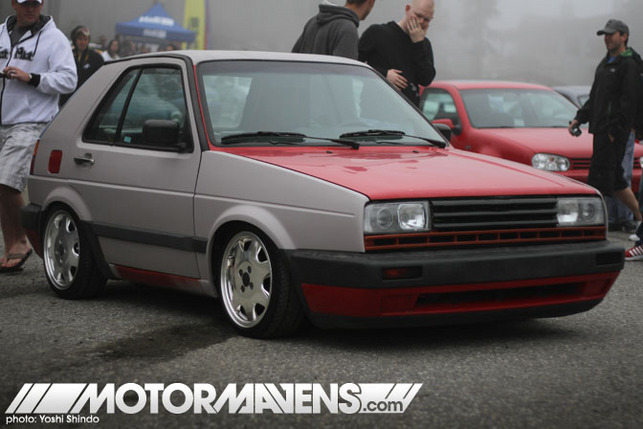 Walking along the lot at the top of the pass, I thought I was going crazy, or maybe my eyes weren't working – but, sure enough, they saw this car correctly. This car started life as a four door VW Golf GL and was transformed into a mini car in literally a matter of weeks. Props to the owner, I think his name is George, for all the custom fab work he did himself.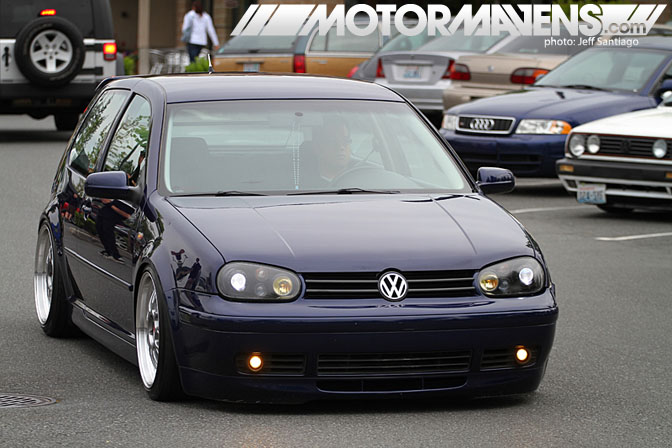 This delicious looking VW is a 2001 Indigo Blue Golf owned by Chris Rafanan. It's lowered on some FK coilovers, and the shoes are 18×8.5/18×9.5 Privat wheels. The interior has OEM GTI Recaros, and under the hood there is a 2.0L supercharged motor.
I gotta tell you guys that there are a lot of nice looking VWs out here. All dressed to impress like Chris' car. Not sure when was the last time I saw a bunch of flush cars that were all still one color – I'm used to seeing beat up drift cars!
The summit at Stevens Pass is just a large gravel lot, where the long train of cars park just to hang out and get some free schwag from the H&R booth that was set up at the top. Those who dared and couldn't hold it used the bathrooms; if you can even call them that. I heard last year a kid fell in and was never heard from again; only his VW Rabbit remained… OK, that's a lie, but it's dangerous in there – believe me.
Since there were some 800 cars in attendance, there was a constant trail of cars coming into the pass as well as a trail going out to Leavenworth. Just as we were leaving, there was a never-ending stream of cars just making it to the summit – making it almost impossible for us to pull out! With so many new cars coming up we almost parked again so we could take some more pics. But we decided to head down to town early and set up shop before the bulk of the drivers made it down. I know from previous experience that parking is in short order in town and you have to get in where you fit in.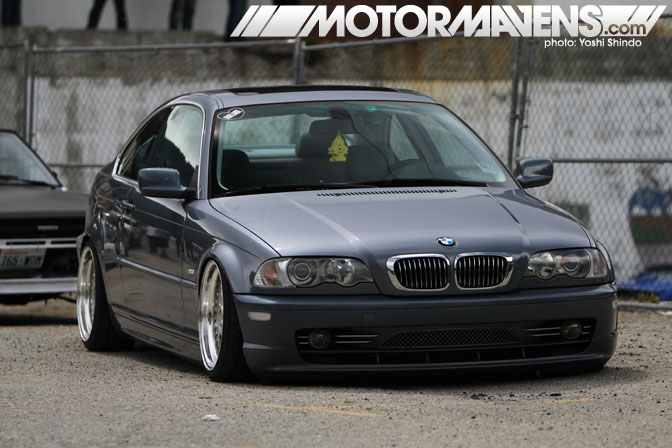 Once we were in town and got a place to park, the Motormavens street team was in full effect. Yoshi and I handed out lots of fliers to drivers and passersby with cool cars. There was so much traffic in town that I decided just to walk up to the cars in traffic and hand them out. It was a fun time walking back and forth hunting for cool cars – and there really was no shortage of them.
Parked in front of me was this 2001 BMW 330CI owned by Paul Bruney. The rollers are O.Z. Futuras (17×8.5 et.+13), suspension is comprised of RaceLand Coilovers with Universal Air Aero Sport bags upfront, dual vi-air 380 compressors, and AirLift Digital Autopilot. What Paul says about the ride height, "it lays body when dropped, and my ride height is only an 1 1/2 inch above full drop". Laying frame on a Bimmer – gotta love it!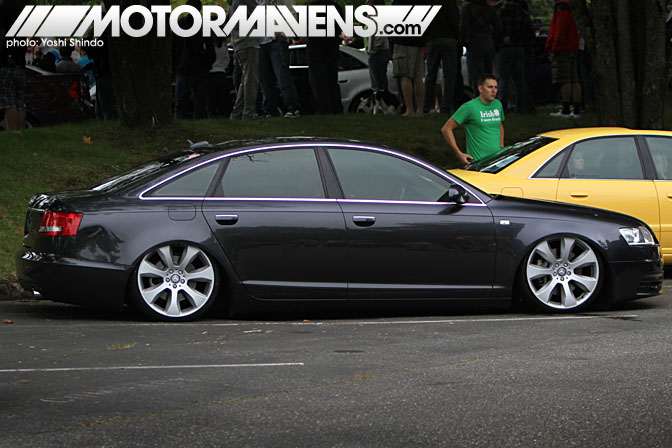 This was easily one of my favorite cars there! There is just something about a dumped big body four door. Mike Gilbert spent a lot of time researching these cars before picking up this 2006 Audi A6 4.2 Quattro. It's been a year now since the Bagyard AirRide was installed and it looks to be holding up great! The outside is Oyster Grey paint with an S6 front end conversion. The inside is full of Amaretto Volterra Sport Leather interior. You can't mistake this car as it passes by you because its got 6 resonators, and no mufflers which makes for a thunderous growl; not to mention it's tucking 20s in the front and the rear! The wheels were taken from a Mercedes GLK by the way.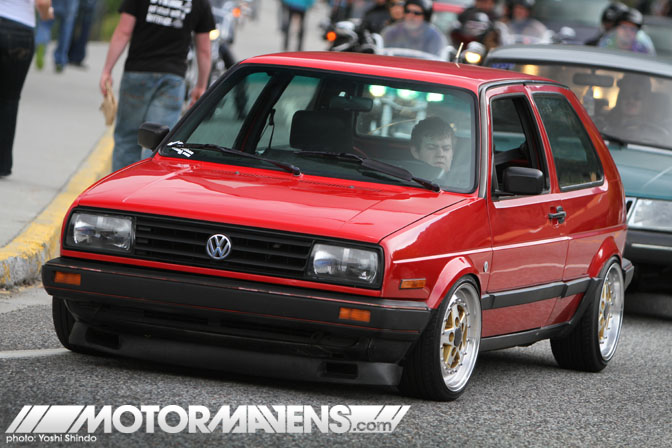 Yoshi and I saw this clean looking MK2 GTI (correct me if I'm wrong please) coming into the main street of Leavenworth, and, of course, it caught our eyes. Probably because there didn't seem to be many older VW's at the drive this year. I mean, sure there were some, but it was mostly newer MK3s and up – at least that's what it seemed like to me. This GTI is an example of simple execution done right – flush and lowered. According to one of the comments below this car is owned by a man named Drew, and the wheels are 16×8 Gotti's et13. Hope that is correct!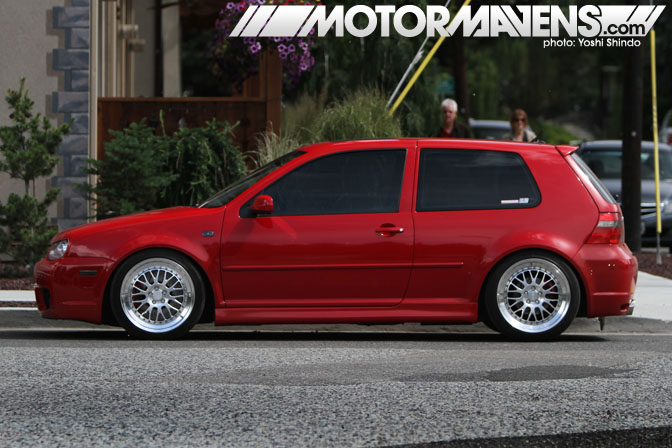 This car was located toward the end of town, parked right on the corner of an intersection – and the bright red just drew your eyes to it. There were a lot of people taking pictures of this car as we were looking at it.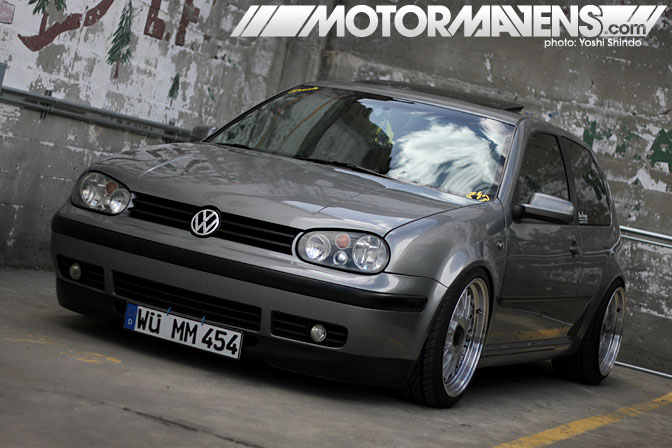 Before we left, Yoshi and I walked around this building that was torn down, and the foundation had been turned into a parking lot. In the very corner of the lot sat Athena Glen's Golf sitting on Miro stp1s (front:18×8.5 rear:18×10), lowered on Ksport coilovers. ECS fog lights, Joey modded headlights, textured rubs/valences, and the grill painted black on the outside. Other notable mods are a Revo stage one chip and a lightened flywheel.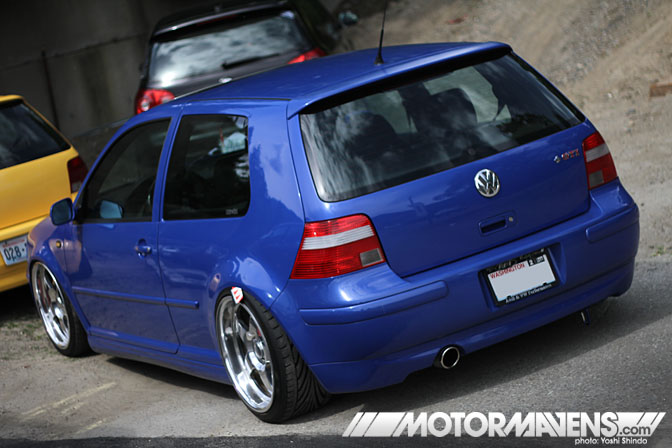 Also, parked near the destroyed building, was this slammed and flush MK4 GTI owned by Riley Vanausdal. I was able to chat with his brother, Travis Vanausdal, who has an equally stunning yellow GTI, and he gave me a quick rundown of his brother's car. It gets low by way of Bagyard AirRide. The wheels and tires are 18" polished JLine 5sl2s and Toyo T1-Rs respectively. The hood and bumper have notches filled, with a Bonrath badge-less grill, and the bumper markers shaved, though you can't see it in the photo. If the Euro style is anything like the JDM game, then the OEM stuff is great stuff to get. Riley's car has OEM Euro stubby mirrors, HID projector headlights, and Pacific taillights.
Once it looked like the train of cars clogging up the streets died down, we walked once more through town, and then decided to head back over the mountains. Both Yoshi and I didn't get much sleep the night before and we desperately needed to get back home to crash.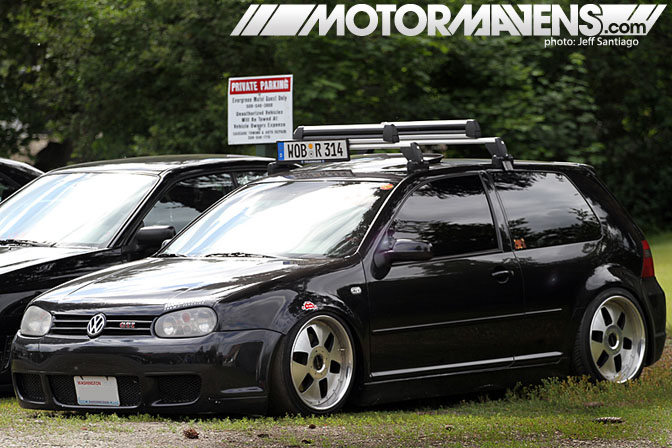 And last, but certainly not least, I have to leave you with a Euro car that has some JDM flare by way of these SSR Vienna Kreis wheels. I love a car that breaks away from the traditional norms of the style it's supposed to project – or maybe I'm just a sucker for Japanese wheels! Whatever it is – I like this car.
I'd like to thank all of the people that were on the drive and those who organized it for making it such a wonderful event. I know right now we are outsiders looking in but I hope that changes and we can not only put NW drifting and imports on display, but the NW car culture as a whole for every one to see.
The Euro scene in Washington is crazy and ripe with style. It's exciting to meet new people and get into something that is out of the norm for my comfort zone. We look forward to covering more Euro/BMW/VW events and shining the light even more on the Euro scene in the Northwest!
::Lucas Perez
So, now you know about all of the amazing possibilities you have while entering our site. Essaystore.org services have already become a part of everyday routine for lots of college and university students.
Photos By:
Yoshi Shindo
Jeff Santiago
Audi
,
Avon Bellamy
,
BMW
,
Euro
,
Golf
,
GTI
,
Jeff Santiago
,
Jetta
,
Leavenworth
,
Lucas Perez
,
Rabbit
,
Volkswagen
,
VW
,
Yoshi Shindo
---