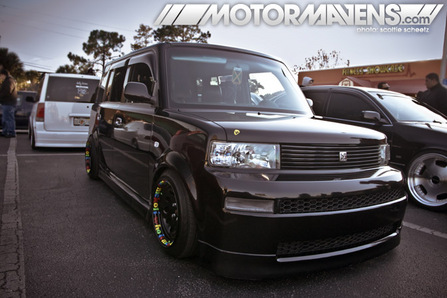 I made the short trek last weekend to the Winter Park section of Orlando. It was cold out by Florida standards, but was at least warmer than it had been the past two weeks. Last Sunday's event was the first of it's type (for this area) and the title stated it clearly. Simply Clean….. Proper stance, perfect wheel fitment, quality paint job…. Almost everything a car enthusiast should dream of! There were of course big horse power cars, so they filled in the missing link that we gas mileage savvy people left out. But lets think about this for a second. One one-thousand… Do you really need 500 horsepower when your car sits 1 inch off the ground and has a 95% chance of losing a bumper at every divot? Well, I know I sure as hell do! I can't think of anything better than the ability to yell louder than the passenger screaming in the seat next to you "SHUT UP! I F*CKING GOT THIS!" as you drive over your front lip, while laughing hysterically…
Anyway, the black xB you see above is owned by my man Nickoli. He also happens to be one of the guys who put together this awesome event and runs a website called whoisnickoli.com. Keep up to date on his site for future dates on the Simply Clean meets. His xB is currently running 15×8 +7f -12r and he plans to go wider in the coming months. Look for future coverage of his car as I know his revision will definitely be dope! For those inquiring minds, his wheels say "Who Is Nickoli???" in repeating fashion.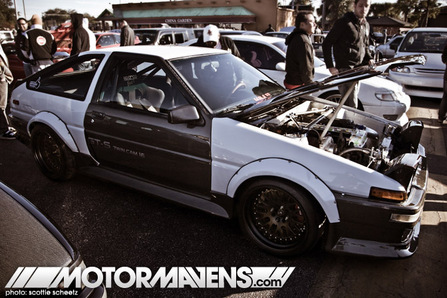 Following up Nickoli's xB, let's deliver a swift kick to the shin with this 2JZ powered AE86 track car. For serious, that is carbon fiber cladding all around that white mid eighties beast!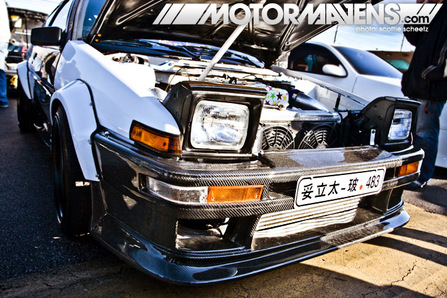 Now I want everyone to give this AE86 a firm pat on the buttock and tell her, "good game." I promise it's not sexual harassment in the work place. The craftsmanship involved in this car's build… the fender flares look amazing and the carbon parts just take it to the next level. I just hope he doesn't crash it!!(knocks on wood)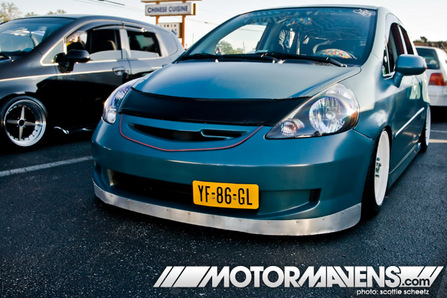 This satin Fit pulled the white flush stance perfectly. I could honestly do without the car bra… but I do not know what distance he traveled to the meet, so that could be a part of his choice. My biggest reasoning for my dislike stems from the fact that it does not match his zebra striped headliner.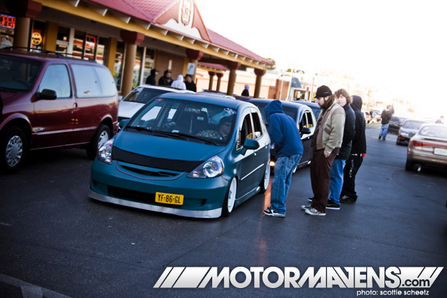 Two Honda Fits, both with great wheel choices and amazing stances… are stopped by a pack of dudes. Damn! Really? It appears there were four wolves in the pack, but then they found another and the wolf pack grew by one. Five wolves in a Fit, driving around looking for strippers in the city of Orlando. You do the calculus.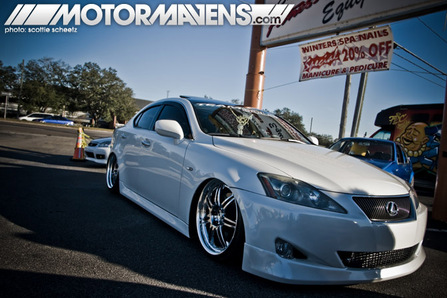 I am not sure why, but a Lexus IS tucking a nice set of wheels always makes me happy. I can definitely see myself daily driving one of these to the office.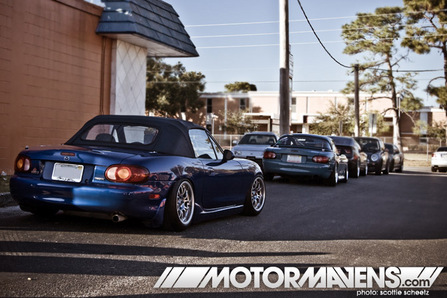 Before I enter the onslaught of 240 pictures, I had to point out the amazingness of both Miatas in this shot. They both were rocking low stance and proper wheel fitment. Very nice!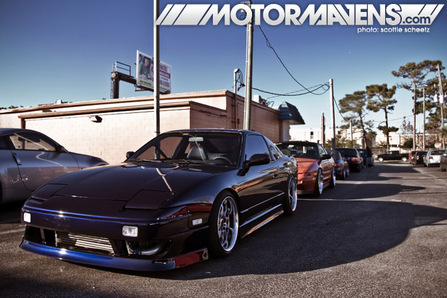 So let's begin, and start counting how many 240s we can see in these next few photos. To start, these first two both greeted me as I walked in to the event. The stance and body work on the blue one is outstanding. My best guess is a proper SR is hiding beneath the bonnet to keep this beast screaming down the road.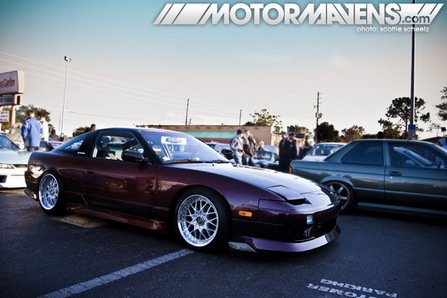 I honestly like this purple power color better than the previous blue 240/180/S13 (purple accentuates my eye color, haha!) but that front wheel gap (even though it's a small amount) is killing me. I understand that he probably needed some road clearance and wishes not to destroy that nifty carbon splitter… but perhaps DMX said it best when he said, "Get it on the Floor, Get it Get it on the floor."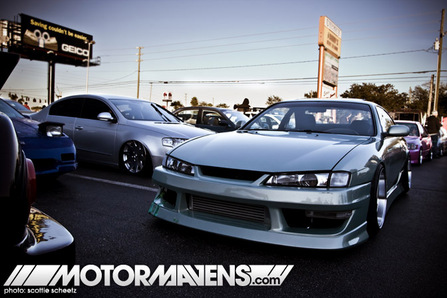 To round off our 240 show, we bump up a generation to this kouki S14. This car definitely shows its drift wounds, and I would venture to guess he hit the wall or a street light (naughty naughty) with his rear passenger corner. This is why we are looking at the car's good side! Wheel fitment and stance is spot on and so is the fat lip the wheels have. The teal color definitely sets off the whole look and I dig it.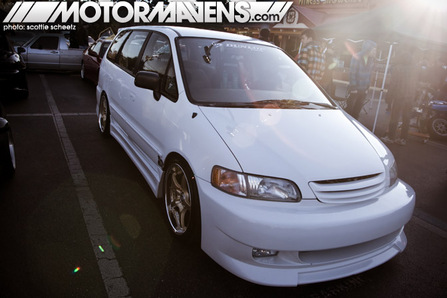 To close out, I leave you with this sick Honda Odyssey. I love how this fad has overnighted its way state side from Japan. The Odyssey is owned by James who runs deepvision.net and collaborated with Nickoli and his buddy Lou to bring us Simply Clean. Thanks for putting together a great event guys! Next time, let us know so we can help you promote it.
:: Scottie Scheetz
---