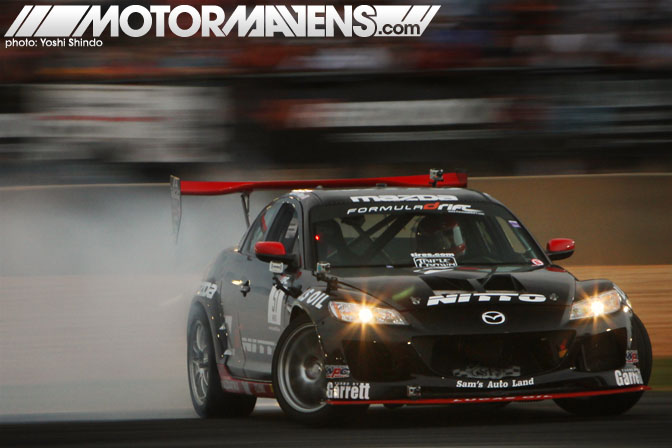 The second round of the 2012 Formula Drift Championship took place at Road Atlanta, and it couldn't have been more exciting!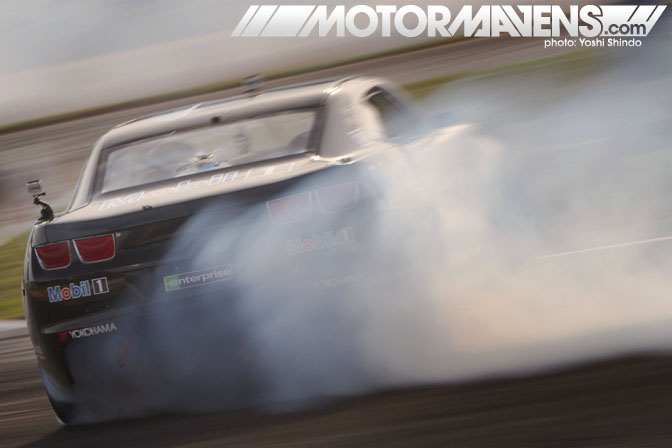 A brand new layout, controversial calls, quick-fixes, and outstanding battles are just a taste of the twists and turns that came about the weekend.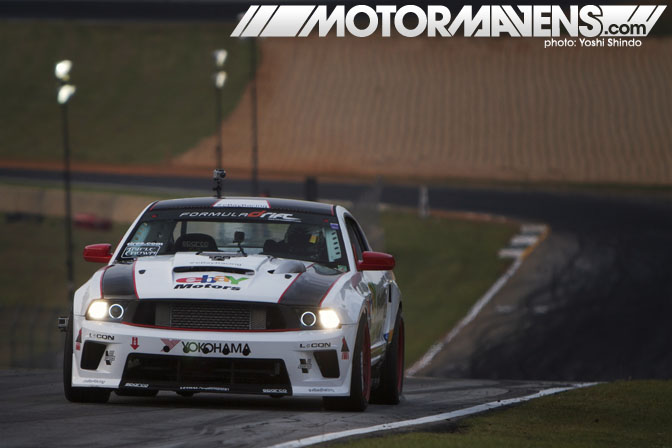 Tony Brakohiapa debuted his eBay Motors Mustang at Road Atlanta, which was built by master race fabricator Louie Contreras at the LCON/Flagship Society compound in Garden Grove, CA.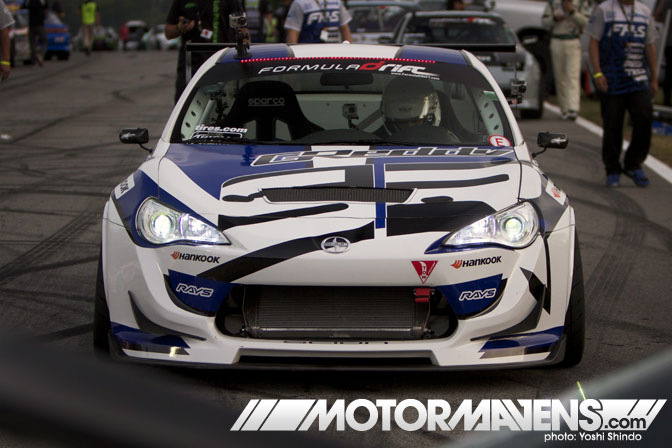 Ken Gushi's Scion FR-S attracted a TON of attention both on and off the track, as it was the first time that a lot of drifting fans from the Southeast had ever seen a Scion FR-S in real life.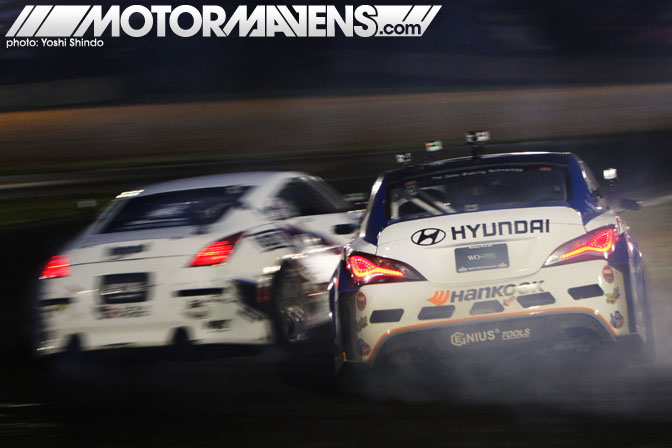 Rhys Millen's 2013 Hyundai Genesis Coupe looks really good – his cars have always had good looking, professional racing liveries on them. Well, maybe all his cars after the yellow-and-silver Pontiac GTO from the inaugural FD Atlanta in 2004.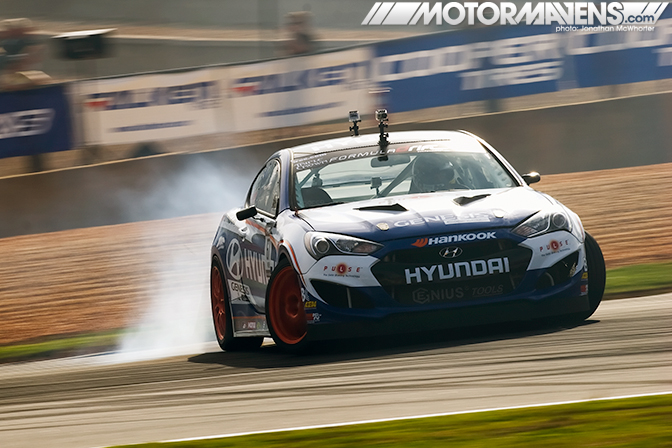 Millen made it to the Great 8, but eventually got knocked out by the Scion tC of Fredric Aasbo.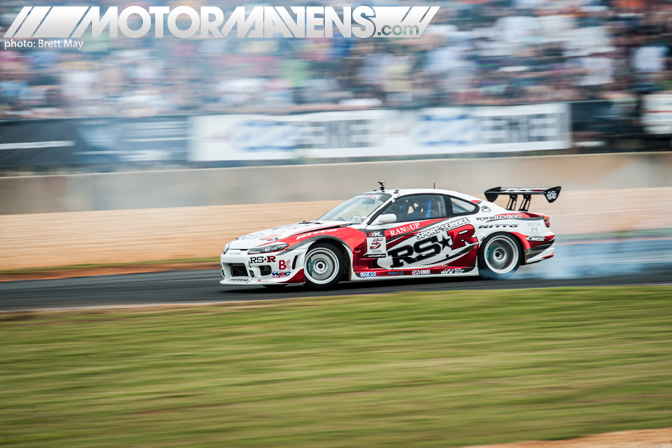 Toshiki Yoshioka is going to get a little photo love for his awesome looking RSR S15 Silvia.  It is easily one of the best looking cars on the grid!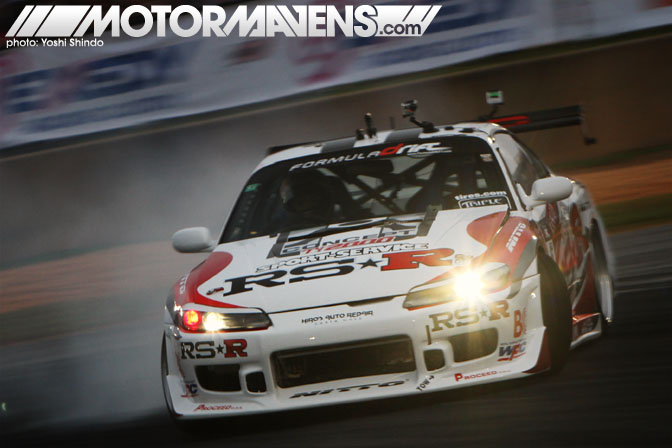 Yoshioka's S15 Silvia reminds us why we got into drifting in the first place – amazing looking cars! We love the fact that there's still a straight up Japanese car in Formula D with D1GP style graphics on it. Yoshioka made it into the Top 16, but was eventually beaten by Joon Maeng and his Mazda RX8.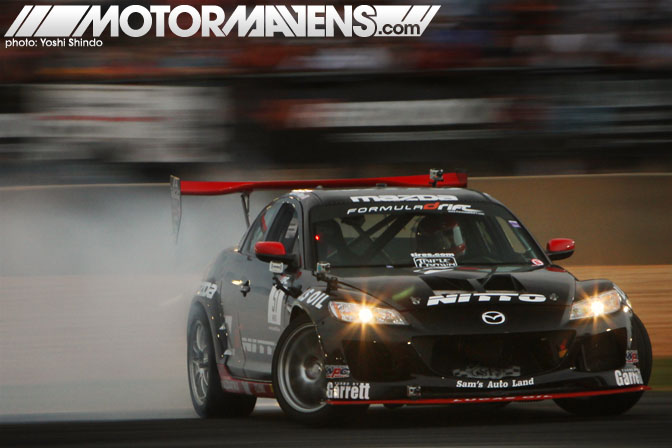 Not as rambunctious, but still as energetic, Joon Maeng knows how to hype the crowd, ripping the e-brake or not. His fury is quite evident in his driving, he is visibly fired up when behind the wheel. During the Top 32, Tyler McQuarrie ducked underneath Joon at the top of the horseshoe when his RX-8 stuttered a bit. Joon wasn't a fan of this, and on the next run unleashed all of his spinning triangle powers upon the monster V8 and earned a well-deserved spot in the Top 16. Hell hath no fury like a fired-up Joon Maeng.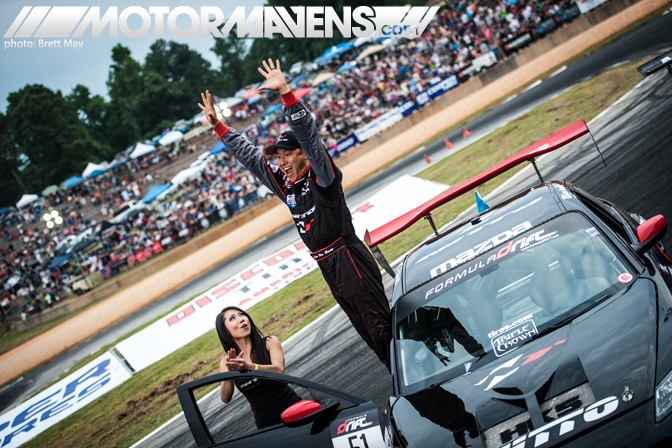 He's still the nicest guy you could ever hope to meet, though.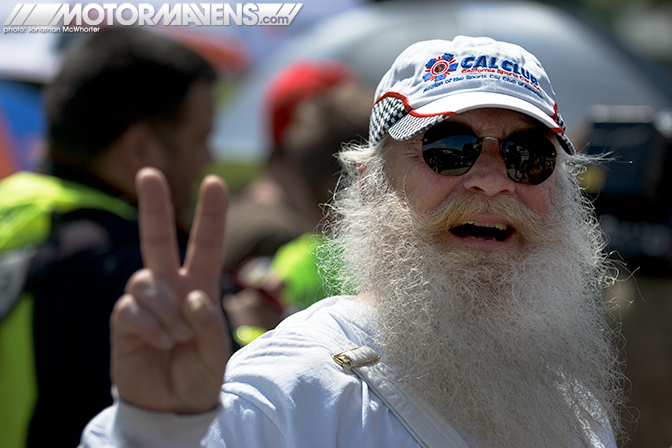 It seemed like everyone and their extended family came out for the Road Atlanta round of Formula Drift.  I never heard any exact numbers, but I would be confident enough to venture a guess to say this year topped the 10,000 fan mark of last year, easily.  Even Bil "Beard of Steel" Baldwin came out to party!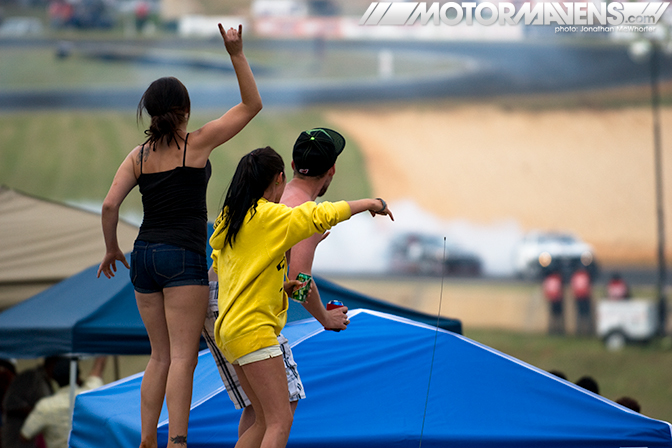 If you've never been to Road Atlanta for Formula Drift, you hear about two things: the scenery, and the fans; they like to get rowdy. Come Saturday, the entire course is lined with tents, grills, sunburnt fanboys, and homemade signs as far as the eye can see.  This particular trio was perched atop a Chevy pickup and were cheering on Tyler McQuarrie in his GoPro Camaro.  I'm willing to bet that their enthusiasm cost them their voices by the Top 16 that evening.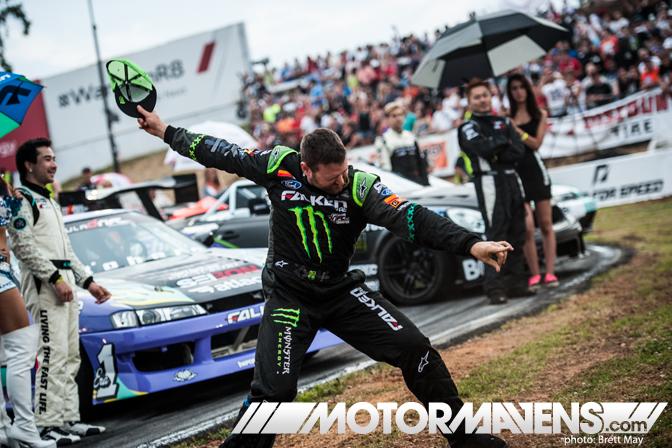 The fans aren't the only ones who are enthusiastic. The introductions are fun to shoot because some drivers have their own unique routines when their names are announced. Vaughn Gittin Jr. has his real Amurrican Elvis Presley windmill.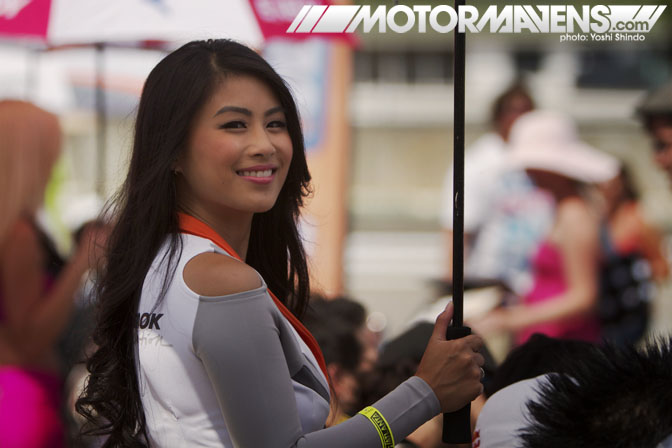 One of the good things about having Yoshi Shindo as a MotorMavens photographer – he always takes great photos of the girls at events. (Whether they know it or not. :D) This here is Vivian from Hankook Tire. Follow @MOTORMAVENS on Instagram for more photos of her!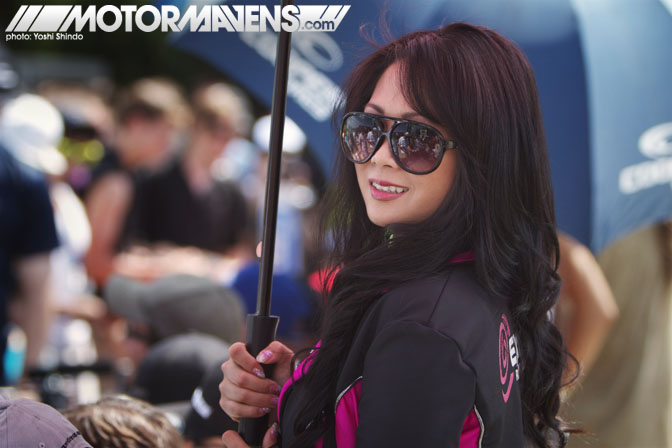 Here's one of the Exedy models. Don't know her name though.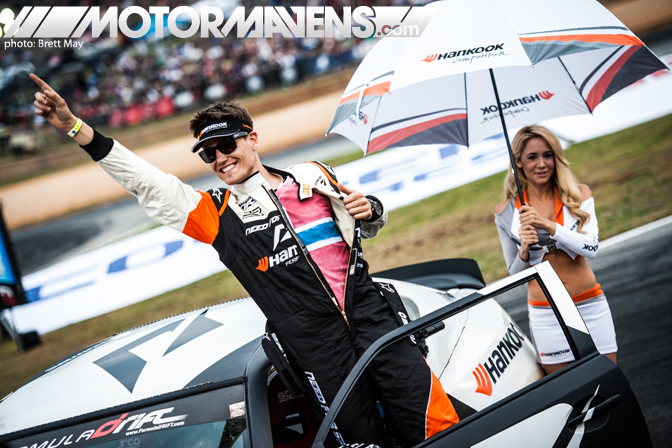 Fredric Aasbo started to unzip his fire suit as he climb onto his car.  I wasn't too sure where this was going, and it could have gotten awkward for all parties involved, but when he pulled apart his suit like superman to reveal his Norwegian t-shirt, I think some of us breathed an internal sigh of relief haha!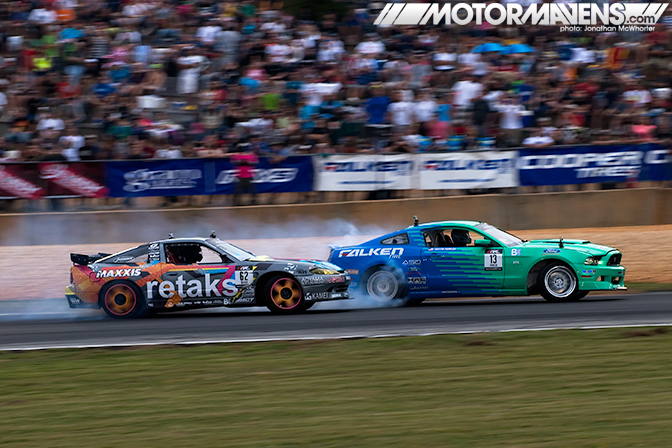 One of the first matchups for the Top 16 would ultimately prove to be a game maker for JTP.  A controversial call after an entertaining battle pushed JTP on through, ending Tuerck's night early.  If you ask me, I say they at least should have had a One More Time.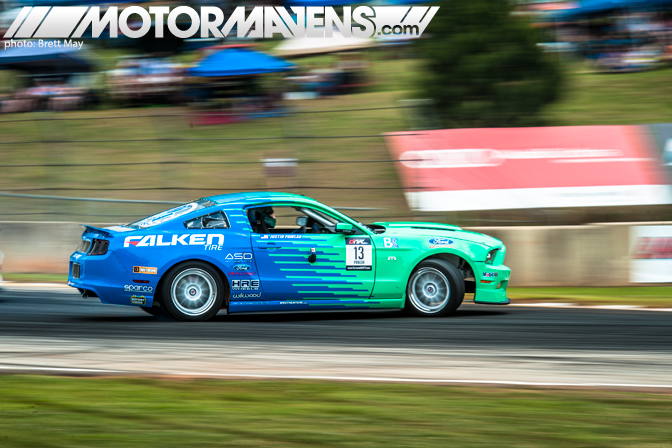 Like I mentioned in the first post, entries into the first corner are more subdued this year.  The drivers must carry enough speed and momentum to make it up the hill, so angles aren't quite as crazy as they used to be.  However, the drivers are still hitting speeds north of 90mph; not for the weak at heart.
The high speeds and high power of the majority of the competing field made for an exciting show.  Daigo Saito putting out an unreal amount of smoke every run.
It almost seemed as if he was toying with his opponents.  Using his nitrous up the hill into the horseshoe to pull away quickly, and letting them catch up by the end of the horseshoe, only to blast away one more time back down into 10B and 10A.  During his runs against JR, Vaughn didn't seem too fond of this tactic, and got super aggressive when following in the chicane.  He came up on Daigo's door and the resulting love tap caused him to spin out, giving Daigo the win.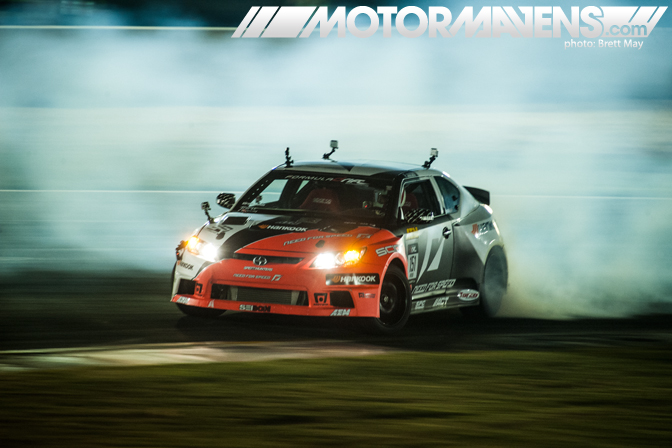 Fredric Aasbo was Mr. Consistent all night. Constantly laying down solid runs all night, he powered his way through to second place. The Norwegian Hammer definitely proved his namesake.
After a hard-fought One More Time, Walker Wilkerson ended up falling to Saito in the battle for third. Fighting through endless smoke and even trading paint at times, it wasn't enough to overcome the former D1GP Champion.
The tsuisou (tandem) battle between Daigo and Walker was definitely one of the most exciting battles of the night – in fact, some would say (*ahem* Yoshi Shindo) that it was much more exciting than the final tandem battle.
When Walker was chasing Daigo, he wasn't super close to Daigo's 1200hp 2JZGTE-powered SC430, so it obviously gave him a slight disadvantage. However, when it was Daigo's turn to chase Walker's S13, Daigo straightened up coming out of the horseshoe, and at the last corner, Daigo actually came off track. The judges only saw two wheels go off track, but some spectators close to the action reported that they saw THREE wheels off the track. In the judges' defense, it was pretty smoky, so it was definitely difficult to see… and it was night time.
Even though the judges awarded the win to Daigo in the end, there's certainly no love lost between Daigo and Walker. (No homo) In fact, these two drivers seem to have the utmost respect for one another.
On the very first tandem run, Daigo took off from the start line, but noticed that Walker's S13 was having trouble launching at the start. Daigo then slowed down, and turned around so that they could do a fair restart, and Walker would have a chance at tandeming with him fair and square. Obviously, Daigo didn't HAVE TO do that, but it just goes to show that Daigo Saito is a man of honor and sportsmanship. Much respect, Daigo!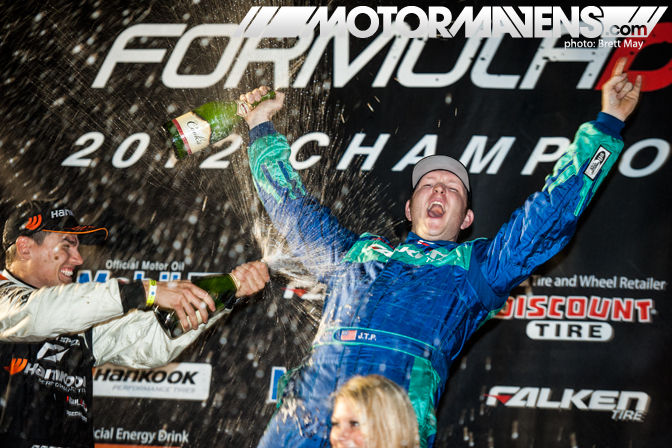 At the end of the night, it was American Thunder vs the Norwegian Hammer… and the Stars and Stripes came out on top in the end.  Justin Pawlak took his second win in as many rounds this year, and hopes to keep his momentum going further.
The "rookie" Daigo Saito also had another consistent finish with a second podium at Third place.  It could be an interesting points race towards the end of the season. But we all love surprises.
:: Jonathan McWhorter
Achilles
,
ASD
,
Chevrolet Camaro
,
Daigo Saito
,
eBay Motors Mustang
,
Falken
,
Ford Mustang
,
Formula Drift
,
FR-S
,
Fredric Aasbo
,
Garrett Turbo
,
GoPro
,
Hankook
,
Hyundai Genesis
,
Joon Maeng
,
JTP
,
Justin Pawlak
,
Ken Gushi
,
Lexus
,
Louie Contreras
,
Mazda
,
Monster Energy
,
Need For Speed
,
Nissan
,
nitrous
,
Road Atlanta
,
round 2
,
RX-8
,
S13
,
S14
,
S15
,
SC430
,
Scion
,
Scion tC
,
Silvia
,
toshiki yoshioka
,
turbo
,
V8
,
Vaughn Gittin Jr
,
Walker Wilkerson
---