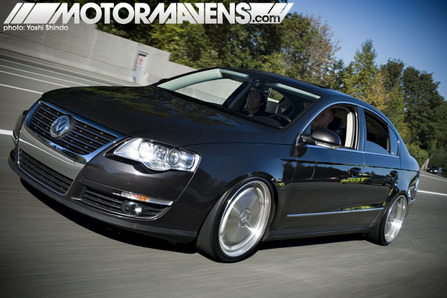 From compact commuter cars and SUVs, to GTs and supercars, most in our "scene" have seen just about every imaginable car "upgraded"- with the possible exception (in my case) of Zach Dunn's 2007 Volkswagen Passat. I must admit that I had yet to see one of these cars done right. And, since I seem to be in the mood for confession, I'm not going to lie, I've never been the greatest fan of VWs. However, the more I see of them (especially this one), the more they're starting to grow on me. Zach's 2007 Passat was the first I'd seen that had been slammed and enhanced with superior fitment – and that made all the difference in the world.
Now, you might be thinking that Zach has been a VW guy all his life, and I wouldn't blame you for thinking that, but you would be thinking wrong! Zach has been through an assortment of iconic Japanese cars starting with a CLEAN 1985 Z31 300ZX. The Z was a great starter but it couldn't last – Zach sold it and picked up a green Kouki S14. The S14 was well known online for his super flush fitment but, after owning it for about two years, he decided to part with it to build up a 1JZ powered SC300. Unfortunately, he got into an accident that totaled the SC300. So, while looking for a new car to purchase, Zach decided to take the road less traveled. That road for him, since he works for Volkswagen, led him to the new 2007 VW Passat.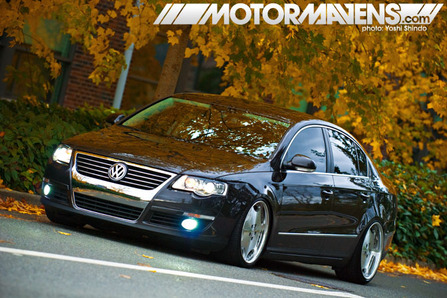 Looking at these pictures, I can see how you might be inclined to think this car is black but it's actually a more subtle color (one of my favorites!) called "Mocha Brown". When I worked at Volkswagen and saw this color for the first time it just blew me away! Needless to say, it served as the inspiration for one of my own cars.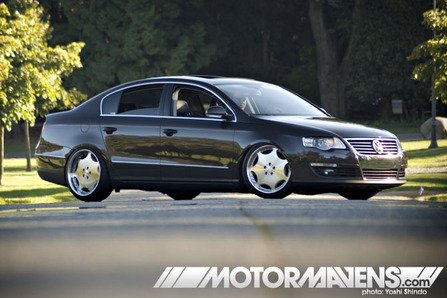 Since this is Zach's only car, like the rest of us, he has to drive his car everyday to work and back. Props for keeping the car low while driving it daily!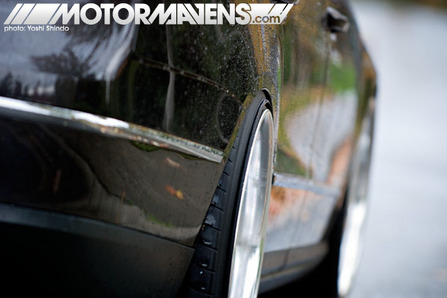 This is the perfect example of "rub to fit". LOL! For those guys who are planning on picking up a Passat, memorize these wheel & tire specs: 19×8.5 +35 with 225/35 tires up front and 19×9.5 +35 with 235/35 tires in the rear. As you can see, you can't go wrong rocking that on this car!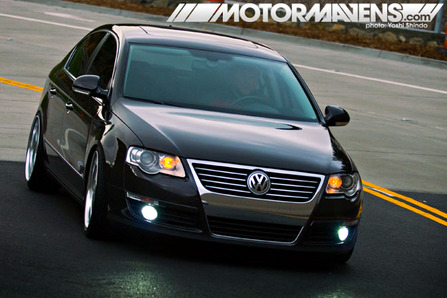 The Passat is equipped with a Neuspeed intake and 5K H.I.D fog lights. And, to enhance the stance, his H&R ultra-low coil-overs keep his car in constant "ground-hugging" mode. Sweet!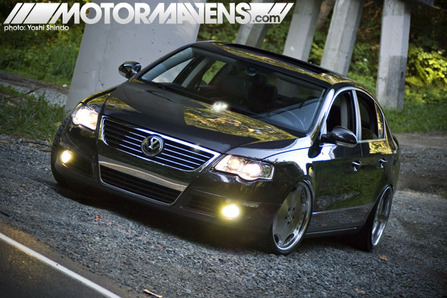 Zach's intention with this car was to keep it super clean and capable of maintaining daily-driver status without damaging an expensive lip or kit. But it's doing way more than that – it's opening my eyes to the potential of the one car brand that I never really noticed much. All you VW guys are now officially allowed to say "I told ya so".
Now, as cool as this car was to shoot, I found out something even cooler during the photoshoot wrap-up. Zach clued me in that his car is up for sale right now! What?! Why is that you say? His reason is that he wants to return to his first (no, second!) love – the car he wishes he never sold – the kouki S14. So, if you guys are looking for a perfect daily driver, hit Zach Dunn up on facebook. And Zach, we'll be expecting a little "finder's fee" at Motormavens headquarters, upon completion of sale. No…I'm serious…
::Yoshi Shindo
---