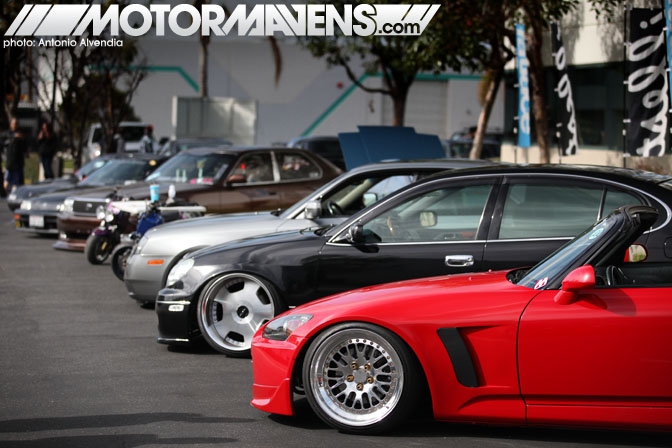 When it comes to car shows, judging criteria is usually based on how the car looks or what kinds of modifications it has. Having attended tons of the same old car shows, our good friend Tony Lee from ItsJDMYo had an idea to make a different type of contest within the car scene.
While driving up or down a driveway may seem like a mundane everyday task for most, it obviously requires a certain amount of technique when you have a lowered car. Tony took that idea and decided to make it into a different form of driving competition, with the help of certain friends. Our own Editor-in-Chief Antonio was selected to be the emcee of the event, while judging duties were handled by Yogi from Fatlace, Noel from Canibeat, and ItsJDMYo's own Keychain.
The drivers were judged out of a possible 40 points. Drivers could earn up to 10 points for the amount of angle they used going up the driveway (less angle, or 90 degrees straight is worth more than extreme sideways angle); up to 10 more were awarded for angle going down, up to 10 points for scraping on their way up, and up to 10 more for scraping on the way down. Penalties included a 2 point deduction for reversing while trying to get up or down and another 2 point deduction for passing the marker cone (aka import model Holly Lee).
When I see someone with a slammed car trying to drive up or down a steep driveway, I can't help but stop to watch to see how they do it. Whether they turn at an extreme angle using the whole driveway or go balls to the wall and head straight in, watching the cars compete today I couldn't help but laugh and be shocked at the same time. I never would have thought watching cars going up and down a drive way would be so exciting. Calling it So You Think You Can Stance (title based off of the TV show So You Think You Can Dance), it turned out to be a really fun event to attend.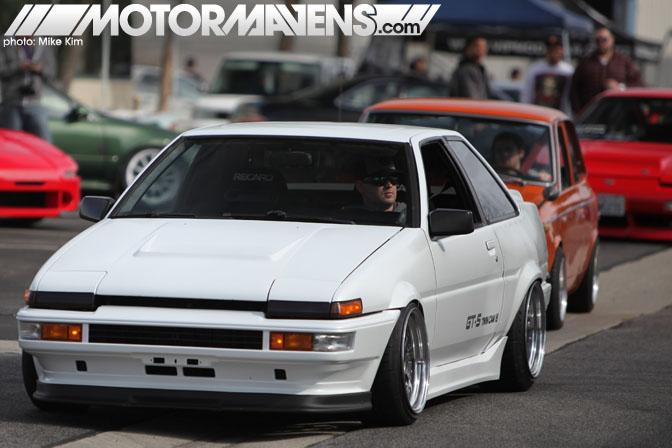 Mickey Andrade from HRE wheels came out with his pearl white AE86. With some sick HRE wheels, his paint is a matte version of what you would see on the newer Lexus IS/GS.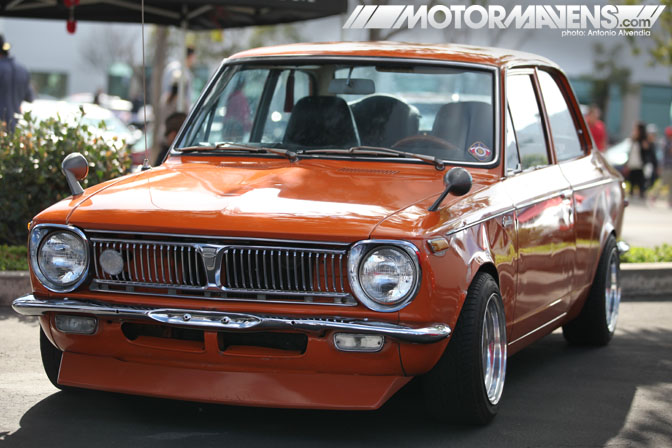 Amongst the many attendees, Formula D driver John Russakoff from JSP Fab came to the show with his 1969 KE10 Corolla Sprinter. Rocking a rare set of Enkei AP Racing wheels, John was pegging his speedometer at 80mph on his drive up from San Diego.  This has to be one of the sickest Corollas I have seen to date. I haven't seen this car around since 2009 at JCCS in Long Beach.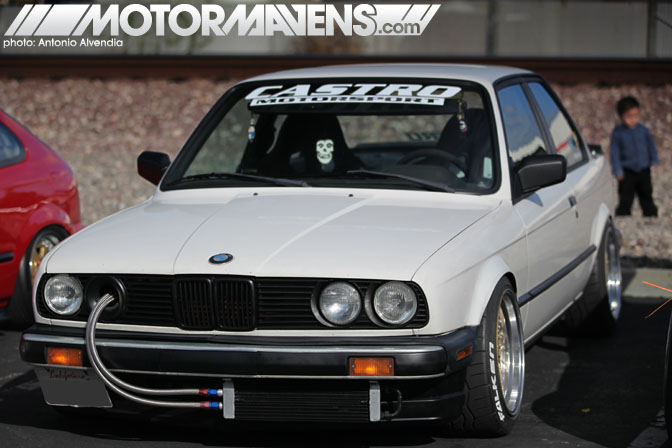 This E30 BMW with the bosozoku style oil cooler up front is actually turbo charged! Owned by a guy named Kyle and built by Chris Castro of Castro Motorsports, the E30 is a good example of Japanese style on a European build.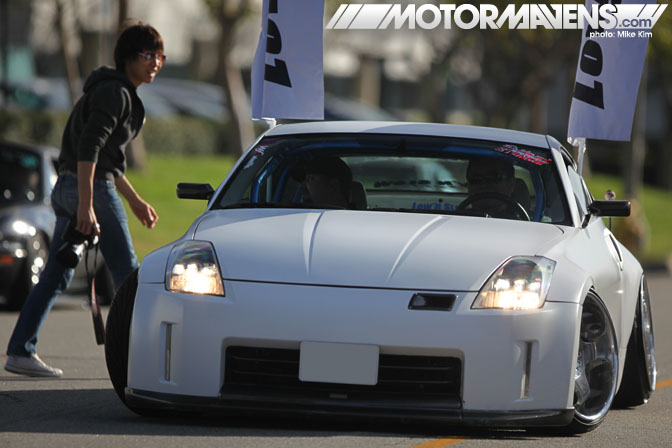 Milt Salamanca of the Low n Slow crew rolled out and was the first up in the competition. He didn't scrape much going up the driveway even at his extremely low ride height, mainly because the bottom of his car is already smooth and flat from scraping every day.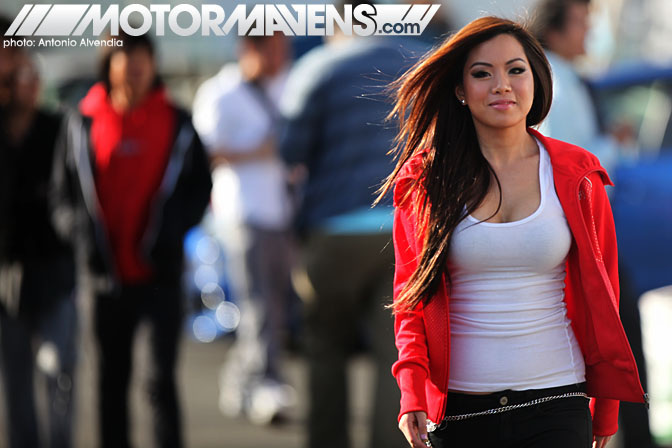 Holly Lee came out today thinking she was going to be modeling at a booth. Instead, Tony made her act as the marker cone for the competition. Basically, drivers had to scrape in and out of the parking lot without hitting her.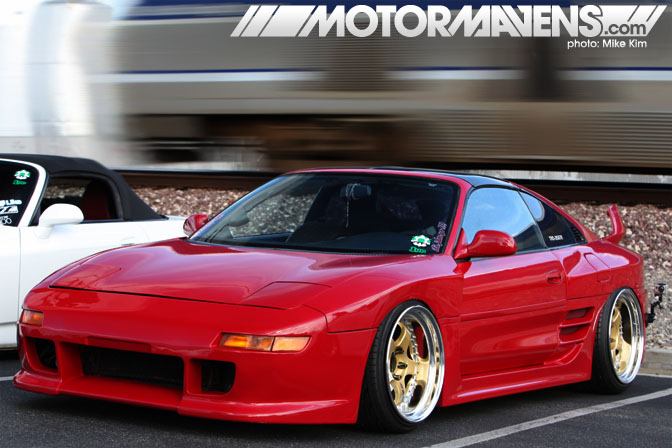 Armand Pranadi brought out his wide body SW20 Toyota MR2, not just to hang out and show his car but to actually compete.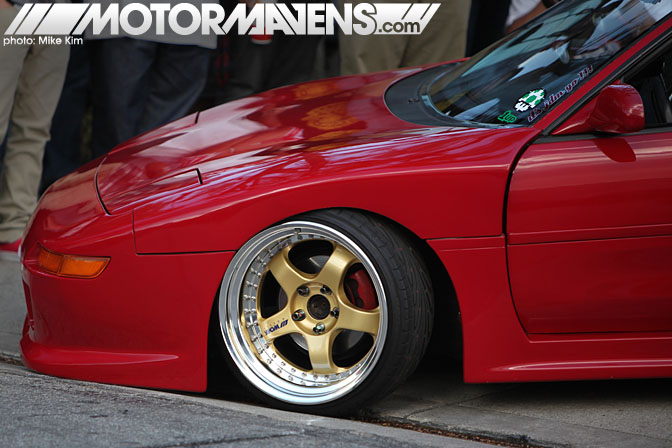 Scraping your bumper was an inevitable thing when your car sits this low.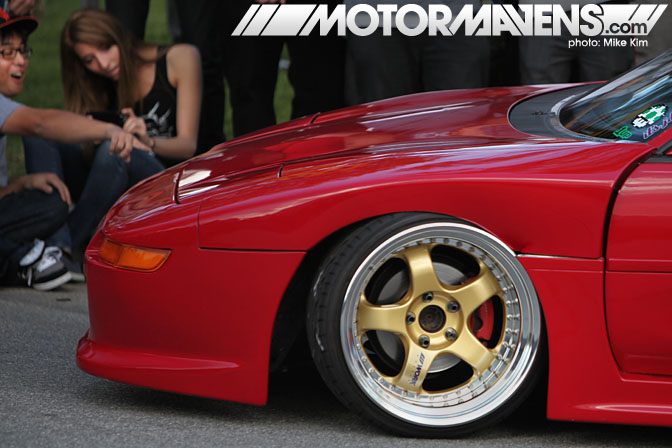 Sitting on 18×10 and 19×12.5 Work Meister S1 wheels, he kept catching his fenders on the way up and down. Everyone in the crowd winced at the popping sounds his fenders made as the wheel lips made contact with them. He came out without any damage during the competition, but as he was reentering just to park the car he actually cracked a fender. You can probably see why…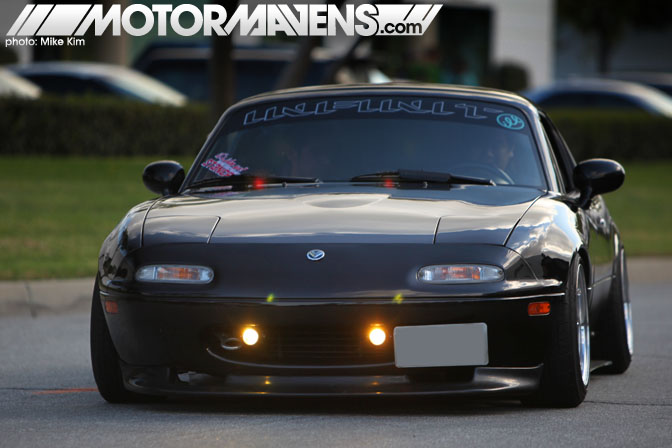 Terry Pham of Dstroyr and Infinit Wheels got a chance to take his old NA6 Mazda Miata out for a spin. You may remember his car from a few previous events with a slightly different look. A Garage Vary style front lip was added along with a pair of Planet M runners under the rocker panels. Along with the aesthetic changes the owners had changed as well recently.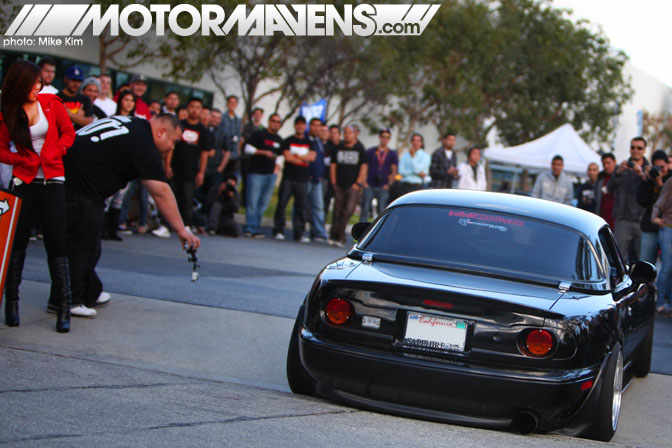 Terry initially pulled too far forward, but since reversing would get some points deducted, he said screw it and just went straight up and down the driveway.  Even Holly was like "Damnnn" when he left some pieces of the car behind on the sidewalk. Terry just shrugged it off and laughed, because the car wasn't even his anymore! He sold the car to a friend the previous week, and was just borrowing it for the event. LOL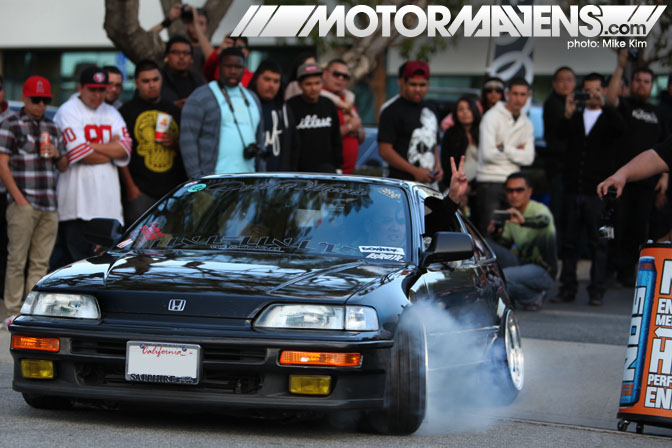 Tony Pham, also of Dstroyr and Infinit Wheels, had a go in Anthony Do's right hand drive glass roof EF8 Honda CRX SiR, with 15×9 SSR Formula Mesh. Tony almost got stuck on the way down the driveway, so he decided to just gun it and burn up Anthony's tires!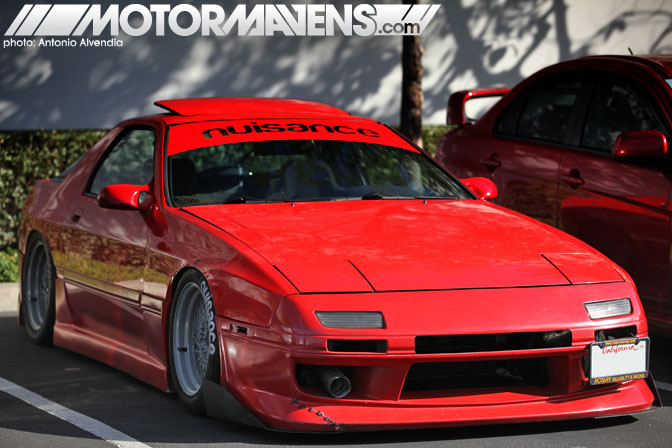 This FC3S Mazda RX7 of the Nuisance crew was sitting on some Ford Crown Victoria wheels. I bet you wouldn't have guessed that an American car came with some dope looking wheels like that.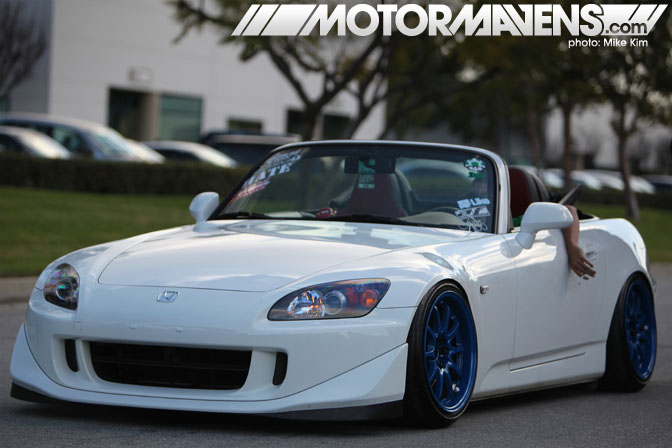 Luigi Arroya from the 1Up crew brought out his AP2 Honda S2000. He took Third Place in the competition while maneuvering the the ramp with just one hand on the wheel because he was too busy smoking. He is on coil over suspension with a CR front lip, blue Volk Racing CE28N wheels, and a red and black interior. The red and black interior on white color combo is one of my favorites.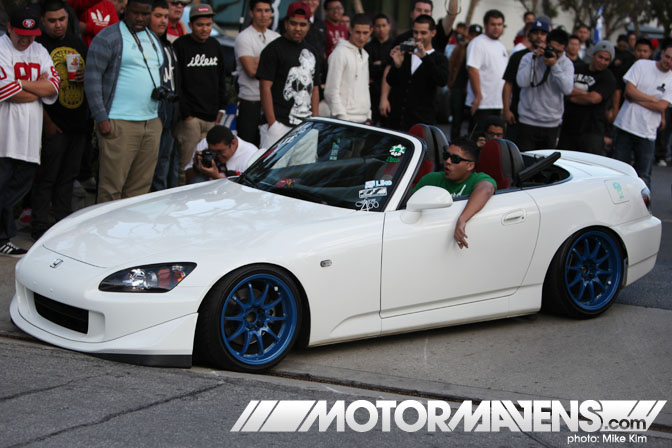 He was all smiles going up, but on his way down, the grin on his face turned quickly when his pristine mint front lip started to fold inwards and scrape along the pavement.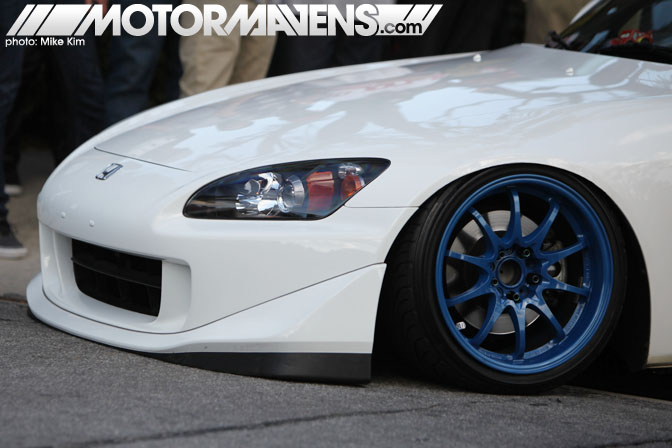 The CR front lip flexed pretty well coming down; luckily the bottom portion was black, so no paint came off.  He did, however, almost grab a fender with his front wheels. Ouch!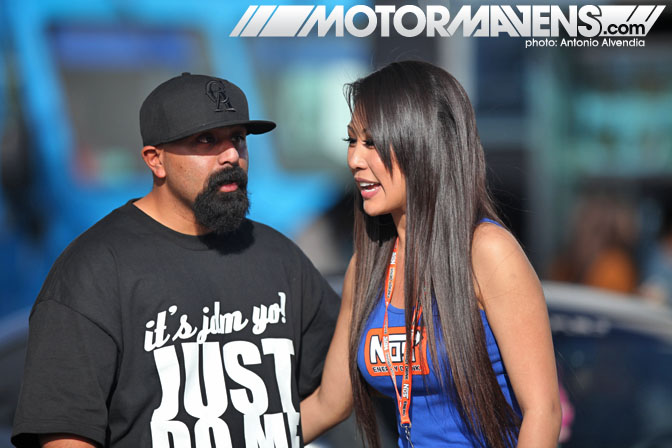 BigMike was in the building and just like every other event we spot him at, he's always being the ladies man. When Antonio snapped this pic of Big Mike, he was talking Sheila from NOS Energy Drink into teaching him Arabic on a boat headed for Mexico. Everyone knows Big Mike just loves motor boating!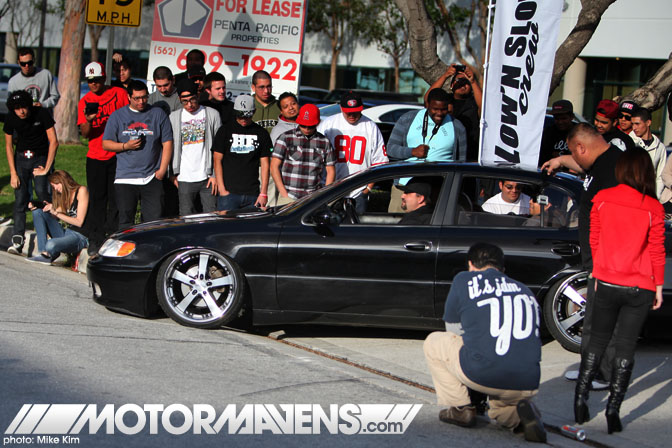 Chris Davidson from Low n Slow won First Place at the event with his first generation Lexus GS300. Loaded up with 4 large-bodied people, the GS scraped pretty hard all the way up and down both driveways.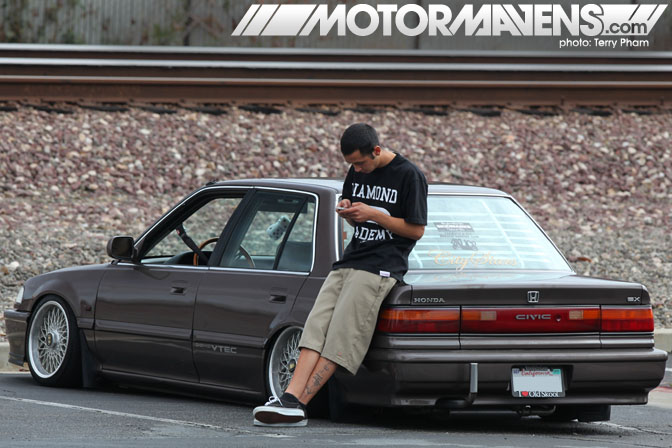 The Second Place winner was Alex Gutierrez with his 1990 Honda Civic EF sedan sitting on Work Ewing Mesh wheels. Nevermind the drive way, his car was so low it even scraped on the flat road surface when rolling around the parking lot! While everyone else walked around looking at all the cars, Alex was busy scrolling through all the photos on the @MotorMavens Instagram account!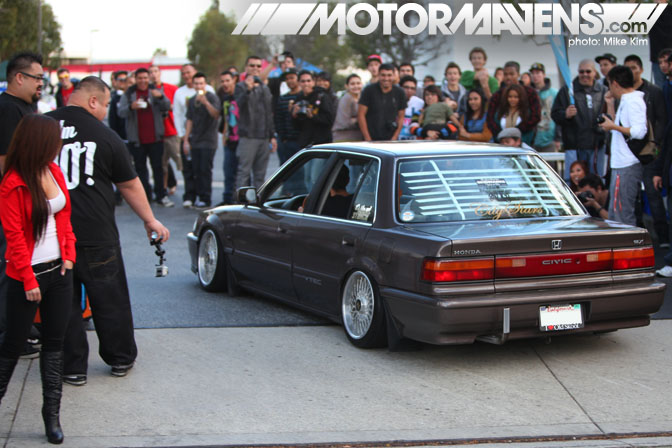 Alex got a TON of attention from everyone at the event, because we could all hear every single piece of his car as it scraped up the concrete driveway. He seriously scraped MUCH more than anyone else! The only reason he got Second Place instead of First was because he got stuck on the way down the driveway… on a CRUSHED, EMPTY, can of Nos Energy drink!!!!
The event turned out to be a lot more fun that anyone had originally anticipated. Just like the other ItsJDMYo! meets, I always like the fact that you can leave when you want to and there are no admission fees or other drama normally associated with attending a car show. Everyone seemed to have a lot of fun the entire day, and I can't wait for the next one of these events!
::Mike Kim
1up
,
350Z
,
AE86
,
Alex Gutierrez
,
BigMike
,
Canibeat
,
Civic
,
Corolla
,
CRX
,
E30
,
EF9
,
Enkei Wheels
,
Fatlace
,
FC3S
,
Holly Lee
,
homepage
,
Honda
,
HRE Wheels
,
Infinit Wheels
,
ItsJDMYo
,
John Russakoff
,
JSP
,
KE10
,
Ken Gushi
,
Keychain
,
Low n' Slow
,
Luigi Arroya
,
Mazda
,
Megan Racing
,
Miata
,
Mickey Andrade
,
Mike Kim
,
Milt Salamanca
,
Nissan
,
Noel
,
NOS Energy
,
Nuisance
,
RX-7
,
S2000
,
Sprinter
,
SW20
,
Tony Lee
,
Work Ewing Mesh
,
work wheels
,
Yogi
,
Z33
---