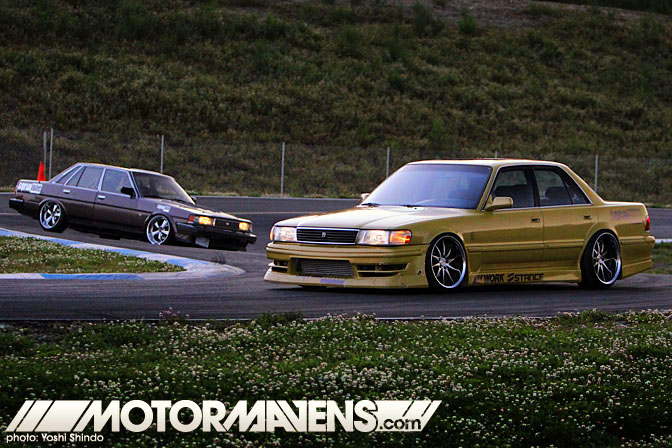 I can't imagine that, back in the mid 80s to early 90s, anyone thought of Toyota Cressidas as performance cars – after all, they were stuffed to the gills with power options and a plush interior. They were pseudo luxury cars that were made for taking trips to the grocery store and picking up the kids from school.
That perception of these four-door beauties changed when engines like the 1JZGTE and 2JZGTE started to become more accessible with the spike in JDM import parts coming into the US within the last decade. With minimal work, and a good knowledge of cars, one could have a powerful car with less investment than, say… a 240SX or AE86. Opting for the straight six turbo 1/2JZ engines was a no-brainer if you had a Cressida.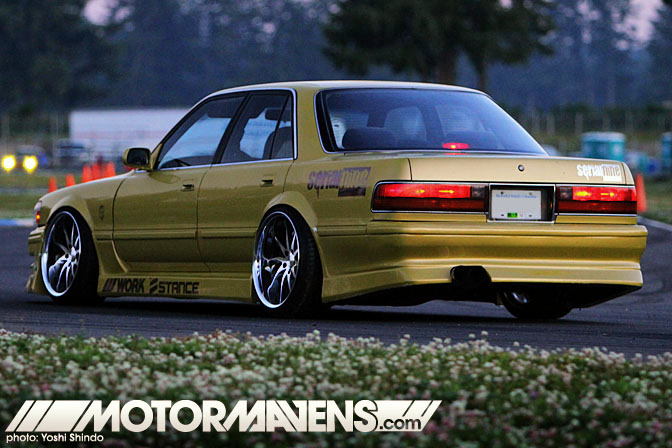 In a sea of the regular selections for drift cars, the Serial Nine MX83 and MX73 Cressidas stand out. Each packed with six cylinders of aggression, they both spew out smoke more than most of the field that attend drift events in the Northwest. Gerard De Peralta and Kevin Petersen, both from the Vancouver, BC area, are regular faces around the NW drift scene. With a style and attitude that is cooler than Fonzie himself, they drift these barges without a thought to anything else. You'd think they were ready for a party rather than drifting when they show up in Hawaiian shirts, bandannas, and sunglasses.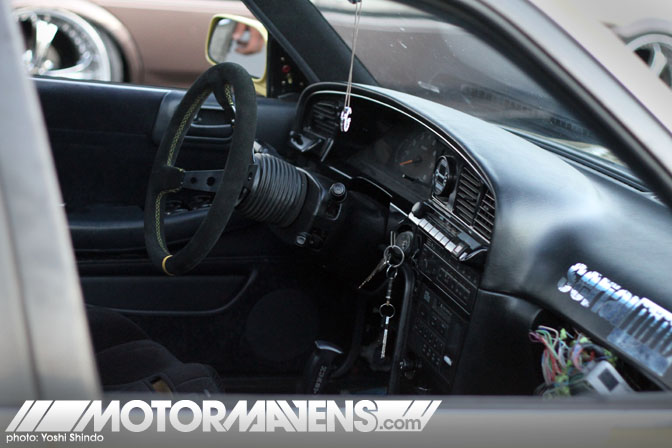 Sometime back in 2002, Gerard was part of a crew that had an exclusive requirement. To be part of it, you had to have a completely built car. From head to toe, each car had to be touched and be the best it could be with attention to detail and style. That crew was Serial Nine.
For his part, Gerard built a Cressida. Keep in mind that back then there were no "off the shelf" parts for these four-door diamonds in the rough. He had to build most of the parts himself. So, when people started to take notice of his car, they asked him to make some parts for their own cars. After a bit, he was being asked so often for the custom parts he was making that he revived the Serial Nine name for his own personal brand of dopeness. Now Serial Nine is beginning to make a name for itself outside of Canada with its parts, body kits, and also by sponsoring Formula D licensed driver Ameen Rizvi with a slew of Serial Nine products.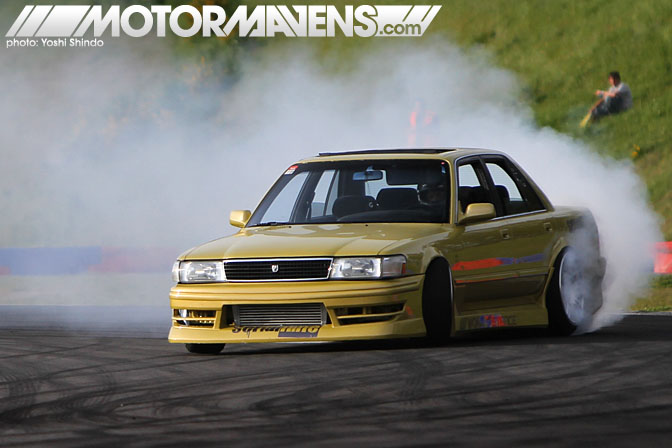 Being into cars for as long as he can remember, Gerard started playing around with drifting in the 90s, but had mostly kept it off the grid until four years ago when he started coming to organized events. Even before the Serial Nine phenomenon, he had a Shop called KEEP PerformanceLab, which built lots of crazy cars including an R32 that was featured in Modified Mag a few years ago.
Aside from this yellow MX83, which he built and owns, his other cars range from a '69 Ford Cortina wagon and a 433HP crazy Honda EK hatch, to a '94 Mazda MPV daily on coilovers and deep 18s. He also mentioned that he had an AE86 back in 2001 with coilovers and the first set of Tokico HTS shocks in Canada! When asked why he chose Cressidas to build, he replied, "Cuz I love sedans, and they're the most viable platform available in North America; basically the s-chassis of sedans. They're cheap, plentiful, always mint, and luxurious for their time. And I've never been a coupe guy – just not enough car."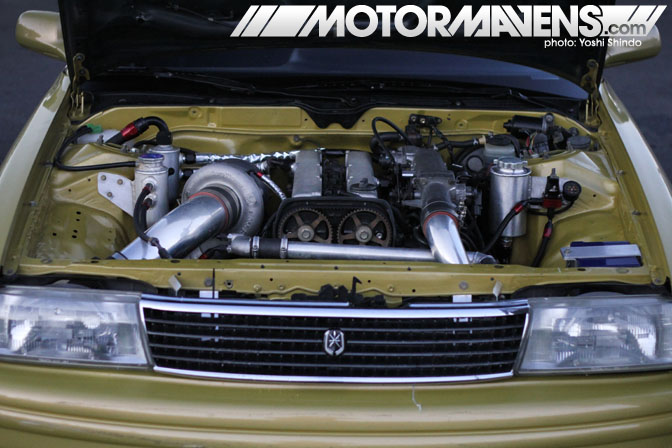 This Phoenix Yellow sedan looks better than any drift car really should. It's a show car that can look good sitting as well as any other, yet performs just as well as any drift car.
The custom Serial Nine body kit looks downright amazing – I am willing to bet any kid with an MX83 is saving up right now to get it. The Work Varianza wheels were something I had never actually seen before – I had to ask what they were when I first saw them. They are definitely not a common wheel and, with them, the stance is utterly perfect. Usually I don't bore people with complete parts lists, but it would seem like such a disservice to only list a few things on an immaculate specimen such as this 89 Toyota Cressida MX83; so here we go:
Engine: 1.5JZ, Borg Warner S360 turbo, Modified Ebay manifold for Twin 38mm Turbosmart WG's, 3.5" straight exhaust with twin 3.5" tips. . Turbosmart race port bov, Turbosmart Eboost II EBC, Amuse ROM tuned ECU, Apex'i AFC II, 440cc inj, Bosch 044 pump (intank), Aeromotive filter and regulator, custom BeCool radiatior and breather tank setup, custom fan shroud and ducting, custom oil catch can setup, custom power steering tank and cooler setup. All plumbing done in custom anodized AN fittings and Earls lightweight nylon braided hose.
Drivetrain: HKS GD Pro twinplate clutch, GETRAG 6 MT tranny with custom shift linkage, custom driveshaft, welded diff.
Suspension/Brakes: SERIALNINE/STANCE full coilovers, S9 RCAs with remote adjusters, S9 short knuckles, S9 tension rods, S9 pillow-ball LCAs, S9 rear sub-frame spacers, S9 diff bushings, S9 polyurethane rear bushings, Hawk pads
Interior: OMP Corsica suede wheel and Kirkey Pro Roadrace seat.
Exterior: Fully custom wide fenders (stock metal) 35mm all around, BMW M3 Phoenix yellow effect paint with lots of Moto-storm "Hyperflair" glitter pearl. SERIALNINE Type I aero, Work Varianza S4S wheels 18×9.5-5Fr (225/35-18 Nitto 555r) and 19×10.5+10Rr (235/35-19 Achilles ATRsport)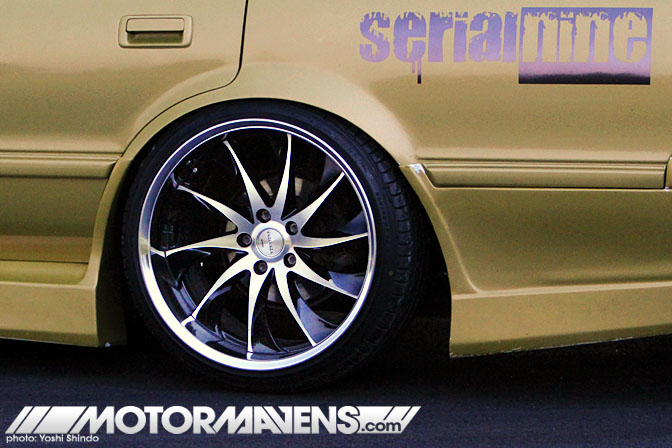 One day, back when Gerard had a small shop on Mitchell Island (an island near the center of Vancouver, BC) he heard some drifting nearby. When he went to investigate, he found a couple 86s and S13s drifting around. One of the Corollas being drifted that night was driven by Kevin Petersen. After inviting the drifters over to the shop to hang out, they found they shared the same attitude and style regarding the cars they built; which eventually led to Kevin  ditching his AE86 and building an MX73.
I met Kevin about seven years ago at a drift event in Canada hosted by an old group called Vancouver Drifters Society. A few of us Washingtonians would make the trek early in the morning and meet at a small air strip called Boundary Bay. Back then Kevin had an AE86 Levin coupe – the most popular incarnation people may remember was when it was wrapped in bright glitter pink vinyl, super low, with jaw dropping wide wheels. Oh, and it also had a 13b rotary in it!!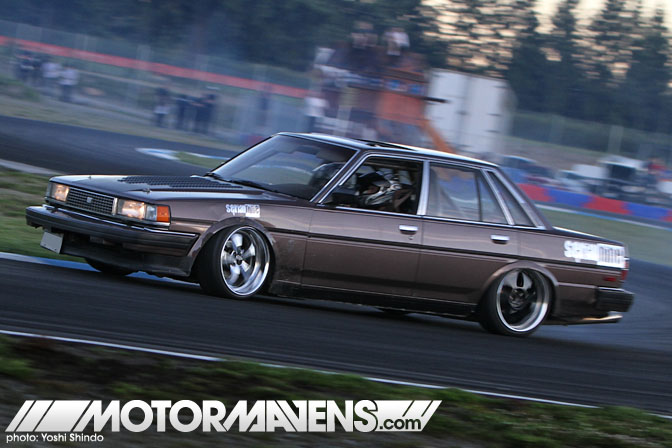 Being a Corolla guy for such a long time, I asked Kevin why he decided to switch chassis. "I didn't build my Corolla, which never sat well with me. And, when thinking it over, I wanted to update/improve all aspects of it including the frame itself. I decided to start all over from scratch and build a new car. I was already pretty familiar with the MX73, having owned two before."
Just as Kevin was making the decision to build an MX73, Gerard was selling a bunch of of old parts. He picked them up and his car ultimately turned out to be the MX73 Serial Nine test bed.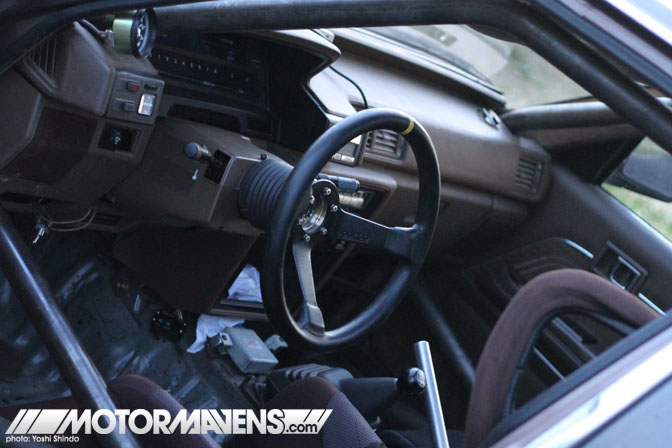 Hanging around Gerard rubbed off on Kevin. So much so that the Serial Nine cars are now second to none. When Kevin first started building his car, he watched how Gerard worked and created his cars. "Gerard's attention to detail and NEED for things to look good is unworldly. Although it can sometimes be annoying when you're trying to "get'r done" you're always happy in the end when it looks dope and functions great."
Here are the specs for Kevin's dumped 1986 Toyota Cressida MX73:
Engine : 1JZ, custom V-mount intercooler with HKS SSQV , custom V-mount Becool rad set up. SERIALNINE engine mounts, stock twin turbos 3 inch custom turbo back to 3 inch Magnaflow circle track resonator to dual 3 inch tips, Bosch 044 in tank pump, Apex'i SAFC and a Turbosmart FCD V.2
Drivetrain : ORC 409D , R154 tranny, welded diff.
Suspension/Brakes: SERIALNINE/STANCE full coilovers, MX83 front control arms, knuckles and brakes, S9 RCAs with remote adjusters, S9 tension rods, S9 rear subframe bushings, S9 rear 5 lug conversion
Exterior: Louvered hood, SSR Vienna Courage wheels 18×9+ 24 with 10 mm spacer front with 215/35 ATR sport and 18×9.5 +30 with 16 mm spacer rear 225/40 ATR sport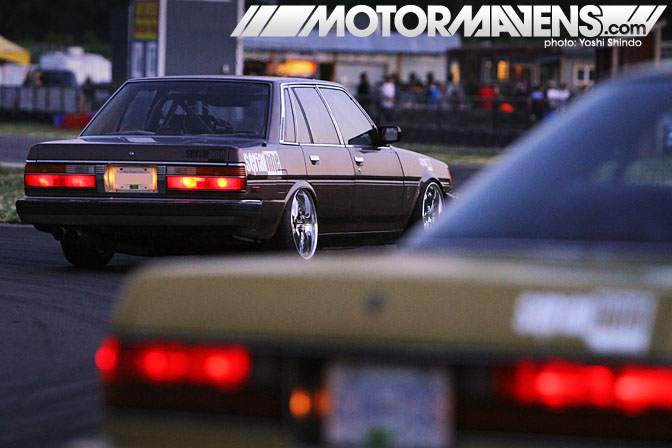 Kevin will be competing in the Evergreen Proam series next year in his Cressida, but this year he is still upgrading and working our the kinks by taking it to tracks like Evergreen Speedway for open drifts and Pacific Grand Prix for the invite events. With a devil may care smirk and a slick repartee, Kevin has an infectious personality that will prove to anyone that you can still have fun with whatever is thrown at you. At one of the last events his car was only able to go for a few laps until mechanical failure sidelined him. Instead of get pissed, he propped up a chair on the roof of his car and watched for the rest of the day haha!
Gerard is a bit like me in the fact that he doesn't have any intention of competing in any competitions, he only does it for the sheer fun of it. Though the name gets out there with the help of Kevin as well as Formula D driver Ameen; who runs every part Gerard makes. The Serial Nine name is growing with these shakotan sedans, but in the future Gerard plans on building a track only car aside from this promotional/street MX83 you see here. Something that would have to have no compromises like you have with a street car. Currently he is building a V8 MX73, so who knows if that will be the track car he is talking about; but Im sure it will blow all four doors off anything we've seen before.
Serial Nine is a brand that will continue to grow with the popularity of the Toyota Cressida, the ultimate goal is to build the best parts and cars. Branching out to other makes eventually, Gerard hopes to expand into the quality name brand like other JDM tuners that have come before him. I have no doubt that we will be hearing and seeing things from Serial Nine for years to come.
::Lucas Perez
Photos by:
Yoshi Shindo
13B
,
1JZ
,
1JZGTE
,
240SX
,
2JZ
,
2JZGTE
,
Achilles
,
AE86
,
Aeromotive
,
Apex'i
,
Avon Bellamy
,
BC
,
BeCool
,
BMW
,
Borg Warner
,
Bosch
,
Cressida
,
drifting
,
Earls
,
Evergreen Speedway
,
Gerard de Peralta
,
Getrag
,
Hawk
,
HKS
,
Kevin Petersen
,
Levin
,
Lucas Perez
,
Moto-storm
,
MX73
,
MX83
,
Pacific Grand Prix
,
S13
,
S4S
,
Serial Nine
,
ssr vienna courage
,
Toyota
,
Turbosmart
,
vancouver
,
Vancouver Drifters Society
,
Work varianza
,
Yoshi Shindo
---